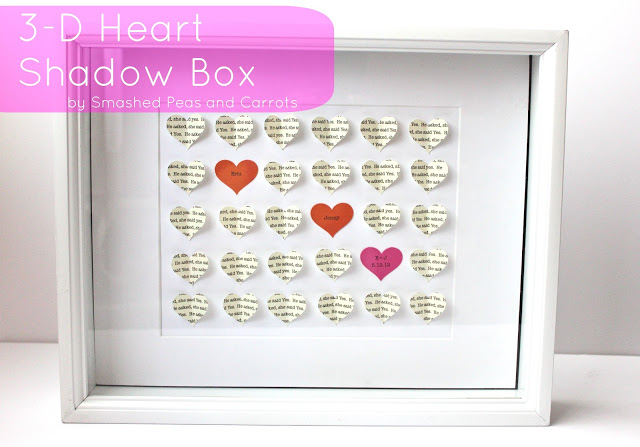 A few years ago, back when they were all the rage, I made a 3-D butterfly shadow box out of scrapbook paper although I don't think I ever blogged about it (?) I think it's safe to say it was probably right when I started blogging…so it goes, right?  Not everything can make the blog!  So a few months ago, while surfing on Pinterest late one night, it struck me when I saw a similar 3-D butterfly collage but made all in white so definitely more suited for an anniversary or wedding but I never pinned it, whaaaat!?!  I loved the idea of it, so pretty and elegant, and thought something like that would be the perfect "heartfelt"(get it!?) gift to commemorate the wedding of my friend, Jenny, and her husband Eric.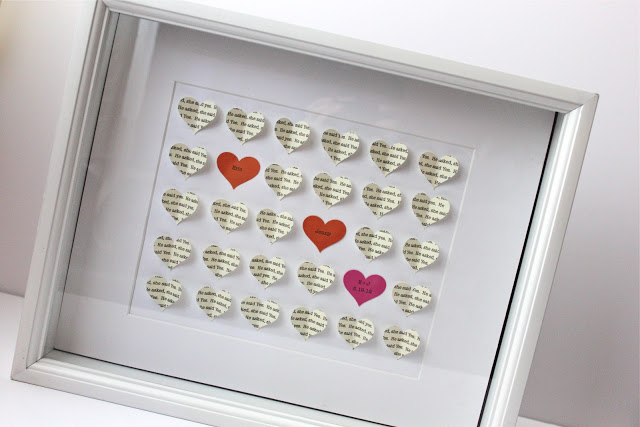 I love the idea of personalized "special days" gifts that share dates that are important to a couple (like the date you met, first date, the day you married, had a child, etc) that I had to make them one for the wedding…it had to be done.  I made this shadow box using a heart punch, scrapbook paper in their wedding colors, orange and hot pink, and a sweet saying printed over and over again to look like a cut up poem.  
Shadow box, any size will do (I used an 11″x14″)
photo mat to fit inside
scrapbook paper
heart punch
hot glue gun and glue sticks
glue dot runner (optional)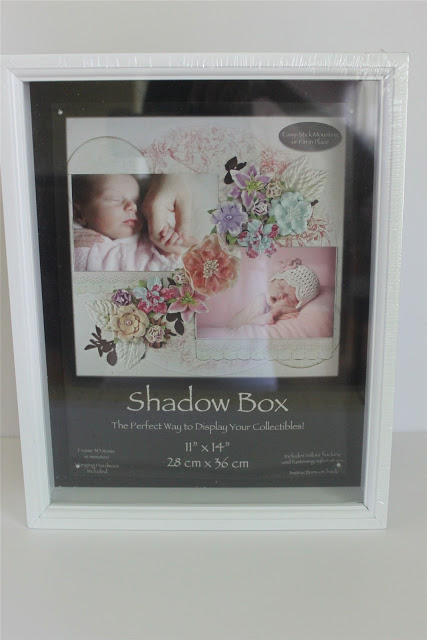 I bought a white shadow box, you can find them at Joann's or Michaels in all sorts of sizes, and a white photo mat cut to fit an 8″x10″ photograph.
You will also need a heart punch, hot glue gun, and a glue dot tape runner.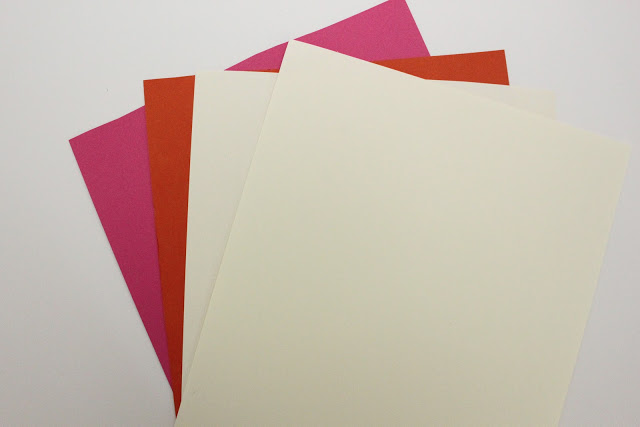 I bought a few sheets of 8 1/2 x 11″ scrapbook paper in their wedding colors, orange and hot pink, that I printed their names on as well as their wedding date and punched out with the heart punch.  I also bought a few sheets of cream colored paper to print off the repeated sweet saying I chose for them, "He asked, and she said Yes." so that it looked like a poem from an old book.  I bought one sheet of white scrapbook paper to go behind the mat as a background since the shadow box had a black velvet material for the background and then just used the glue dot tape to keep it in place although hot glue would probably work just as well.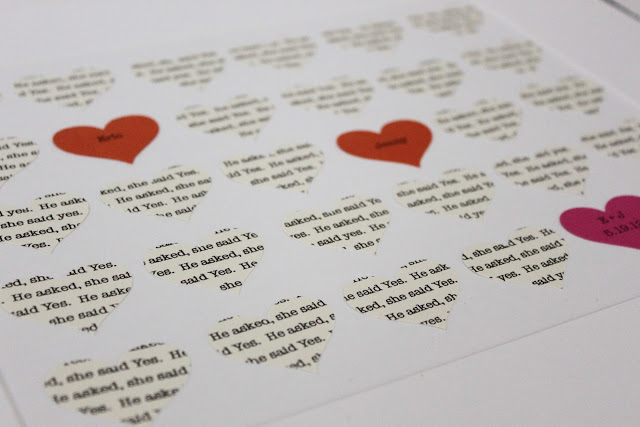 Once everything was punched out, I laid the hearts out inside the mat to see how I wanted them to be oriented.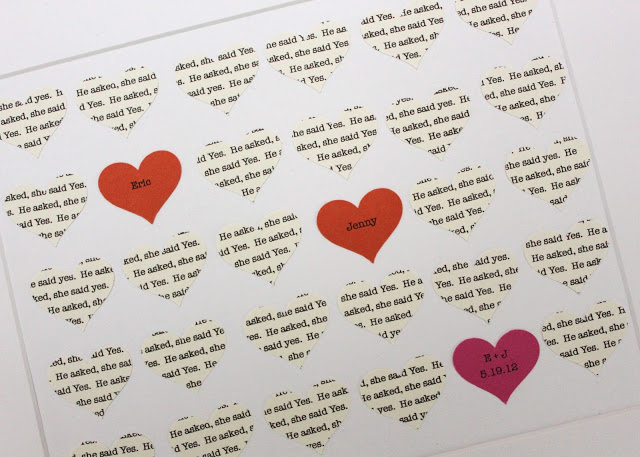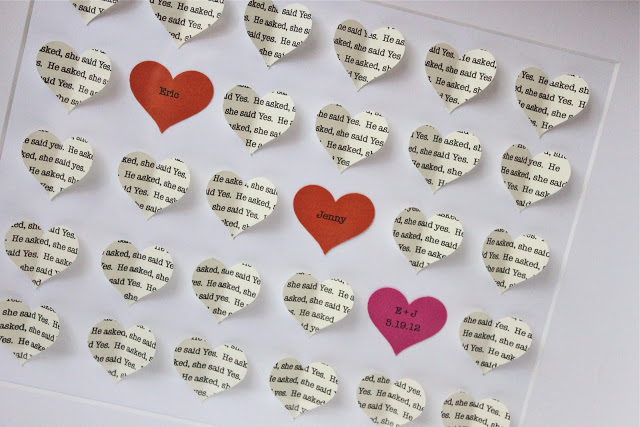 Then I just bent the cream colored heart in half, lightly, and hot glued them down to the white scrapbook paper that I glued down as the background.  I left the orange and pink hearts flat just to show a bit of varying dimension.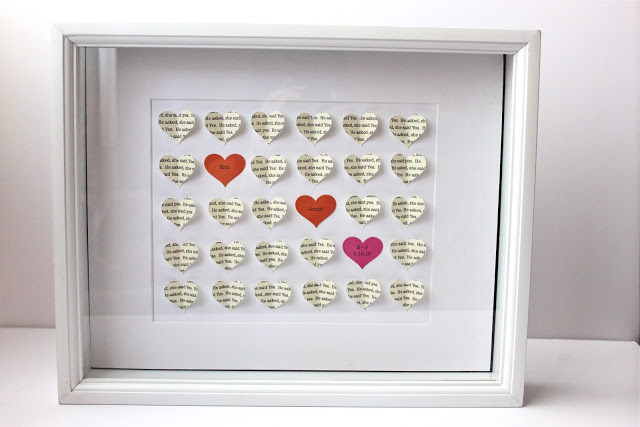 Hot glue the mat down to the backboard of the shadow box and put it back together.  Such an elegant and personalized gift, don't ya think!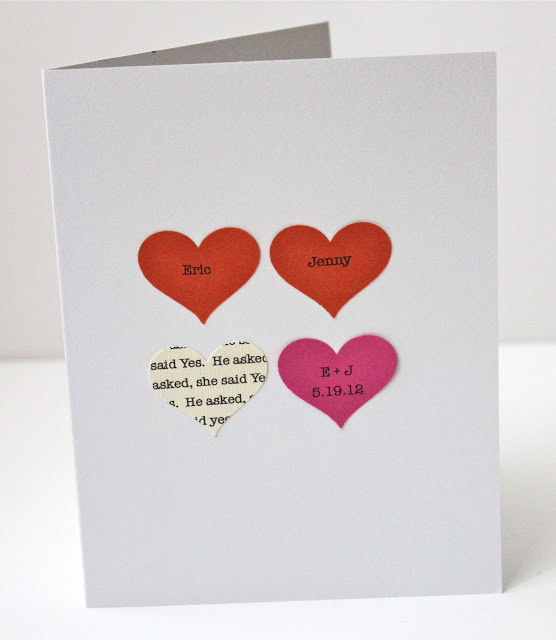 With the leftover hearts I even made a coordinating wedding card for the couple…a sneak peek at the gift if you will!  
Thanks for stopping by today!
XOXO,