Today is my first installment of 'taking one of my old posts from when I very first started this blog and re-shooting the pictures so that they actually are nice and bright and not dark and yellow'. I have come a long way in learning about photography since I started writing Smashed Peas and Carrots (six years ago!!!) and in that time I have learned a little something about taking better photos, lol! I have to tell you that I started making my own deodorant about 10 years ago and have never looked back. I use this 3 Ingredient Natural Deodorant every day and it works…wonders!!! I sweat like a pig when I workout and not one person has ever complained about me or given me the stink eye at the gym thus far, even on heavy squatting days when even your elbows sweat! 😉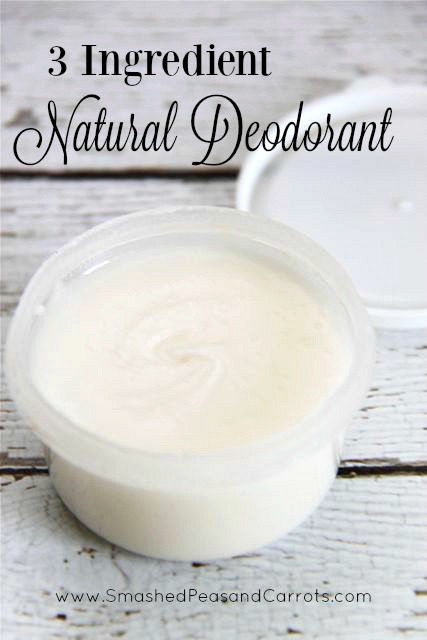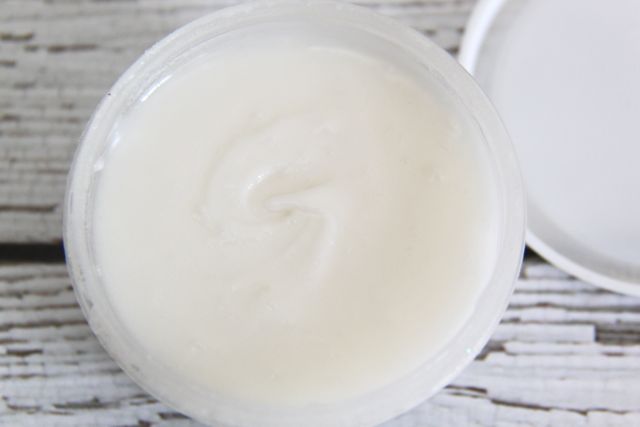 If you have never made your own deodorant, I highly suggest it. It is super easy, better for you, and is very cost efficient. One container of this (one recipe) makes enough to last me about 3 months!!! Coconut oil is the main ingredient and it has lots of antibacterial properties which is why it work so well as a natural deodorant.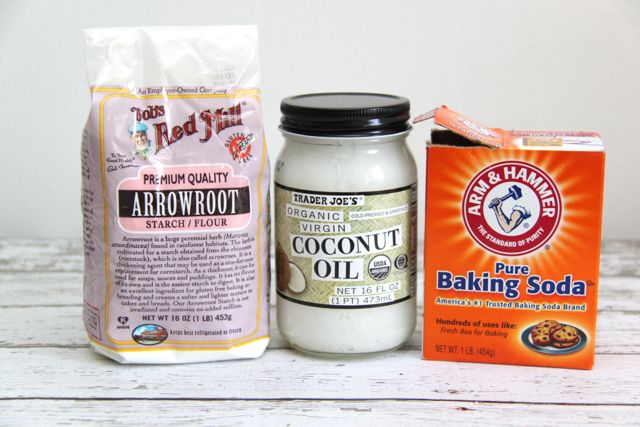 3 Ingredient Natural Deodorant
2-3 Tbsp Coconut Oil (I like to buy organic, unrefined coconut oil so that it is the least processed)
1/8 Cup Baking Soda
1/8 Cup Arrowroot Powder or Cornstarch
Essential oils of your choice, optional (if you want to add a fragrance to it!)
*I find the best way to make this so that the baking soda is not so abrasive to your sensitive armpit skin is to first melt the coconut oil in a small saucepan on low heat. Once it is completely melted, take the pan off the heat and whisk it around a bit. Once the oil has cooled slightly but still a liquid, add in the baking soda, and arrowroot powder (or cornstarch) and whisk together. Pour into a glass jar and let cool…enjoy using it and smelling fine all day! You can store your deodorant in a plastic food container, an old baby food jar (hey, why not repurpose!) or even your old empty deodorant container.
*Coconut oil will be in a solid state up to room temps of 76 degrees so your end product will be more of a very thick paste. You can keep it in the fridge in which case it will became hard and you can pop it out of the container and rub the "stone" on. I keep ours in the bathroom and dip my fingers into it and rub it on that way. The choice is yours!
*If you happen to be allergic to coconut oil try shea butter, cocoa butter, or beeswax. Also, many people who have shared with me that they are allergic to eating coconut actually do fine with rubbing it on their skin. Not sure if that would work for any of you but it might be worth a shot to try once? You can also try leaving out the baking soda if that is a known offender to your skin/body as the rest of the mixture may work well for your body chemistry.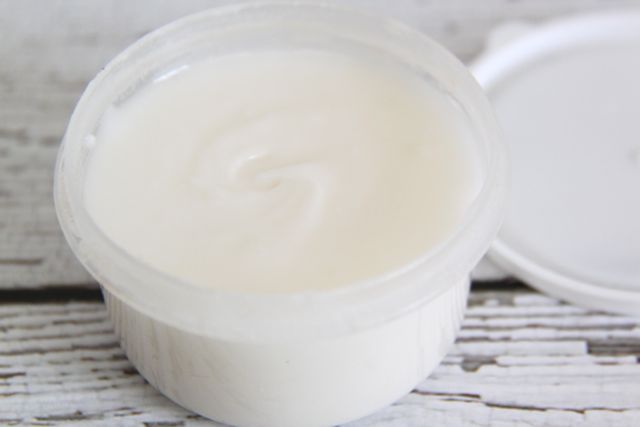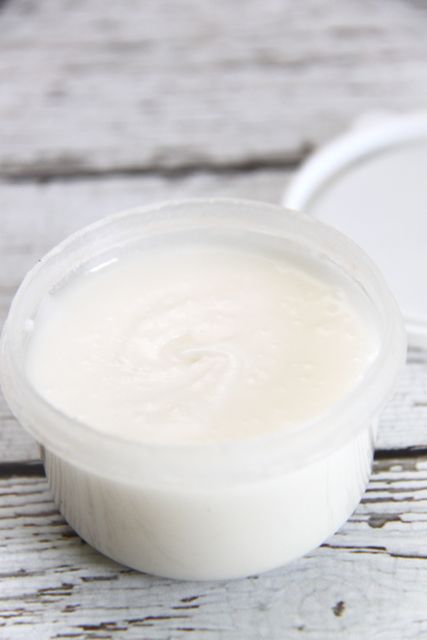 I hope you enjoy making your own deodorant, it really is fun and super easy, plus it really works so there is that!!!
Thanks for stopping by!
Love,
Maggie