So Mr. Smashed Peas and Carrots is now another year older.  He had a birthday last week that I told you about
here
.  Now since we aren't kids anymore (really?) there isn't much that either one of us really asks for so when my husband's birthday rolls around I'm usually left doing a big 'Hrrmmm???' with a consoling toe tap of sorts and sometimes even a index finger to the chin while looking up to the Heavens for some inspiration.  I always like to decorate the house as that's what my family did while I was growing up but as for gifts…that's just a big 'ol question mark.
Well this year I came up with the grand plan (read: easy idea) of using my most favorite little camera my 
Fuji Instax Mini 25
 (which by the by the
Pioneer Woman
has been loving to give away lately!) to take some fun mini 'polaroids' of the kids and then I just whipped up some colorful printable thought bubbles to grow out of their/our heads as sort of a cute birthday gift that rolls into fun party decor…sounds awesome, doesn't it?  Aww Yeah.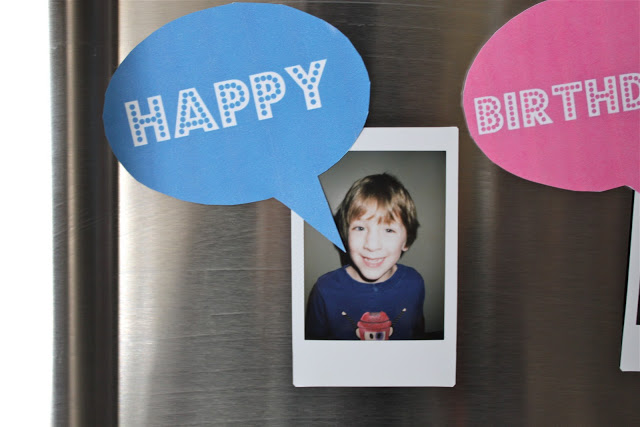 The kids proudly posed for pictures…
They were more than excited to actually be 'IN' daddy's birthday gift…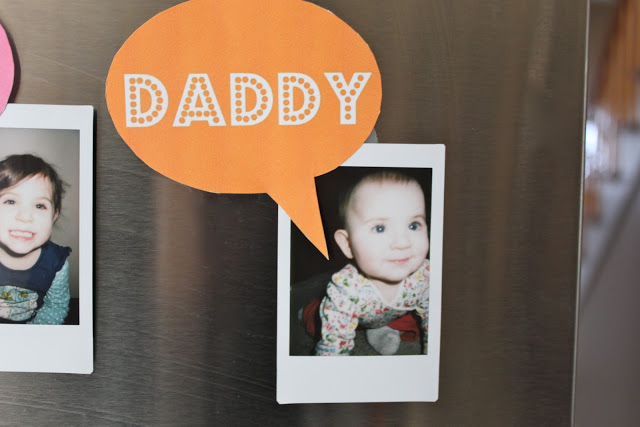 I was even able to get a snap of Eloise who is crawling (gah!) these days and is a pretty hard little peanut to get to stay put.
I taped them to the front of our refrigerator as magnets and stainless steel just won't be friends…even for a birthday celebration.
Here's the printable if you so desire.  I just made one Bubble that said Daddy as I figured the majority of us are ladies who would be wishing the 'man of the house' a Happy Birthday.  If you want more/different bubbles just let me know and I can whip them up 🙂
These would be awesome to laminate and add a magnet to the back for year round fun with pictures….if you have a fridge that plays nicely that is.
To print this just right click on the picture above and save it to your computer…easy peasy!
And after last year's cake debacle, I decided to lessen the amount of candles to a more cake-friendly number.  After taking pictures (annnnd video) we were actually able to eat this lovely little gem in it's full delicious chocolate-y glory…and it was good!
XOXO,