Check out the newest fashions from Agnes & Dora. Comfortable and fashionable clothing for women of all sizes!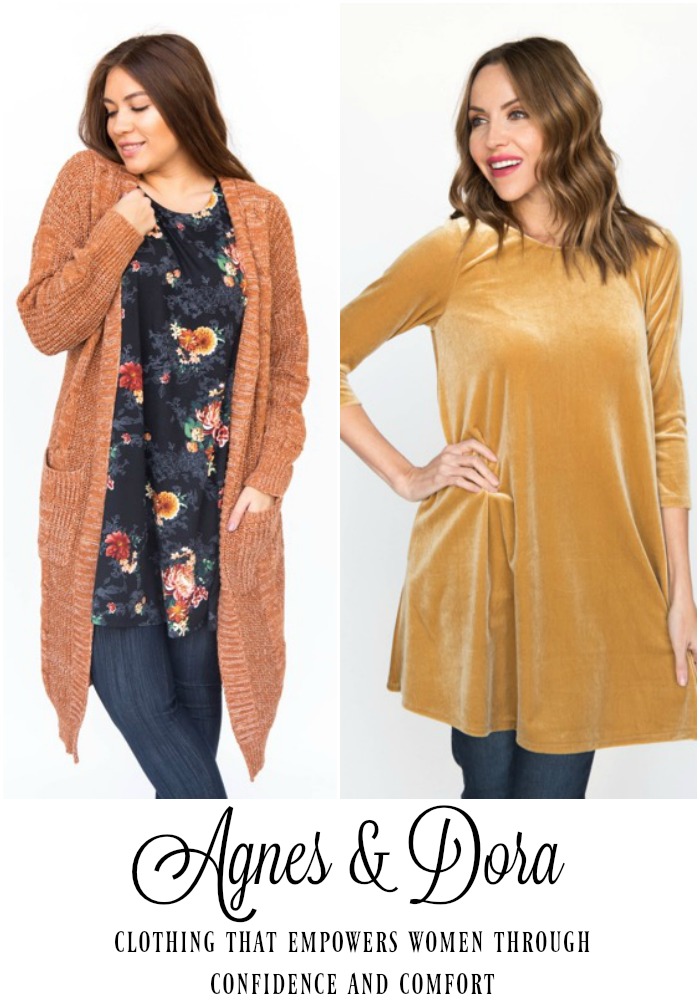 I'm so excited to introduce you to a new-to-me clothing line I think you are gonna love! I was introduced to Agnes & Dora by my good friend, Tiffany who is currently a rep for them. As a mom to 3 kids hovering right around my kids ages, we have known each other since those baby days! (Geez, that seems so long ago now that I think about it!) If you are looking for cute, comfy, and fashion forward clothing then you will love this company. They sell everything from leggings to tops to dresses to cardigans, galore and they are all super stylish! And all the pieces look great with each other so you can get so much use out of them! It's like a new outfit everyday!
Agnes & Dora
So here's a little about Agnes & Dora if you are new to them:
The prints are wearable. They're mostly florals, stripes, geometric prints, and solids!!! Did you hear that? SOLIDS!!!!

Reps for A&D get to choose their own inventory, which for you means that if you see a particular print you like that's not your size, Tiffany may be able to get it for you!

Sizes range from XXS – 3XL   They have both fitted pieces and drape-y ones, and different necklines to their tops and dresses. And many of them have pockets. POCKETS!!!! There is something for everyBODY!

The styles have incredible variety. There are dresses, cardigans, skirts, leggings, and tops, and they have seasonally appropriate options. They're also on-trend.
And last but not least (and my favorite thing about the company!)
The company is all about empowering women through confidence and comfort. So you may notice that the dresses have names from inspiring and pioneering women throughout history!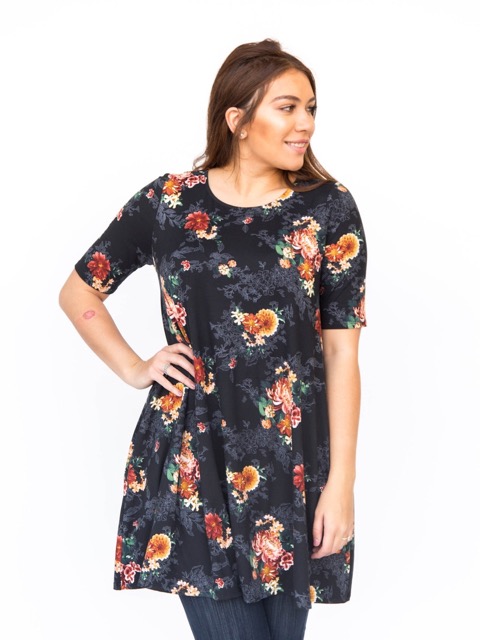 Here's a look at some of their different styles:
This is the Swing Tunic (with half sleeve) in Black Vintage Floral ($52)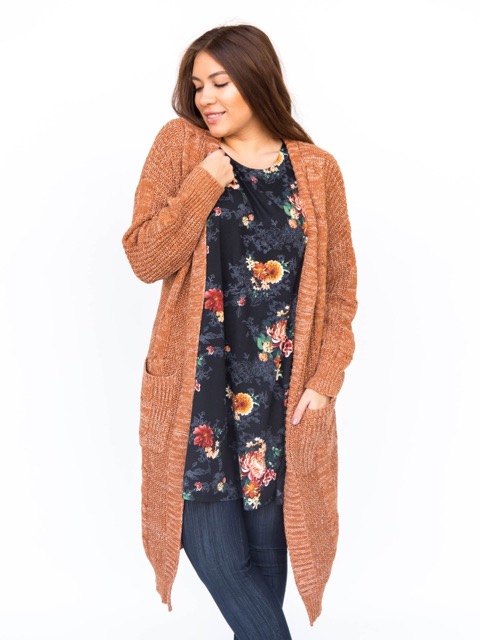 And here is the Dreamy Duster in Spice ($72)- The Dreamy Duster is a classic cable knit sweater duster with a fuss free fit and gorgeous pockets. (Tiff suggests you size down in the Duster)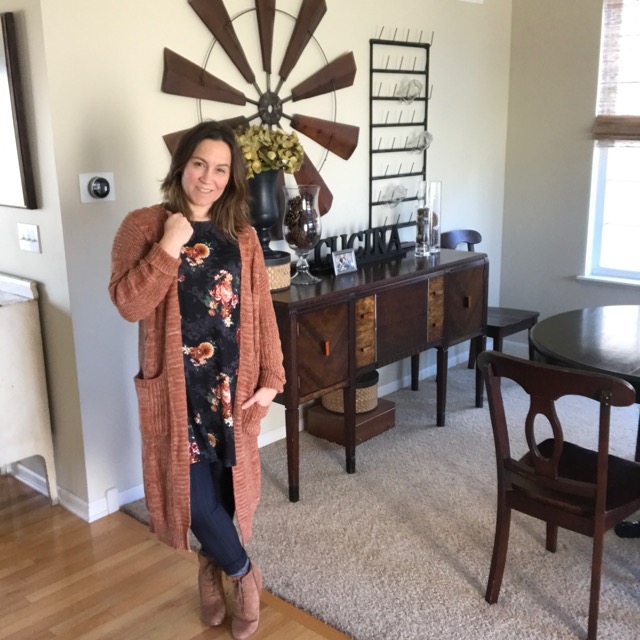 And here is my friend, Tiff, wearing the Dreamy Duster in Small, Swing Tunic in XS & Jeggings in XS. How cute is she?!! 
This is the Velvet Swing Tunic in Deep Gold $52- Looking for the perfect top to wear. This is it. It can be paired with leggings, jeans, our Agnes & Dora's new jeggings – basically anything! And if you're short you can even throw it on with a pair of tights and wear it as a dress to that party you have coming up.  It's comfortable, chic and flattering on any body type and it has pockets too.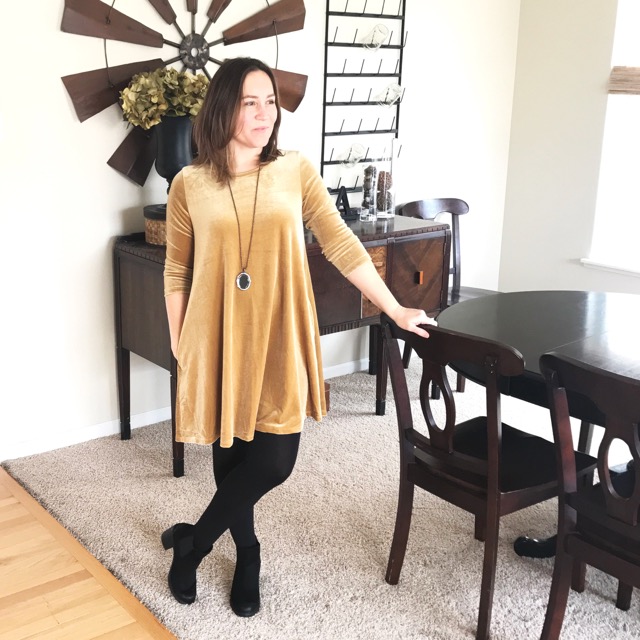 I mean c'mon! How cute is this outfit!!! Stylish AND comfy for the win!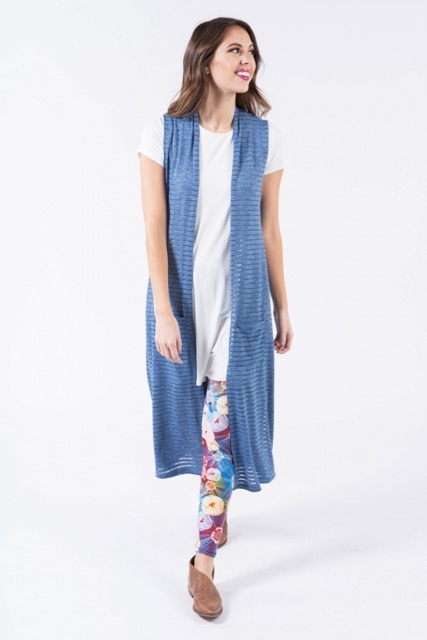 This is the Vest Duster in Denim Shadow Stripe ($44)- It is a medium weight knit with two front pockets and a knee length side slit. It is the perfect addition to any outfit!  It's adds a fashionable dynamic layer to dresses, skirts, and pants and can be worn year-round.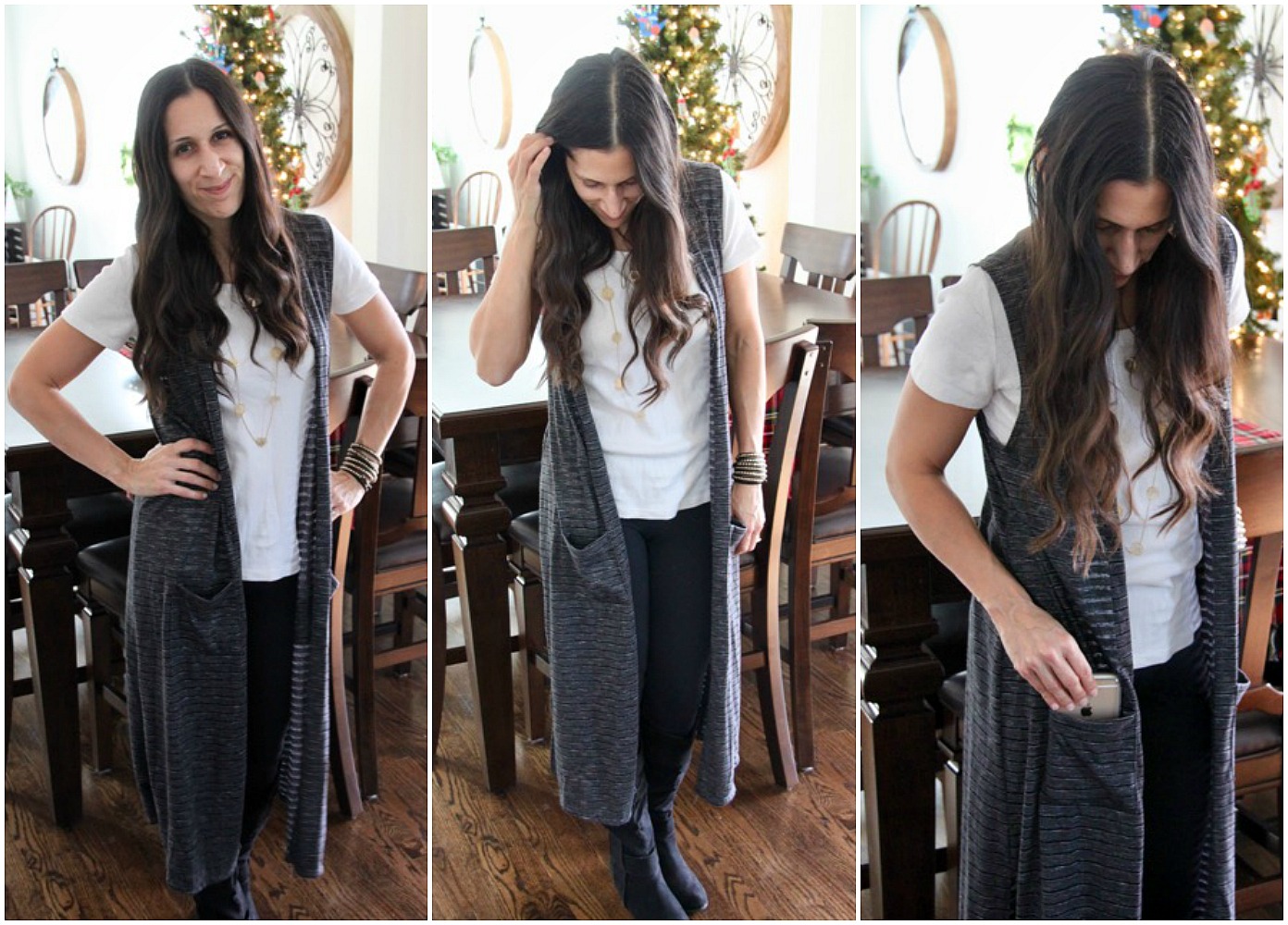 Oh hey!!! Look, its me! I own one of these!! I love that it totally dresses up a t-shirt and leggings. And I'm short…like 5'2″…and it actually fits me and doesn't drag on the ground like most dusters I've tried on. And the pockets…awesome! I mean who doesn't love pockets. Plus they fit my giant iPhone so that's already a win-win for me!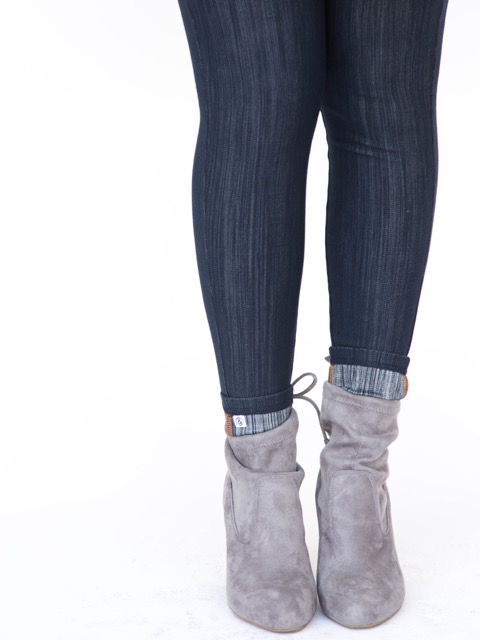 And lastly, I wanted to show you the Jeggings in Denim ($38)- Meet the newest addition to the Agnes & Dora Essentials Collection!  This amazing Knit Denim Jegging has been closely worked by our design team for months to fine tune the fit, fabric and every detail.  Oh boy, did that get it right!  These are AMAZING!
And if you scroll back up top, you can see that Tiffany is wearing them in the first picture! Aren't they totally cute!
And just so you know, NEW ARRIVALS WEEKLY!
Tiff is giving Free Shipping for Smashed Peas and Carrots readers until December 31st, 2017…yippee!!!
Just enter the code: 
FREESHIP
upon checkout when you purchase anything from
Tiffany's site here
.
Tiffany has a Facebook group where she has GIVEAWAY'S EVERYDAY.
JOIN NOW SO YOU DON'T MISS OUT:
She is also on Instagram and Pinterest where she shares sneak peaks and outfit ideas and she'd love if you followed her along over there too!!!
Love,
Maggie
SaveSave
SaveSaveSaveSave
SaveSave
SaveSave
SaveSave