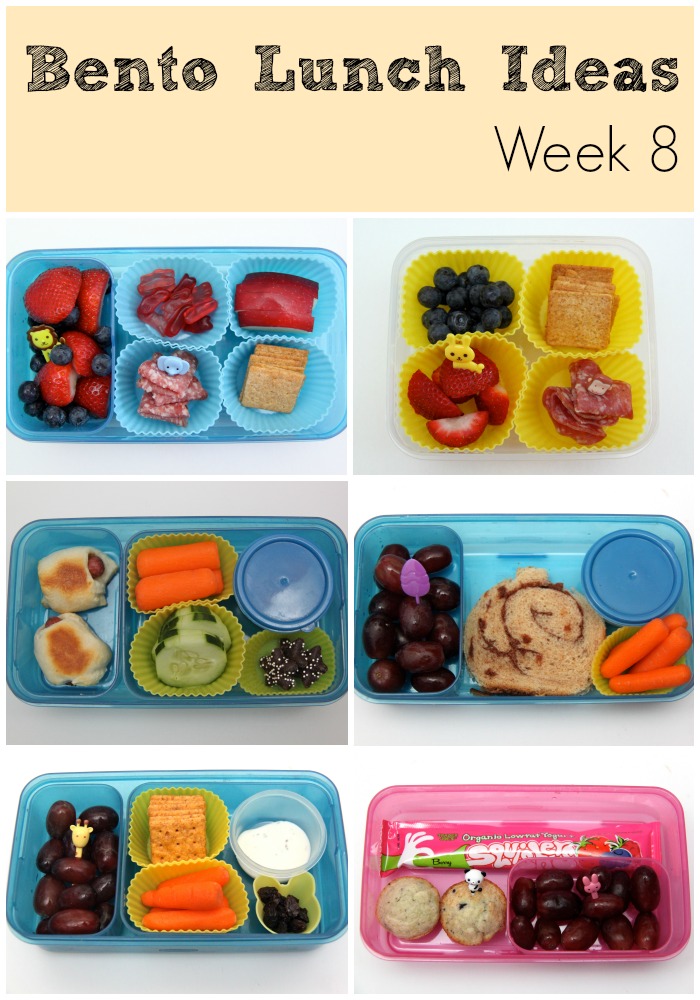 Whoa, it's been awhile since I've posted our weekly Bento Lunches, egad! We are still going strong and doing them, minus a few hot lunch picks that they choose off the school lunch menu here and there, I guess I just got busy and was forgetting to post them, oopsey!
We did have one big change happen with our bento lunch making starting in the new year though and that is that my littles want to help make them! It's even more awesome now because they want to participate in which fruits and vegetables and other sides they eat and this momma doesn't have to think about it too much, wahooo!
So without further ado, here is the latest installment of lunch ideas for you…

Lunch 1: Mini crescent roll hot dogs made with Trader Joe's nitrate free mini hot dogs and their brand crescent rolls, baby carrots and sliced cucumbers with ranch dressing, and a few chocolate covered shortbread star cookies.
Lunch 2: Grapes (with an egg pick chosen by Penny!), apple-shaped almond butter sandwich on cinnamon raisin bread, baby carrots and ranch dressing.
Lunch 3: Blueberries and sliced strawberries with a mini lion fork (I love that we are starting to get some different fruit options in the store now!), Annie's fruit snacks, sliced apples, Applegate salami skewered on an elephant pick, and a few crackers. 
Lunch 4: Blueberries, sliced strawberries with a mini bunny fork, crackers, and Applegate salami skewered with a monkey pick.

Lunch 5: Grapes with a giraffe pick, crackers, baby carrots and ranch dressing, and raisins in a little bunny cup.
Lunch 6:  Grapes with a bunny pick, 2 mini blueberry muffins with a panda pick, and a frozen yogurt tube which thaws out by lunchtime!

I hope these lunches inspire you to make something healthy and delicious!!  They really do not take much time to whip up, honest! Please leave a comment below if you have any questions and I can try to answer them.
Thanks for stopping by today!
Love,
Maggie