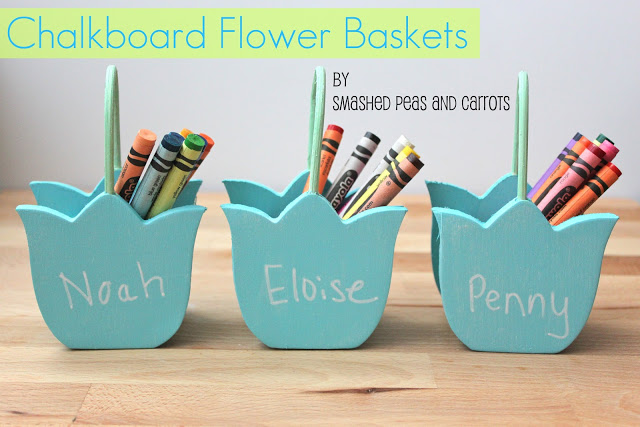 Spring is officially here as of this week, who's excited?  Although here in Chicagoland it feels like summer has arrived as we've been enjoying temperatures well into the 80's…such un-midwestern weather for this time of year but I will take it over snow any day!  The kids have been playing outside with their friends every day, which I love!  We have a stock of popsicles in the freezer, we've been playing in the sandbox, and we even got the pool out and have been splashing around with our neighbors, truly unbelievable.  What's even more unbelievable is the number of mosquito bites I already have, I am one itchy pregnant lady but at least I  can still bend over enough to scratch my feet, holla!
Wait didn't I have a craft to share with you today?  Oh hey, I did!  So I was over at
Michael's
not too long ago and found the cutest little wooden flower baskets in their dollar section.  I thought they just shouted "Spring" (
and
double whammy) "Easter" so I picked up three for my kids…hmmm, maybe I should go back and get a fourth?  They are the perfect size for the kids to put crayons and little markers in to carry out to our porch or to fill with little treats if their momma is feeling generous (and ready for a sugar high!)  I painted them with chalkboard paint so that I could write their names or cute little messages on them…perfect for hiding on Easter so they know who's is who's don't ya think or even for a cute place setting for an Easter celebration!
Chalkboard Flower Baskets
Little wooden flower baskets 
ScotchBlue Painter's Tape
Chalkboard paint
Sponge brush
Chalk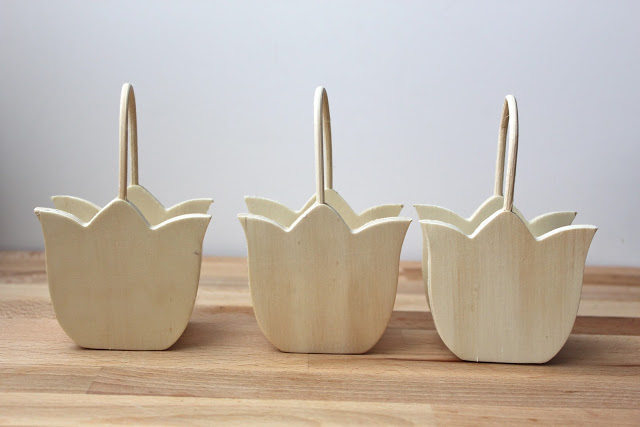 Here are the cute little flower baskets I bought at Michael's…they are tiny and just perfect for little ones, Ellie wears hers on her wrist like a purse!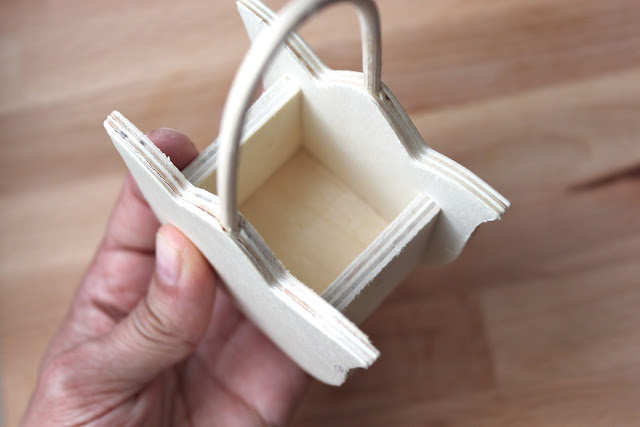 Just enough space in there for a few little treats or some crayons 🙂
I love
Martha Stewart's new line of craft paints
, especially loving her chalkboard paint as it comes in a few pretty pastel colors not just plain 'ol black!  I also used
ScotchBlue Advanced Painter's Tape with Edge-Lock
.  Love this stuff!  It let's you achieve super sharp lines and comes off cleanly from your project with no icky residue left behind…a crafter's dream come true!  And I'm also lovin' those cheapy sponge brushes you can buy for like 50 cents!  That's all you really need for this project 🙂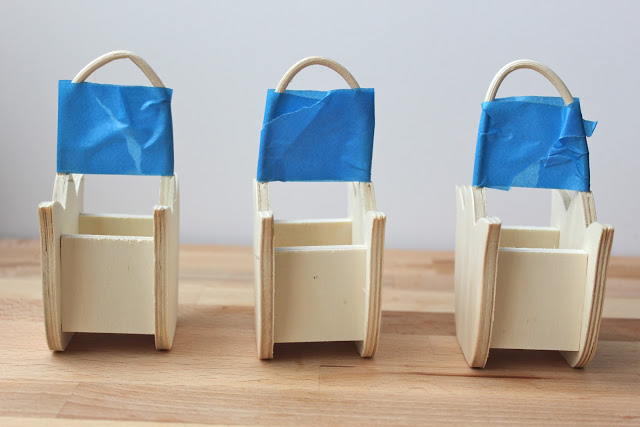 Tape off the handle of your flower baskets like so and then apply one coat of chalkboard paint all over.  I also painted inside too just cause I like the uniform look of it all.  Wait an hour and then give it a good second coat.  I waited another hour before taking off the Painter's tape and then applied a coat of green paint to the handle.  The directions on the chalkboard paint bottle say to let it cure for a day so that is what I did….you just have to wait a bit before having at the chalk!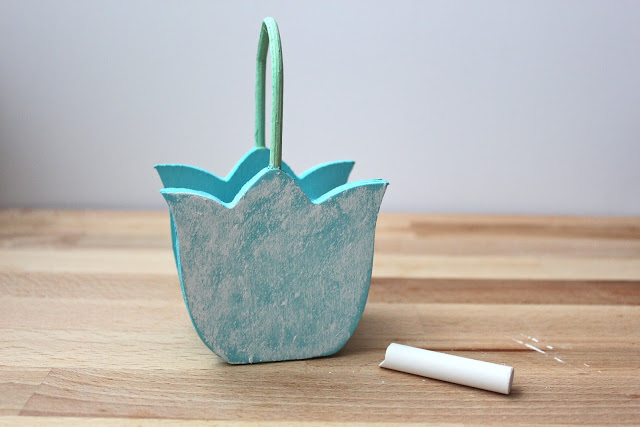 After 24 hours you need to condition the chalkboard paint which means you grab a piece of chalk and rub it all over the surface and then wipe it clean.  Now it's ready to write or draw on!  So simple and easy!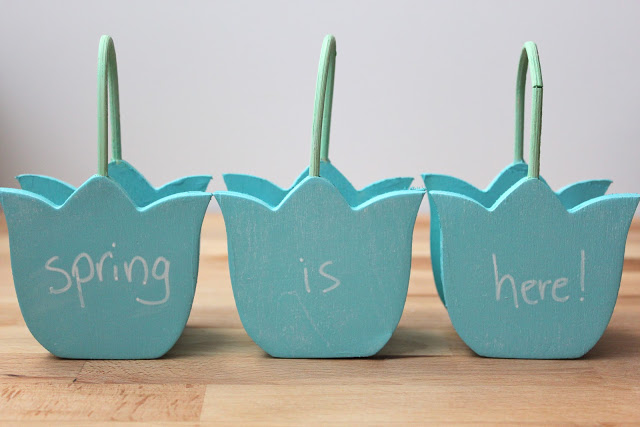 You could write fun little messages on them like, "Spring is Here!"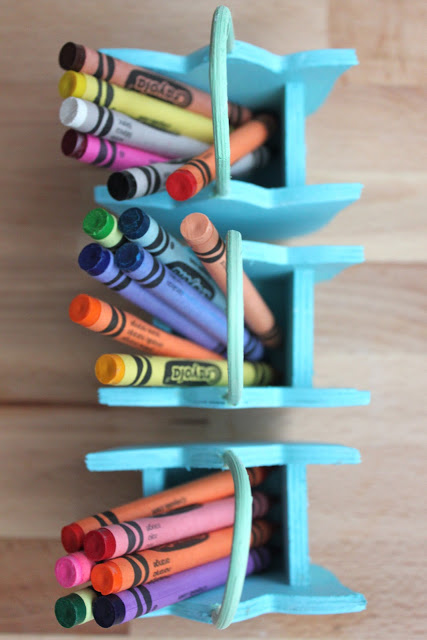 And fill them with crayons!  My kids felt like they were in a restaurant where they get their own little cup of crayons to color their kids menu with, lol!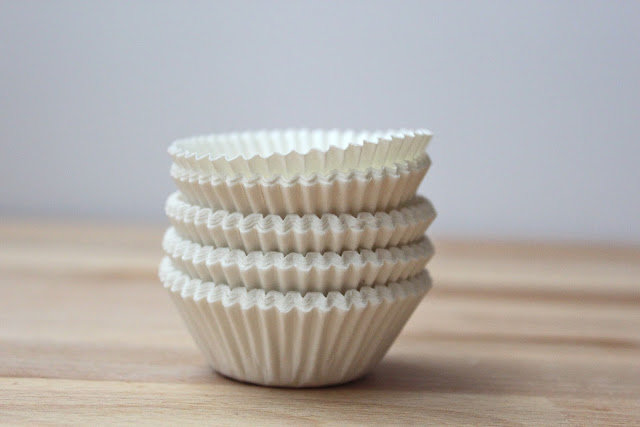 Since I painted the insides of the flower baskets, I place little mini muffin liners inside them before filling them with treats.  Just to be safe ya know!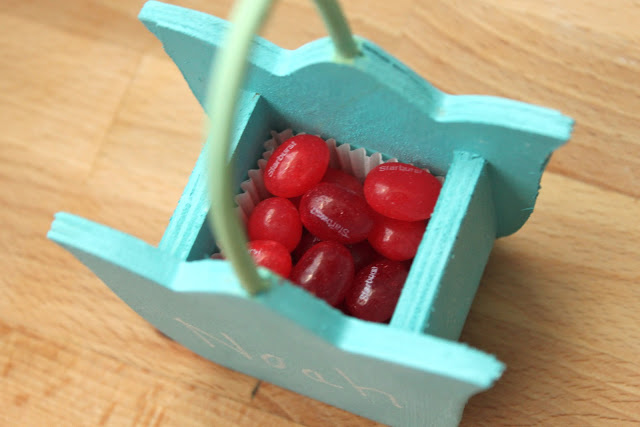 Oooh, jelly beans!  Easter is coming upon us quickly isn't it…these are all over the stores now!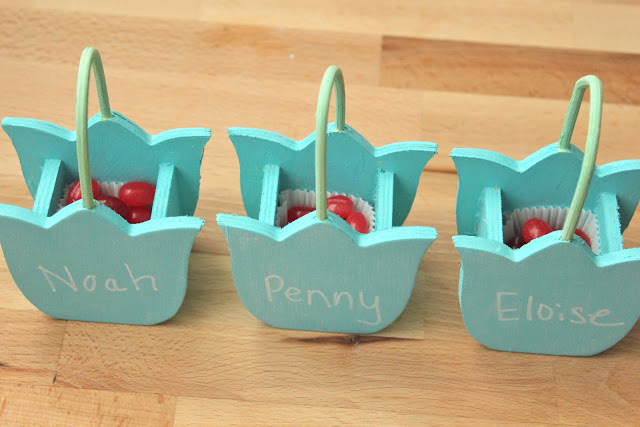 Fun little flower baskets full of tiny treats…my kids are in heaven!
Have a great weekend, we'll talk soon!
**I was sent samples of ScotchBlue Painter's Tape for review purposes but all opinions are 100% my own!
XOXO,