Little mini Fall cookie cutters!
Look at all these cute fun Fall shapes!
Here are just a few more itty-bitties in my ever-growing collection…
Aren't they fun?  You wanna know what I do with them?
I use these little cutters to cut their foods into fun shapes and then I serve their lunch (…or dinner…or snack) in these fun cafeteria-style trays with little compartments.
These trays have the perfect sized compartments for just the right amount of food and enough food choices for my kids.
I like to fill the smaller areas of the tray with nutritious foods like cheese pieces, fruit, raisins, dry cereal, carrots, broccoli, salsa, hummus or other assorted dressings and sauces for dipping.  The bigger compartment is for their main meal component…grilled cheese, peanut butter crackers, pasta, roll-ups, kabobs and the like!
Here's a look at the lunch we had the other day: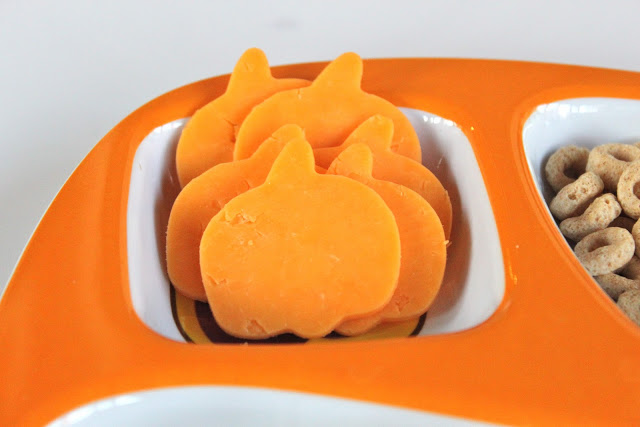 I used my fun new cutters and cut up some cheddar cheese into little mini pumpkins…
Another compartment was full of Cheerios.  I like to have something crunchy with each meal…it might be dry cereal, crackers, carrots, or maybe even some of those 'healthier' veggie chips!
This compartment has a slice of homemade pumpkin bread…see a theme here?  🙂  This was also my 'fruit' section for this lunch 😉
And in the bigger section we had turkey roll-ups for this lunch.  These are very simple to make, just take a tortilla, swipe on some chive and onion cream cheese then put a few pieces of turkey lunch meat on top and roll up.  Cut into little pieces and there you have it…cute lunch finger food!
My kids love to eat meals like this and I have to admit, I really enjoy making them.  Noah and Penny are excited to gobble up all their little portions (which by the way makes trying new foods a lot easier!) and we can also learn shapes, animals, and numbers with the little food cut outs.
Then we can spend out lunchtime with a little girl talk…
Or laughing at some of Noah's silly jokes….
And then we can actually sit and eat our lunch…
and
How do you make meals fun for your kids?
Please share, I'd love to hear what you do!!