A couple of weeks ago we had a "Half Birthday" celebration for my two girlies at Chuck E. Cheese's. I know, half birthday, right?! My girls have summer birthdays and with vacations and camps and everything else going on in the summer it's hard to figure out a good weekend to do a party, let alone two (or three if you count Oliver's birthday!) So sometime in the winter, when it's cold and yucky outside we plan some Half Birthday fun for our summer birthday kids. My husband is a big proponent of celebrating half birthdays…he loves any reason to celebrate and heck, so do I! I thought I'd share our Chuck E. Cheese's Birthday Party Experience with you so if you have big(ger) kids at home you can see what their parties include!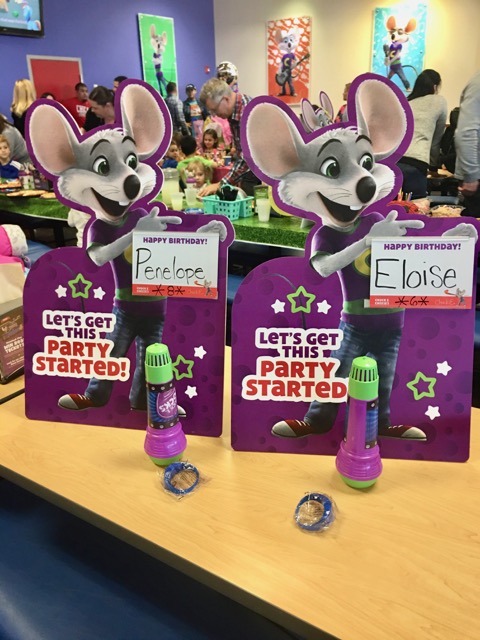 Chuck E. Cheese's Birthday Party Experience
Chuck E. Cheese's, America's number one place for birthdays – launched new birthday party offerings to make birthdays bigger and better than ever! They now offers new themes like, "Party Like a Rock Star," "Dressed in Pink Party," "Sports, Sports, Sports" and "Chuck E. Super Fan." We picked the "Party Like a Rock Star" theme as my girls are big into singing, playing instruments, and generally making lots noise, lol! Each girl had their name on a cardboard stand of Chuck E. Cheese as well as a microphone and light up bracelet at our tables.
When you sign up online do have a birthday party at Chuck E. Cheese's you can also order a cake in chocolate or vanilla. And now they have brand new cakes with sweet frosting, rich cake and a splash of excitement with colored sprinkles! There is also an option to order goodie bags depending on which package you opt for and now they are bigger and better than ever! The Birthday packages include three different price / package levels including:
o   Star
o   Super Star
o   Mega Super Star
You can also do a VIP Birthday party which includes:
VIP birthdays parties get the whole party area to themselves before the restaurant opens, for 90 minutes!
VIP birthdays offer a safe, contained play space for your birthday party. No overwhelming crowds!
The Happy Birthday show plays exclusively for your VIP birthday party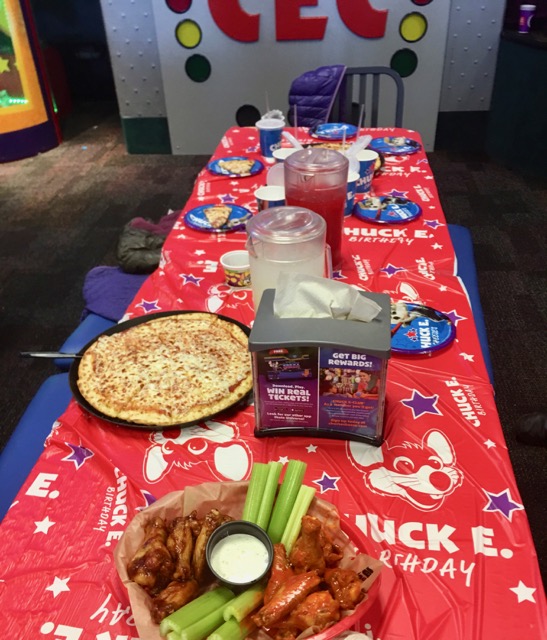 Since we had 9 kids at the party, we received two pizzas and two pitchers of drinks for our guests. I love that they offer non-soda options for drinks!!! I also ordered wings for everyone and all the mommas enjoyed their salad bar.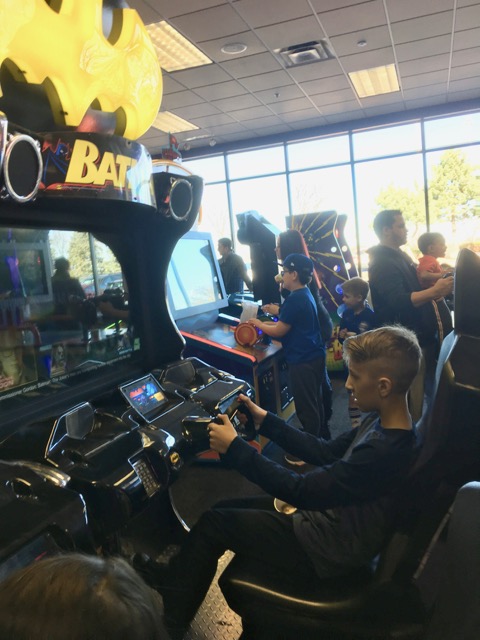 Every kid received a bunch of tokens to run around and play all the games…and of course, to win all the tickets!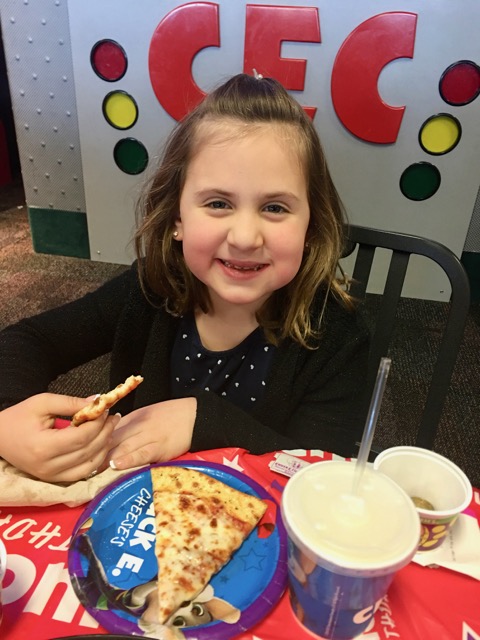 After 30 minutes or so, they announce our party's name over the loud speaker and all the kids come back to the table to eat. And they are HUNGRY after all the running around!!!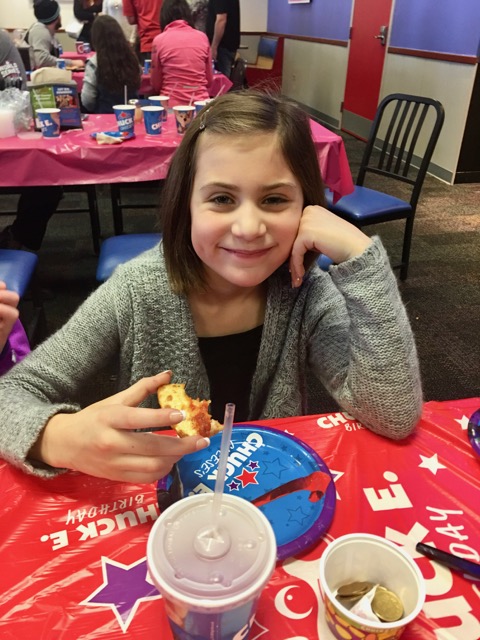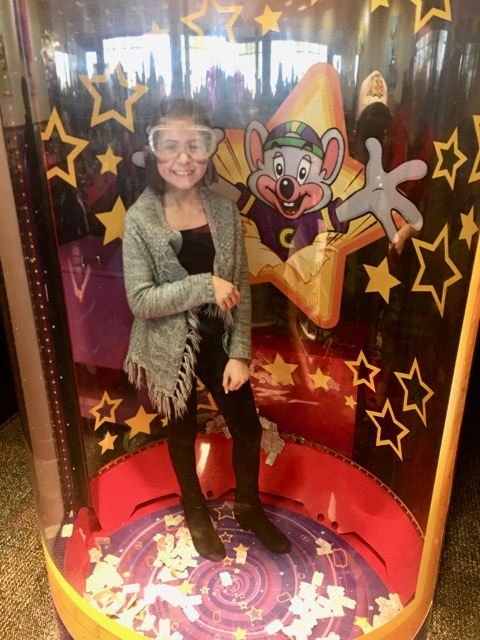 When everyone is finished eating, the birthday girls had a chance to step into the Ticket Blaster to grab as many tickets that were blowing around as they could! My girls could not wait to do this!!!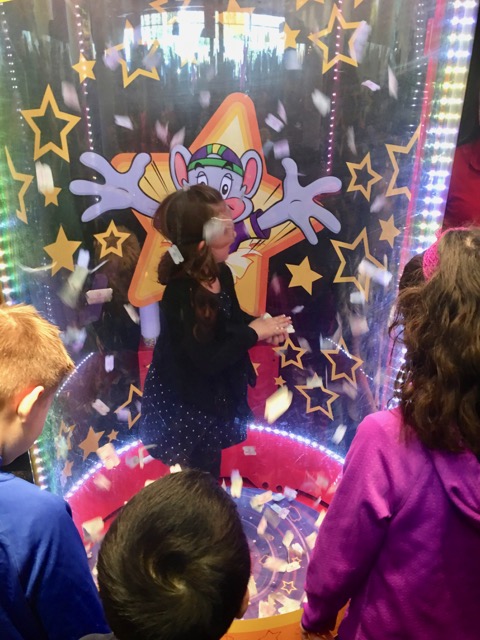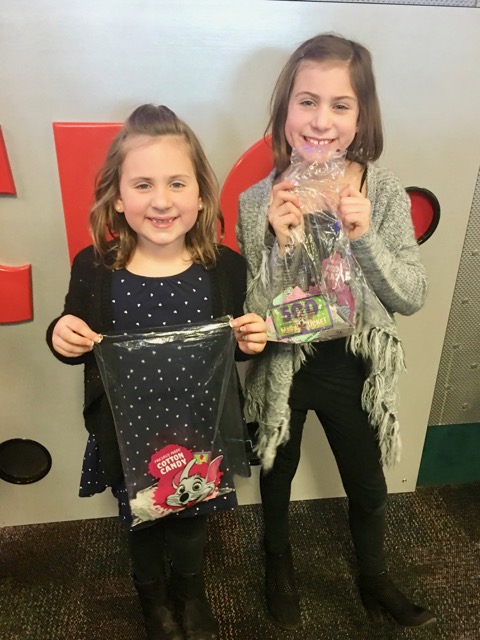 I loved that afterward our party hostess (one party hostess is assigned to your party for it's duration to help with keeping everything on schedule and bringing you food and cake out!) let each girl grab huge handfuls of tickets and ticket vouchers afterward because it is so hard to  actually grab any…even though it is a blast trying!

Then Chuck E. Cheese comes out for pictures and everyone sings, Happy Birthday. I love how sly Oliver is trying to be here, lol! Cake is served and the party comes to an end with all the kids redeeming their tickets for fun prizes at the ticket counter.
If you are thinking about hosting a party here, definitely give it a whirl. My big kids loved it!!! Chuck E. Cheese's also just added a new Eat More Play More party package geared toward children 8 and up. It offers double the pizza per child and more tokens for guests to enjoy the games!!
Chuck E. Cheese's has a new online reservation system that makes it easier than ever to book your child's birthday party, just head over to their site here to get started! You can also make reservations for their VIP Birthday parties here!
You can learn more about Chuck E. Cheese's via their social media:
Facebook // Instagram // Twitter
Thanks for stopping by today! If you have any questions, leave them for me in the comments!
Love,
Maggie