Try this Cranberry Moscow Mule at your next holiday gathering or girls night in. The ginger-cranberry combination gives this old drink some new pizazz!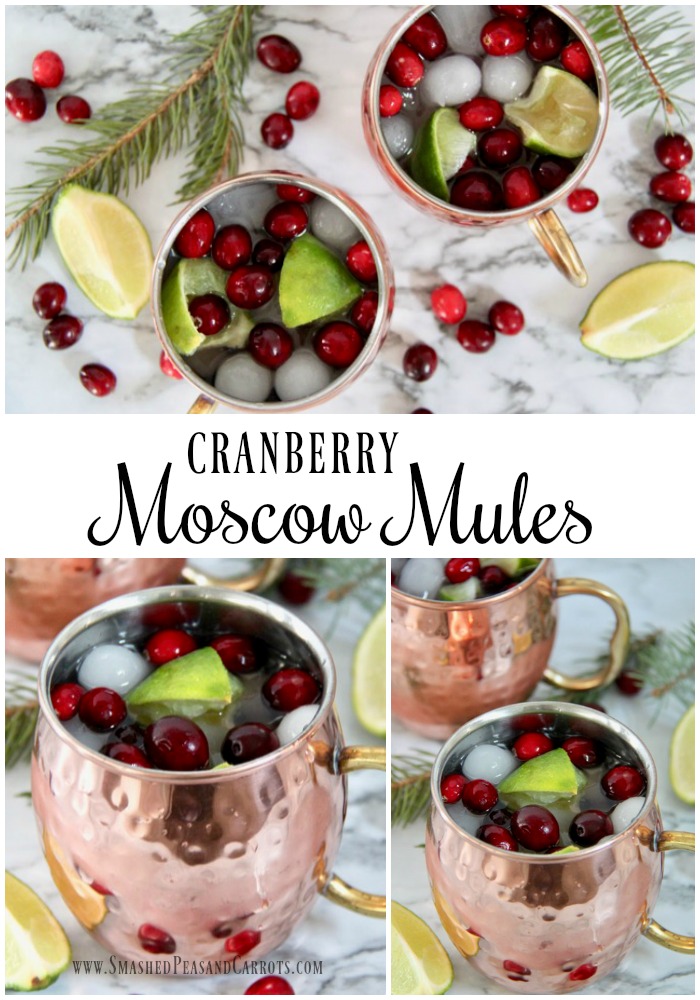 One of my favorite drinks ever is a Moscow Mule, they are just so ginger-y and lime-y and perfect! Over Thanksgiving weekend I wanted to jazz them up for the holidays because we all know that once Thanksgiving ends it's nothing but Christmas spirit all up in here. So to make them a bit more festive I played around with some of the extra cranberries we had leftover from making cranberry sauce. Who woulda thought that adding a bit of cranberry juice and some fresh cranberries could take this yummy drink to a new level…not me! But now I am sold!! (affiliate links present)
If you have never had a Moscow Mule before…you must! It is a mixed alcoholic drink (although I have been know to make them minus the alcohol for those friends who cannot partake in it!) It includes vodka, ginger beer (which is similar to root beer in that it is non-alcoholic!), and lime juice. We have a couple favorite ginger beers we like to use because they are extra spicy. One is this ginger beer and the other is this yummy ginger beer from Australia that you usually can find at Cost Plus World Market!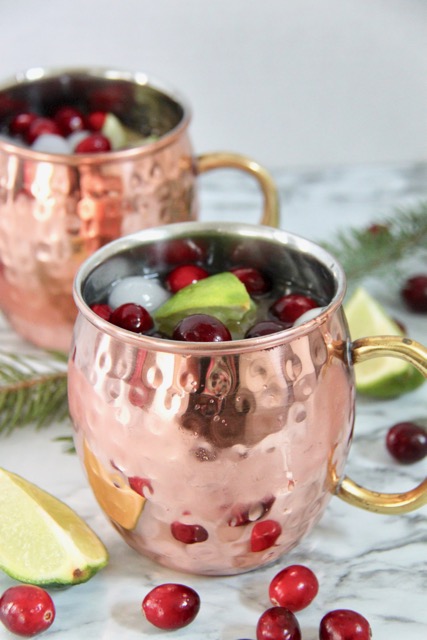 Now you may have been wondering why is this mule in a copper mug? Is it just for looks? Well, yes…sort of! They are cute aren't they? 🙂 Actually copper mugs are best for maintaining a chill temperature for the mule since moscow mules are best served and drank at a cold temperature! Who knew, right? And if you are worried about the copper dissolving into the drink because this drink is acidic just make sure your copper mugs are lined on the interior with another metal, such as nickel or stainless steel…which most sold in stores and online have these days. Phew, we dodged a bullet there!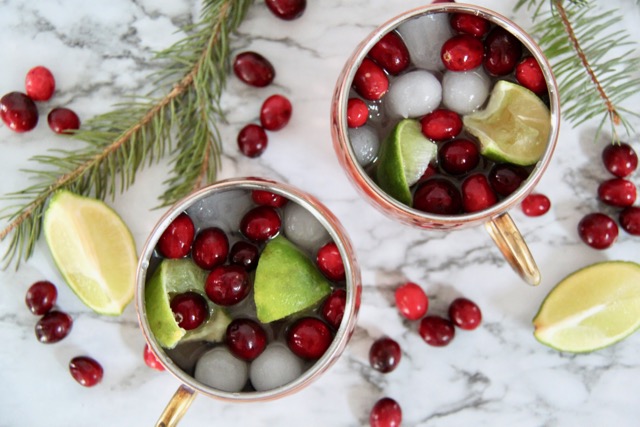 Cranberry Moscow Mule
To make these fun Cranberry Moscow Mule drinks, I highly suggest 100% cranberry juice not the cranberry juice cocktail…it makes a world of difference to the taste in my opinion! I hope you try this recipe and enjoy!

Cranberry Moscow Mule
Instructions
Fill a glass (a copper mug is best if you have it!) with ice.
Pour vodka, cranberry juice, and ginger beer over top the ice.
Cut the lime in quarters.
Using half the lime (2 quarter slices), squeeze the juice of the limes into the glass or mug and drop the squeezed slices into the cup.
Stir together and garnish with fresh cranberries.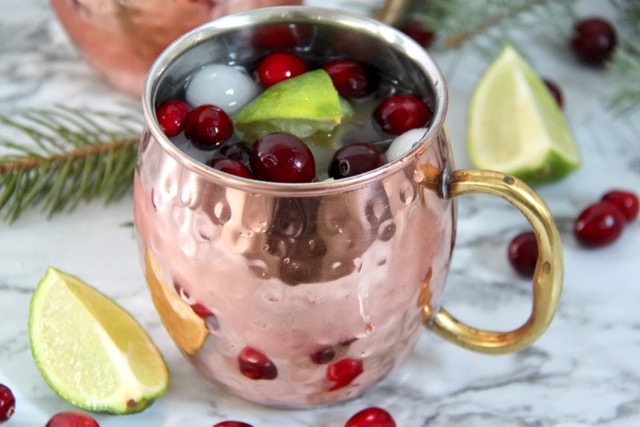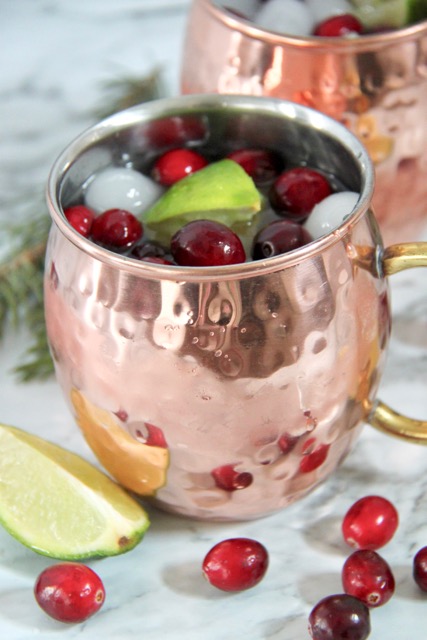 For more delicious and easy recipes and craft ideas please LIKE Smashed Peas and Carrots on Facebook or follow me on Instagram or Pinterest for more great ideas! And if you like this, you may enjoy these posts as well!
Thanks for stopping by today!
Love,
Maggie
SaveSave
SaveSave
SaveSave
SaveSave
SaveSave