Tonight for dinner I am making my super favorite and super easy Whole Chicken in a Crockpot recipe in my all-time favorite kitchen appliance currently to speak of, my crockpot! You will be amazed at how simple and easy this recipe is that you will want to make it often! It is just like the rotisserie chicken you buy at the store, yummy!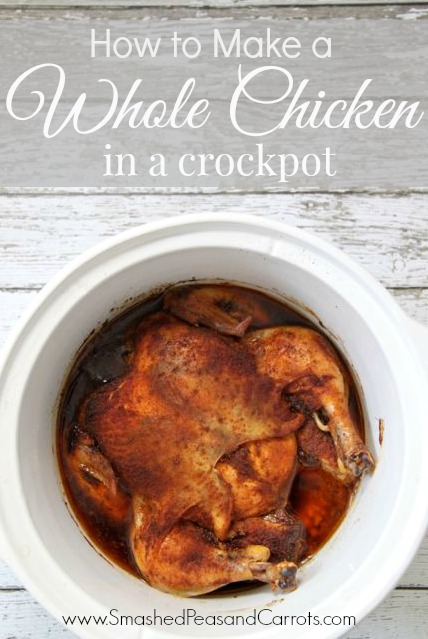 I love that all you need to do is take out the neck and giblets pack in the center cavity, give the whole chicken a nice rinse, mix up this crazy awesome spice mix and rub it all over, and place it in your crackpot….that's it….maybe 10 minutes of time and you have yourself a delicious rotisseries style chicken in 6-8 hours max!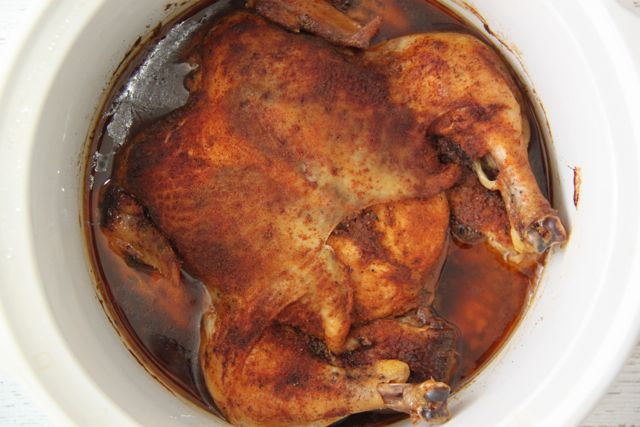 Crockpot Roast Chicken Dinner
Ingredients
(2) 4 lbs whole chickens or some variation on the weight
*I like to get a 6 or 7 lb chicken and that way I have leftovers for a few meals
½ tsp black pepper
½ tsp garlic powder
1 tsp white pepper
1 tsp thyme
1 tsp onion powder
1 tsp cayenne pepper
2 tsp paprika
2-4 tsp salt
Instructions
Rinse and clean your chicken with cold water. )This means take out the giblet packet that is hidden in the open cavity for those that never even knew this was in there!)
I like to cut off as much of the skin as possible so your end product is not super greasy.
Mix all of the seasonings together and rub all over the chicken.
Place the chicken breast side up and slow cook for 6-8 hours on high or 8-10 hours on low.
*May also add in potatoes, onions, and or carrots to cook along with chicken at the beginning of cook time!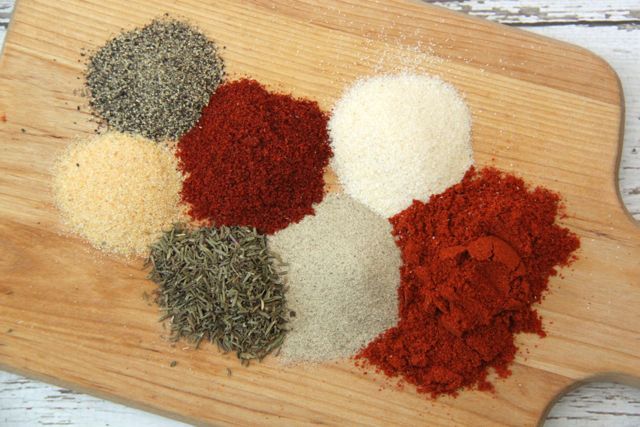 Here is a look at all the spices…I like the spicy additional of the cayenne but you could omit it totally if you don't like some heat.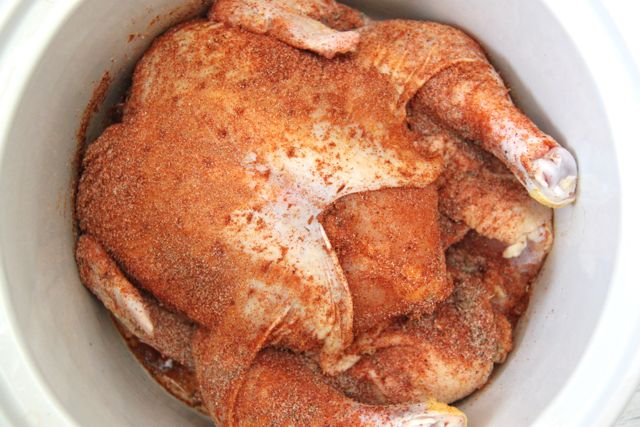 The chicken all rubbed down…you can remove most of the skin if you want the cooked juices to be less greasy. Make sure if you are keeping the skin on that you rub spices underneath the skin, directly onto the breast!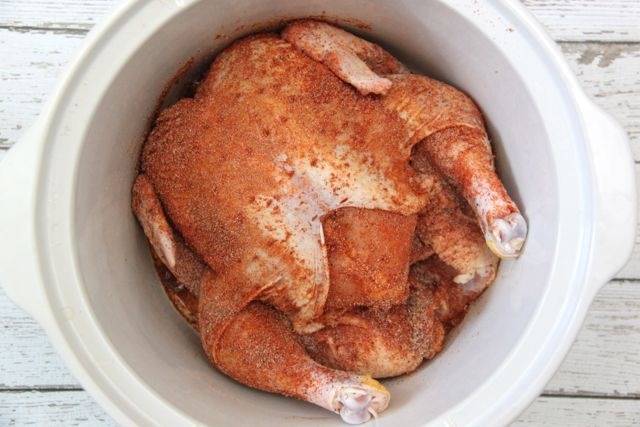 Breast side up in the crockpot and set it on 4-6 hours on high or 6-8 hours at low. The last hour or so I add potatoes…or carrots or onions, whatever you like. That way your veggies aren't mushy in the end.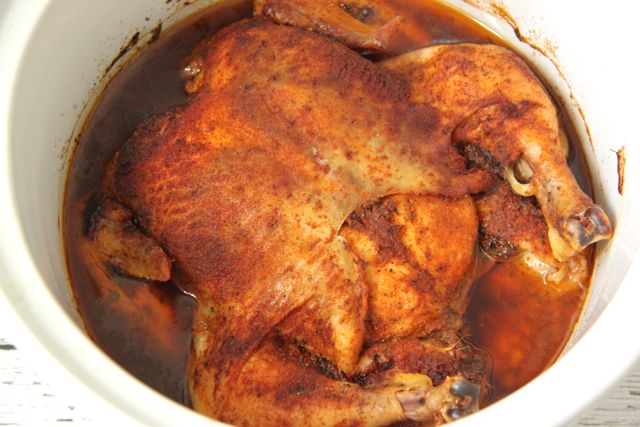 The finished product. The meat should fall off the bone when done, that's an easy way for you to tell if your nervous about undercooked chicken. Mmmmm…can you smell the goodness!
So, that's it. Super simple and super good. Now just sit back and listen to the oohs and ahhs from your hubby and your kids as they devour this delicious meal that they think you spent all day cooking. Then relax this evening as your hubby watches the kids since you slaved in the kitchen all day *wink, wink*
Love,
Maggie