Have
I ever told you, I love food that's spicy or has a kick to it ? You might call that Mexican food but really it can be so many things 🙂 My dad is from Peru and growing up we always had tabasco sauce and a jalapeno pepper on the table along with salt and pepper…is that weird?
Hmmm
, I don't think so, I think it's rather cool, I mean SPICY!
Well
, the other night I had a total craving for some tacos…shredded beef tacos to be exact! So I pulled out my trusty crockpot and made one of my most favorite (and easy) taco dishes. It's so easy that there are only 3 ingredients…TRU DAT! I thought that since Super Bowl Sunday is in one day that I would post this recipe so if you have a hankering for some Super Bowl Sunday Tacos then you might want to try these. They are da bomb,
seriously!!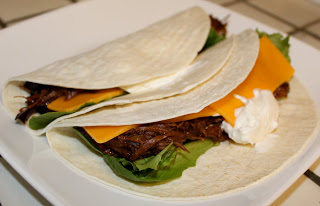 Crockpot Shredded Beef Tacos
Ingredients
Shredded Beef Tacos
1 3-4 pound beef roast (chuck roast, rump roast, etc. whatever you like or have on hand)
1 8 oz can tomato sauce
1 1.25 oz packet taco seasoning
Instructions
Place your roast into you crockpot (can be frozen!).
Mix your tomato sauce and taco seasoning together.
Pour on top of roast.
Cook on high for 4-5 hours or low for 7-8 hours.
Enjoy with soft or hard taco shells, sour cream, shredded lettuce, shredded cheese, guacamole!!
*Many times when I want to make these tacos I don't have tomato sauce in my pantry (I seem to use it a lot in cooking and for some reason I never buy enough of it.) so I just substitute ketchup instead, it works just as well in my opinion.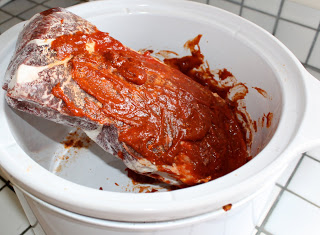 If you have frozen meat, like I usually do, then just slather on the tomato sauce (or ketchup) and taco seasoning mixture right on the frozen block instead of pouring it into your crockpot.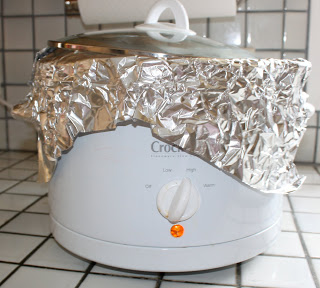 Then, since your meat is sticking out of your crockpot and you can't quite put the lid on to seal it, I just covered it with aluminum foil and then place the lid on top. Within an hour or two the meat will have softened and fit your crockpot better and then you can take the foil off!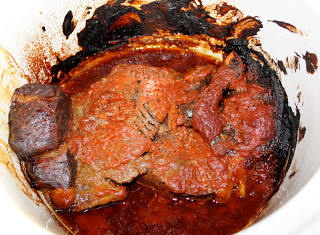 About halfway through cooking time I open up my crockpot and de-fat the meat. This way your taco meat isn't super greasy!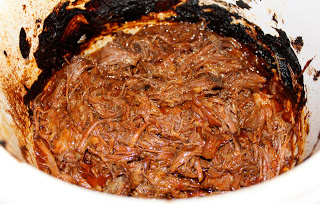 Then, if the meat is tender enough at this point I just shred the beef all up and mix it together like so! You may need to wait a little longer to do this, it just depends on your cooking time!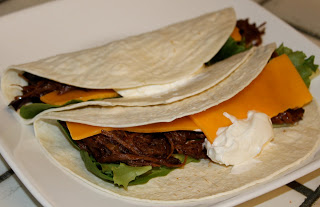 Mmm…the best and easiest shredded beef tacos
ever!