Today I thought I would share my first official Christmas craft of the season with y'all, yahooo!  Ever since Thanksgiving weekend my house has been transforming into a sparklier and more glittery version of it's old boring self every day 🙂  I adore the holidays as most of you probably do too.  It's a season full of hope, and joy, and blessings and I just love all of that.
Aside from all the sparkliness my home now has, I also wanted to add some shabby chic prettiness to my front room particularly on the vintage dresser by my front door. So on a trip out with my littlest 3 one afternoon while Noah was at Kindergarten I happened to find some plain cardboard cone forms at Michaels for less than a dollar a piece…total deal!  Add that find with some vintage lace trim I had in my stash and some form of adhesive (I used adhesive tape but a glue gun would work great too!) and this project is as inexpensive as it gets…Merry Christmas to me!
Decorative Lace Trim Christmas Trees
Cardboard cone forms
lace trim
adhesive tape or glue gun
scissors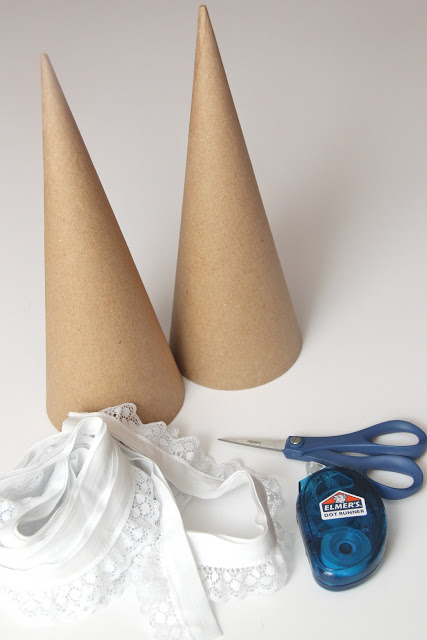 Simple ingredients for this project!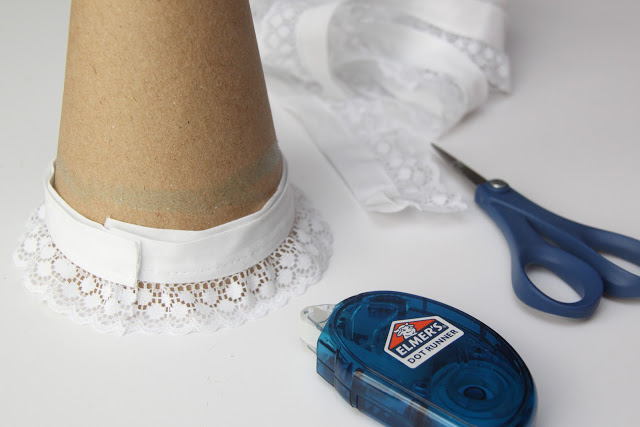 All you need to do to start is to roll the tape near the base of the cone (or use your glue gun!)  I cut strips one by one as they will need each need to be slightly smaller as you go up your cone.  I also cut the lace slightly larger than the circumference of the cone so it would overlap a bit when I glued the trim down. Do this the entire way up until you get to the tip and just make sure you cover the tip well! Also, make sure you start your rows of trim at the same spot so you have a nice seam up the back you can put against the wall.  To be honest, you can't really tell the seam is there but if it at all bothers you just do it that way!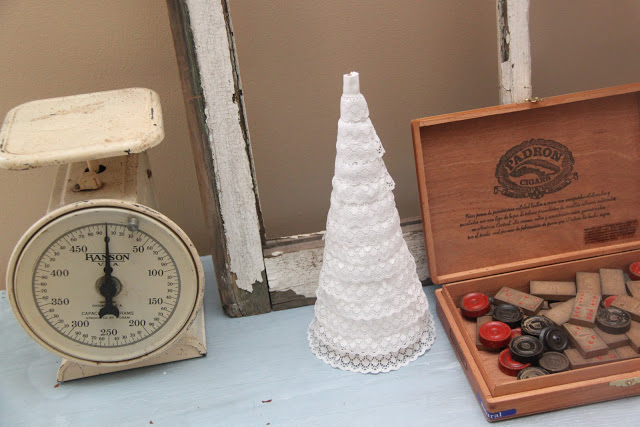 Pretty and oh, so shabby chic, right!
Can you believe I bought that antique scale at a Flea Market for $10 dollars?  What a score!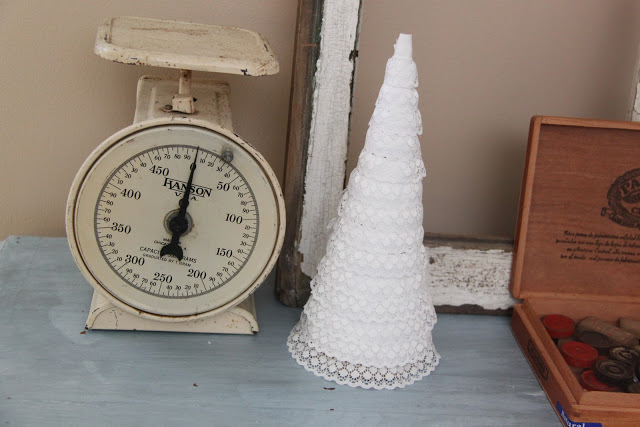 This would be a great craft for a ladies night in or a church function if you are looking for something fun to do for an upcoming holiday party!
Enjoy and thanks for stopping by today!
XOXO,