I've got another segment of my littles' easy and healthy Bento Lunches today, who's excited! Y'all know we are big into our Ziploc Divided Containers (as well as a few other favorites including but not limited to Rubbermaid Lunchblox and a few fun bento specific ones found in this post here!) but as many of you know, Ziploc has discontinued them, womp, womp!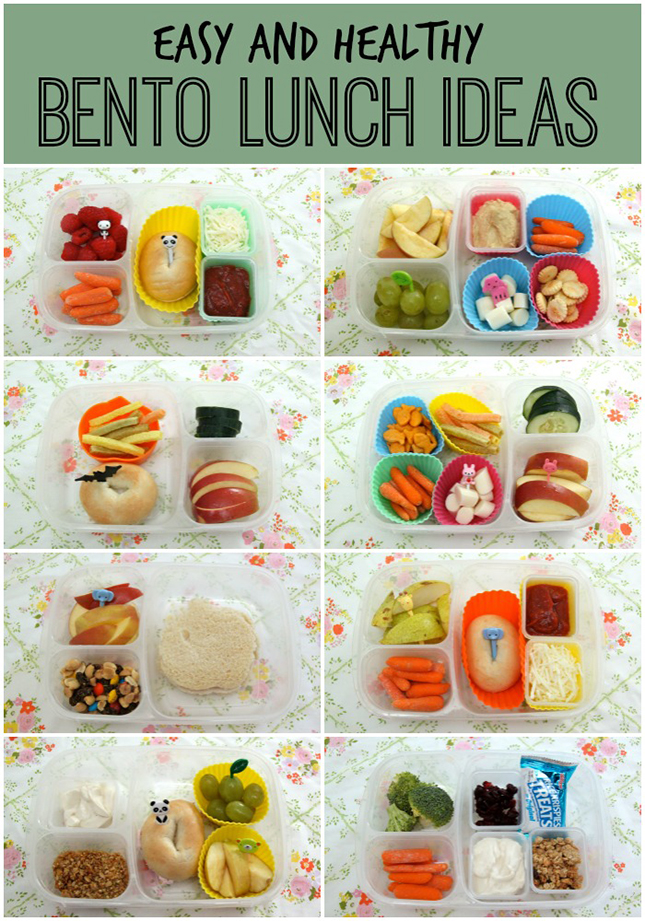 Well, Kelly Lester, founder and momma behind the Easy Lunchbox phenomenon, contacted me to give her lunch boxes a whirl and see what we thought. We have been using them for a few weeks now and this round up is using nothing but the Easy Lunchboxes (and as you can see they are very similar!) I'll share a review of them with you tomorrow but for today…let's get on with the bentos!!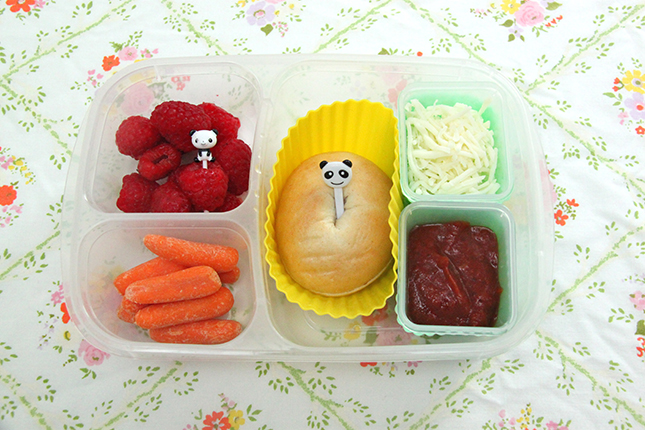 Lunch 1: Raspberries with a panda pick, baby carrots, and make-your-own pizzas with mini bagel, pizza sauce, and mozzarella cheese.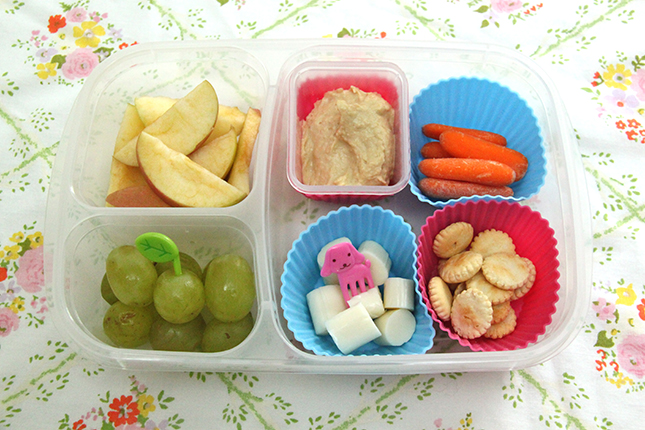 Lunch 2: Sliced apples, green grapes with a leaf pick, hummus, baby carrots, oyster crackers, and sliced up string cheese with a little doggy fork.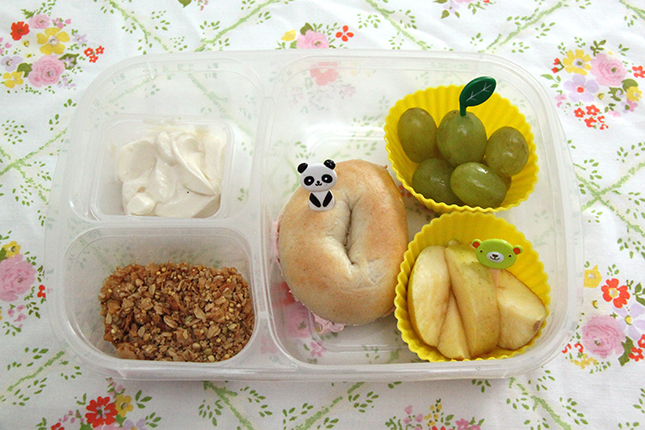 Lunch 3: Vanilla greek yogurt, granola, strawberry cream cheese on a mini bagel with a panda pick, sliced apples with a bear pick, and green grapes with a leaf pick.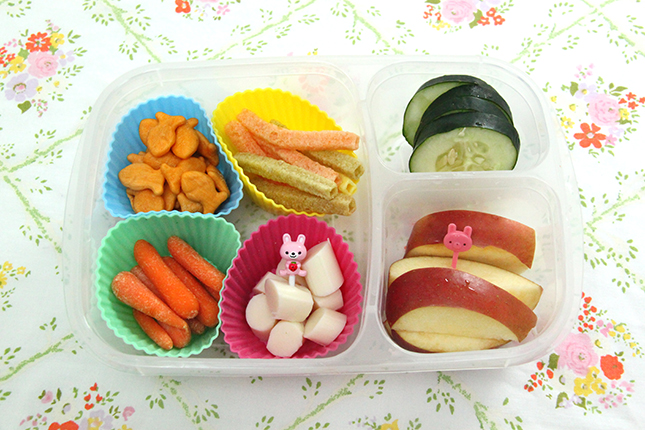 Lunch 4: Goldfish, veggie straws, baby carrots, sliced string cheese with a bunny pick, cucumbers, and apple slices with a bunny pick.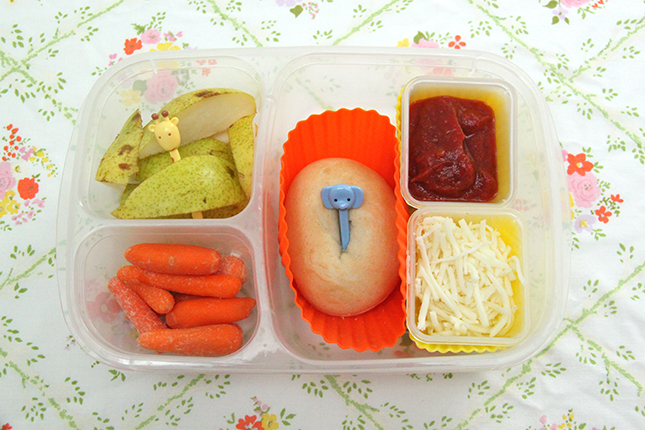 Lunch 5: Sliced pears with a giraffe pick, baby carrots, another make-your-own pizza lunch with a mini bagel (and elephant pick), pizza sauce, and mozzarella cheese.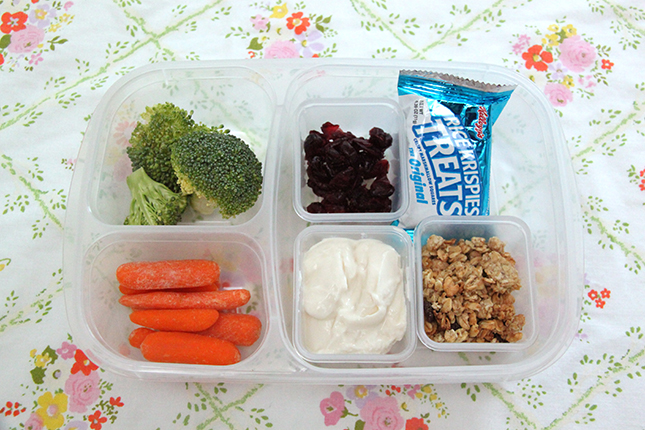 Lunch 6: Broccoli, baby carrots, dried cranberries, vanilla greek yogurt, granola, and a mini rice krispies treat.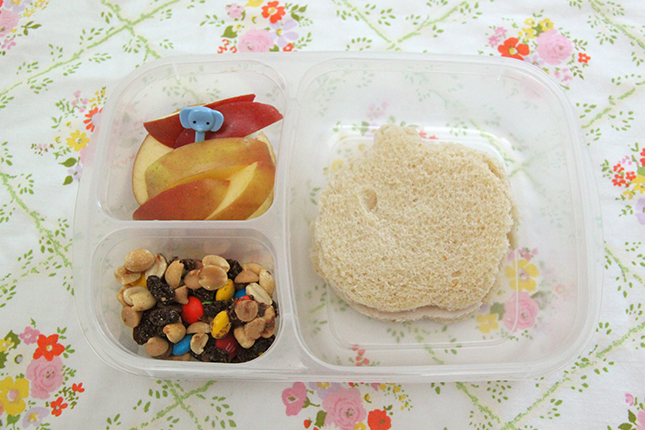 Lunch 7: Apple slices with an elephant pick, trail mix, and a turkey sandwich shaped like a pumpkin.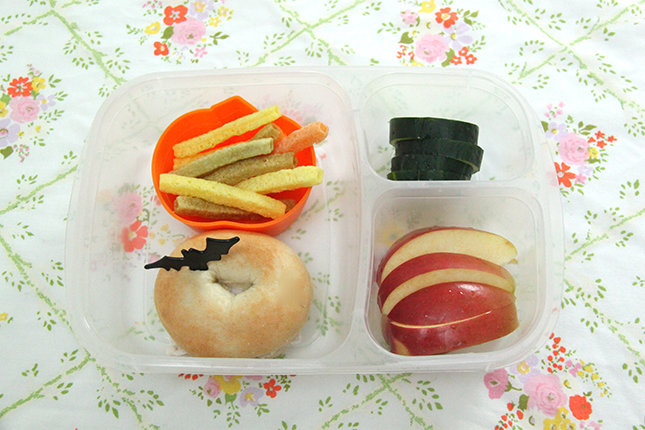 Lunch 8: Veggie straws, turkey mini bagel with a bat pick, cucumber slices, and apple slices.
My littles continue to help me shop for food for their lunches which has been such a fun way to spend time together. We sit and plan, write up a list, and then grocery shop for the week together. I hope these lunches continue to inspire you to make healthy lunches for your children and maybe your children have found an interest in begin a part of the lunch-making process too!
PS. Look for my review of the Easy Lunchbox tomorrow as well as a fun giveaway too!
Love,
Maggie