I have less than one week until my littles are back in school which mean that soon we will be back in Bento Lunch Box mode! Here are a few Super Lunchbox Ideas to get yours (and my) creative juices flowing again to make some easy, healthy, and of course, yummy school lunches as we want all of our kids to be as super as they possibly can be! If we can nourish and energize them they can go above and beyond in every activity– whether it's sports, school, hobbies or just playing with friends or family!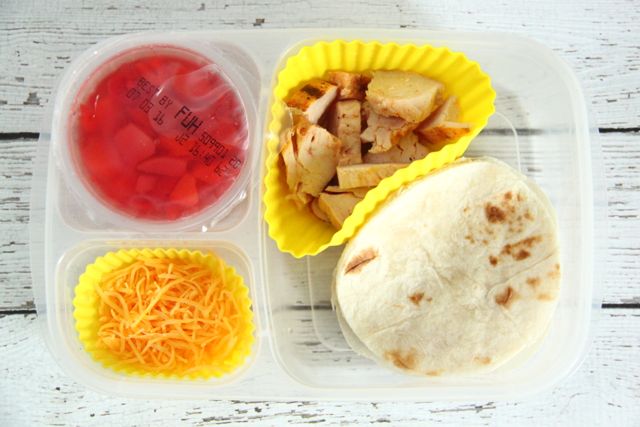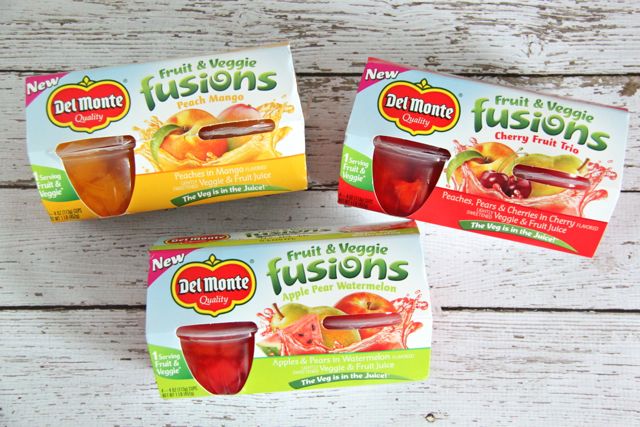 Have you seen these New Del Monte® Fusions in stores yet? My kids love these kinda things in their lunch boxes but as a momma I am super picky about buying them because I don't like my kids eating that syrup-y type juice. I look for fruit juice as the juice ingredient and these little cups fit the bill nicely! The fruit is served in a delicious, lightly sweetened "veggie-fruit juice" which equals 1 combined serving of fruit and veggies, how's that for getting in your fruits and veggies! So sneaky, right? The veg is in the Juice – but you'd never know it as the vegetable is in the lightly sweetened juice but it tastes like yummy fruit!
Del Monte® Fusions also have No high fructose corn syrup and No artificial colors or flavors, yay!!! This is the only fruit cup with the goodness of veggies and the yummy taste of fruit. *1 serving = ½ cup Concentrated equivalent to ½ cup fruits and vegetables (75% fruit, 25% vegetables) per USDA Equivalency Database – Learn more here.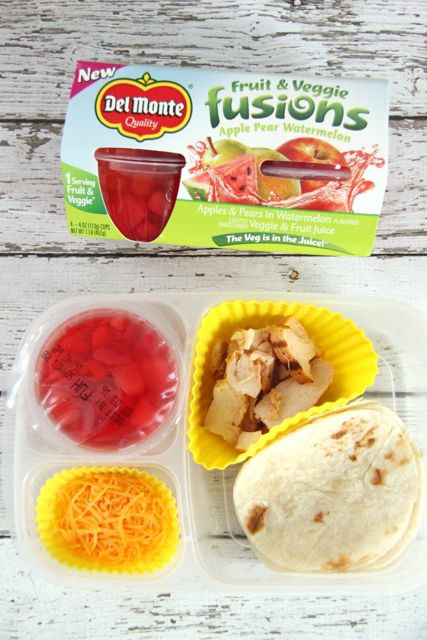 Adding in a Del Monte® Fruit Cup makes me feel clever for getting my kids to eat one full serving of fruits and veggies in a snack they love! High five moms!!! A super nutritious lunch idea that my kids really enjoy is my take on a "Make Your Own Taco" lunch. This includes, mini soft quesadillas, fajita seasoned chicken breast chunks, shredded cheddar cheese, and a Del Monte® Apple Pear Watermelon Fusion Fruit Cup.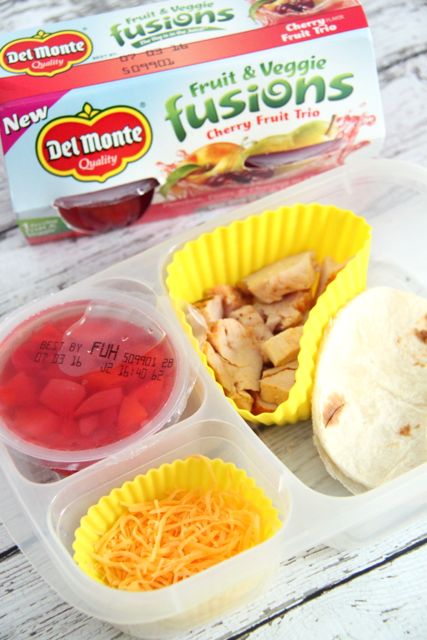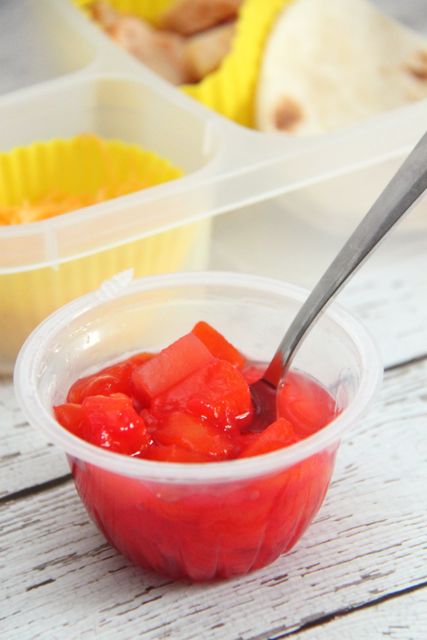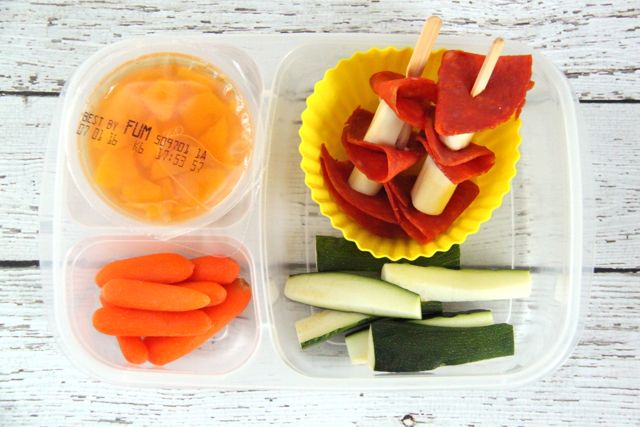 Another great lunch idea my kids adore are Mini Pizza Sticks. I slice string cheese into cubes and cut pepperoni slices in half and place them on a small wooden skewer, then add in some baby carrots, zucchini sticks, and a Del Monte® Fusions Peach Mango Fusions Fruit Cup and lunch is served!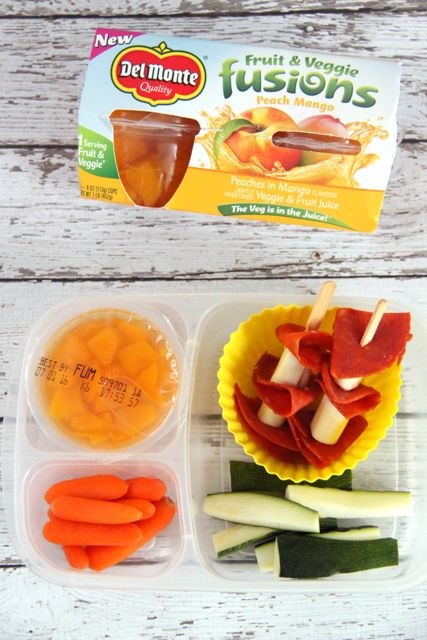 Del Monte® is hosting a sweepstakes on Twitter and Instagram and I encourage you to join in!
1. Follow @DelMonte
2. Post a picture of your child being super and use the hashtags #SharetheSuper #sweepstakes for a chance to win
3. Winners will be selected weekly to win a branded backpack with new Del Monte® Fusions inside & One grand prize winner will be awarded $2,000 at the end of the campaign.
You can also visit www.sharethesuper.com for more info and print off a $1 off coupon!
Follow Del Monte via their social media sites for more Super Lunch Box Ideas here:
Pinterest // Facebook // Instagram // Twitter // YouTube 
Thanks for stopping by today!
Love,
Maggie
*This is a sponsored conversation written by me on behalf of Del Monte®. The opinions and text are all mine.