Giveaway closed!!!
*We love Elephant & Piggie at my house, and we're so excited to partner with Disney-Hyperion on a sponsored post to celebrate 10 years of the series!
This Elephant and Piggie Party loaded with themed food, decorations, and delicious treats is sure to be a hit with little ones of any age!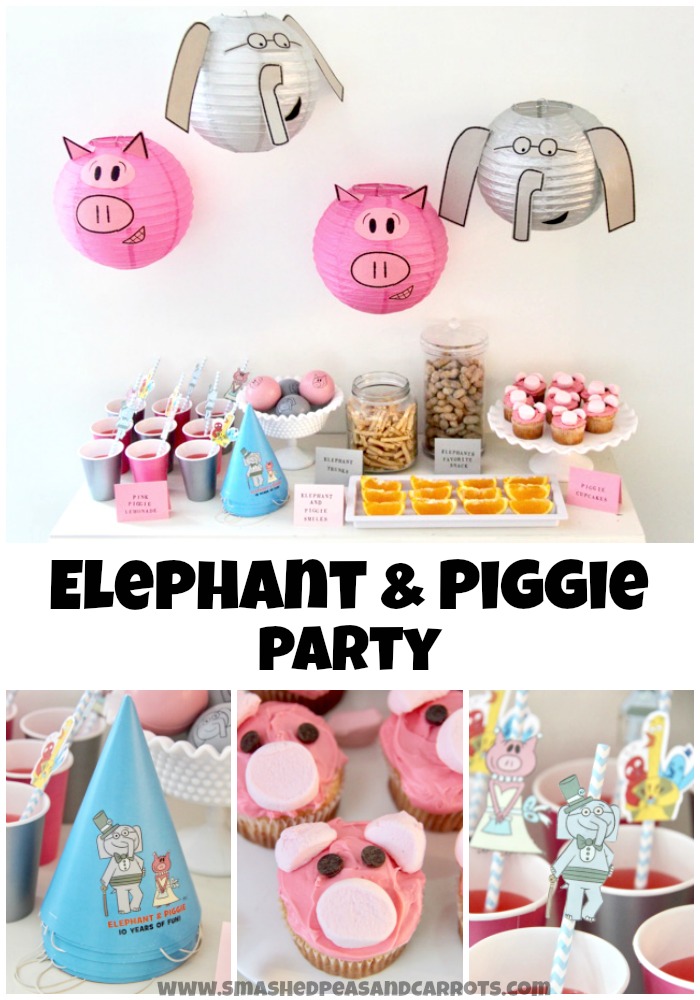 If you are looking for a super fun way to get your kids excited about reading, especially now that school is almost out and summer is closer and closer, can I interest you in throwing your children a Book Party?!! 🙂 I put together a fun little Elephant and Piggie Party over the weekend to help celebrate 10 years of Elephant & Piggie books and it was a hit! (And PS. can you believe it's been 10 years already?!) I also wanted to celebrate the newest release in the Elephant and Piggie Like Reading! series, The Good for Nothing Button by Charise Mericle Harper. Yet another great book in this wonderful series that gets kids reading!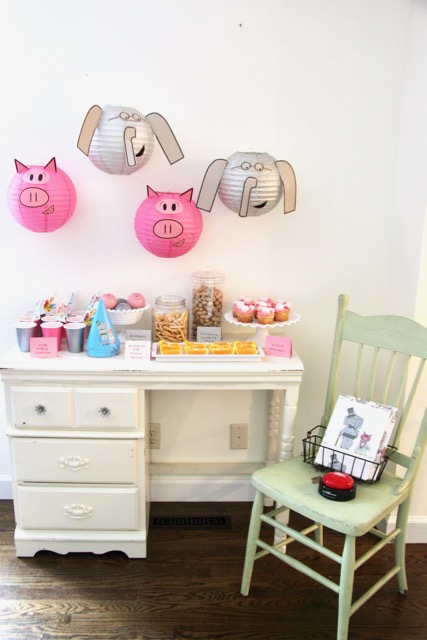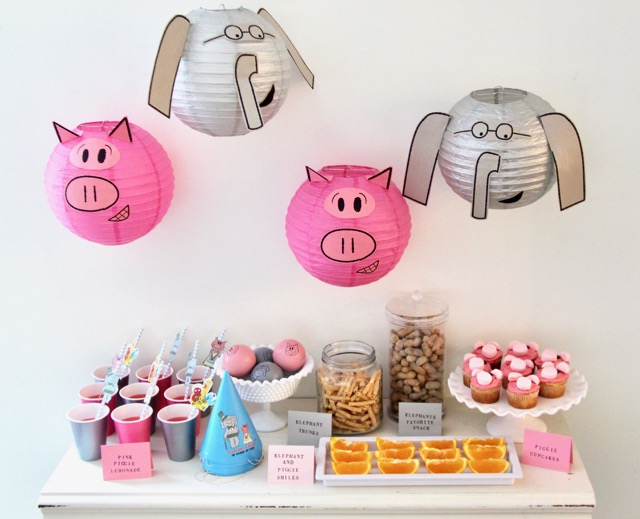 Elephant and Piggie Party
I love a good themed party and so I couldn't resist putting together a spread that I think would be Elephant & Piggie approved! Of course that includes Elephant & Piggie decor, food, and party favors!!!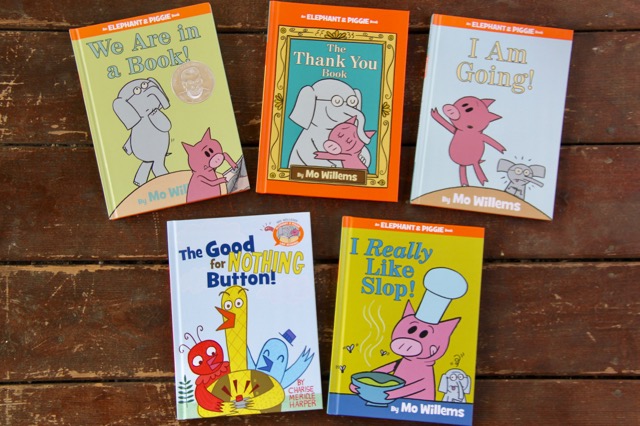 My kids truly looooove every single Elephant & Piggie book they read. And I love that even though we have quite the library of them here at home, my kids cannot stop lending them from our local library every time we go! Here are some of our favorites as told to me by my kids:
We Are in a Book!
Pigs Make Me Sneeze!
I Broke My Trunk!
Happy Pig Day!
There Is a Bird on Your Head!
I Am Invited to a Party!
I Will Surprise My Friend!
Can I Play Too?
Elephants Cannot Dance!
Let's Go For a Drive!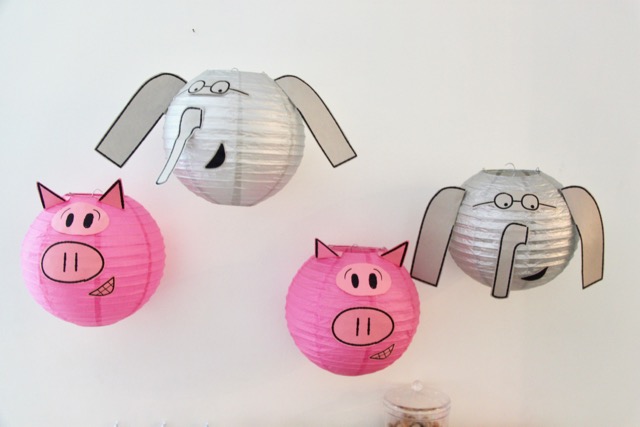 To decorate for this little book party, I made Elephant & Piggie faces with my kids out of pink and grey paper lanterns…seriously how cute are they?!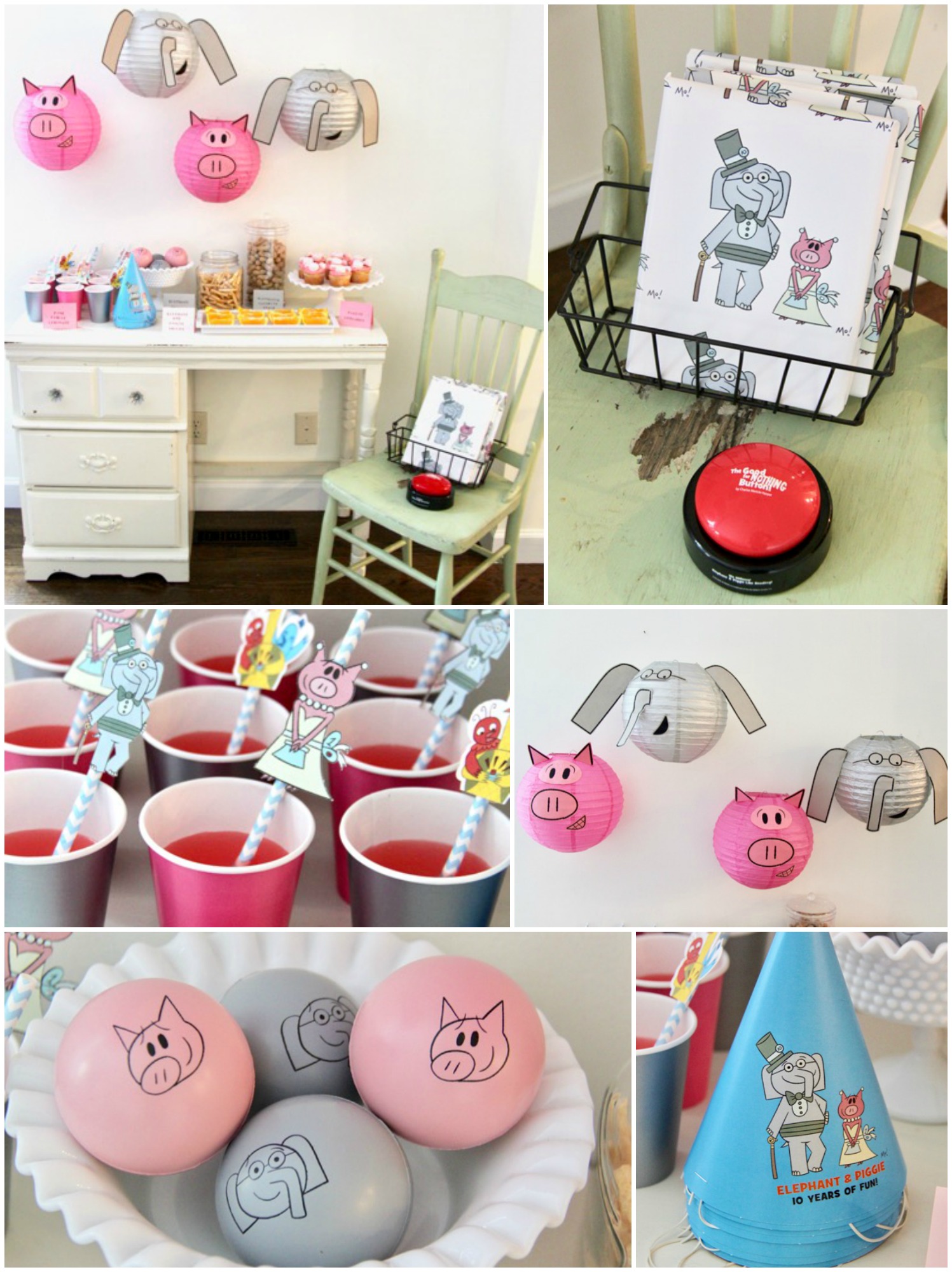 We were sent some super cute paper straws with character cuts outs on them as well as Elephant & Piggie squishy stress balls, party hats, new books to add to our collection that I wrapped in THE cutest Elephant & Piggie wrapping paper, and fun coloring pages and worksheets! I'd say those are some great party favors!
If you would like some free downloadable for your own party, including how to make your own Elephant & Piggie paper lanterns, check these out:
10 Years of Fun! Elephant & Piggie Anniversary Badge
Elephant & Piggie Like Reading! Activity Kit
Instruction Guide for DIY Elephant & Piggie Paper Lanterns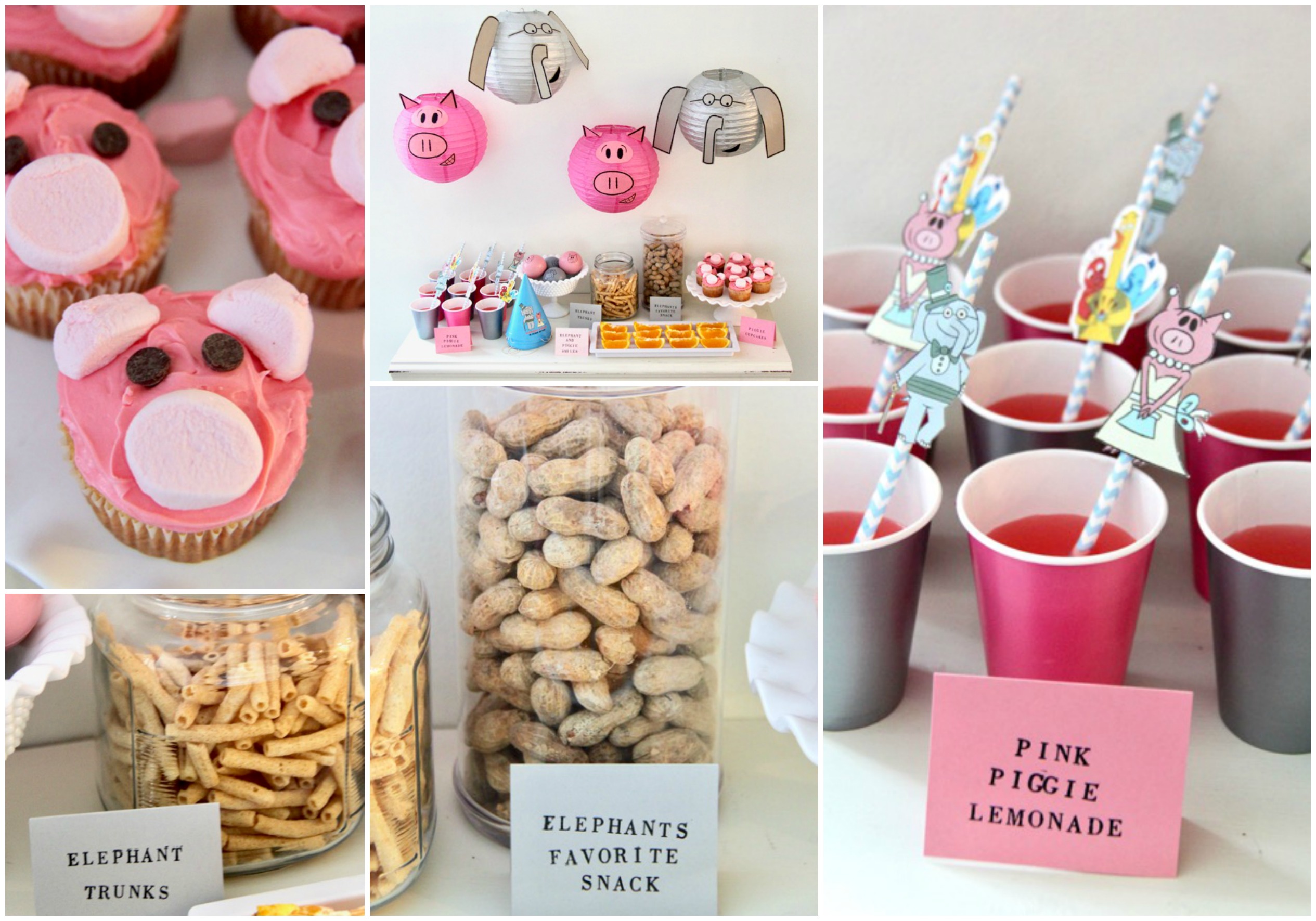 I decided to make our party food things that our beloved Elephant & Piggie might enjoy too! We had some Pink Piggie Lemonade, Elephant Trunks in the form of Apple Cinnamon Veggie Straws, Elephant & Piggie Smiles in the form of orange slices, Pink Piggie Cupcakes decorated with strawberry marshmallows and chocolate chips, and of course Elephant's Favorite Snack…Peanuts!

The kids had a blast opening all their new books and especially enjoyed the newest one, The Good for Nothing Button By Charise Mericle Harper. It's about two birds, Red Bird and Blue Bird, and they are excited to try the button. But when they press it, they discover that the button makes them happy. Happy is something! A flabbergasted Yellow Bird insists the button does nothing. But it sure does seem to be making him mad. Mad is something!
The hilarious debate that follows takes readers on an emotional roller coaster that pokes at the power of imaginative play.
We received our very own Good for Nothing Button and had hours of pressing it while someone else was talking, lol!!!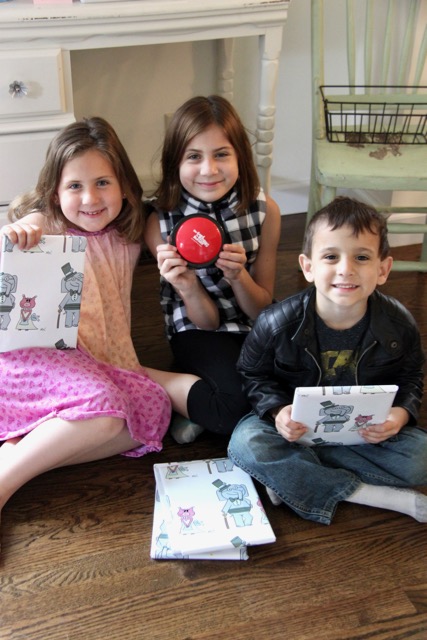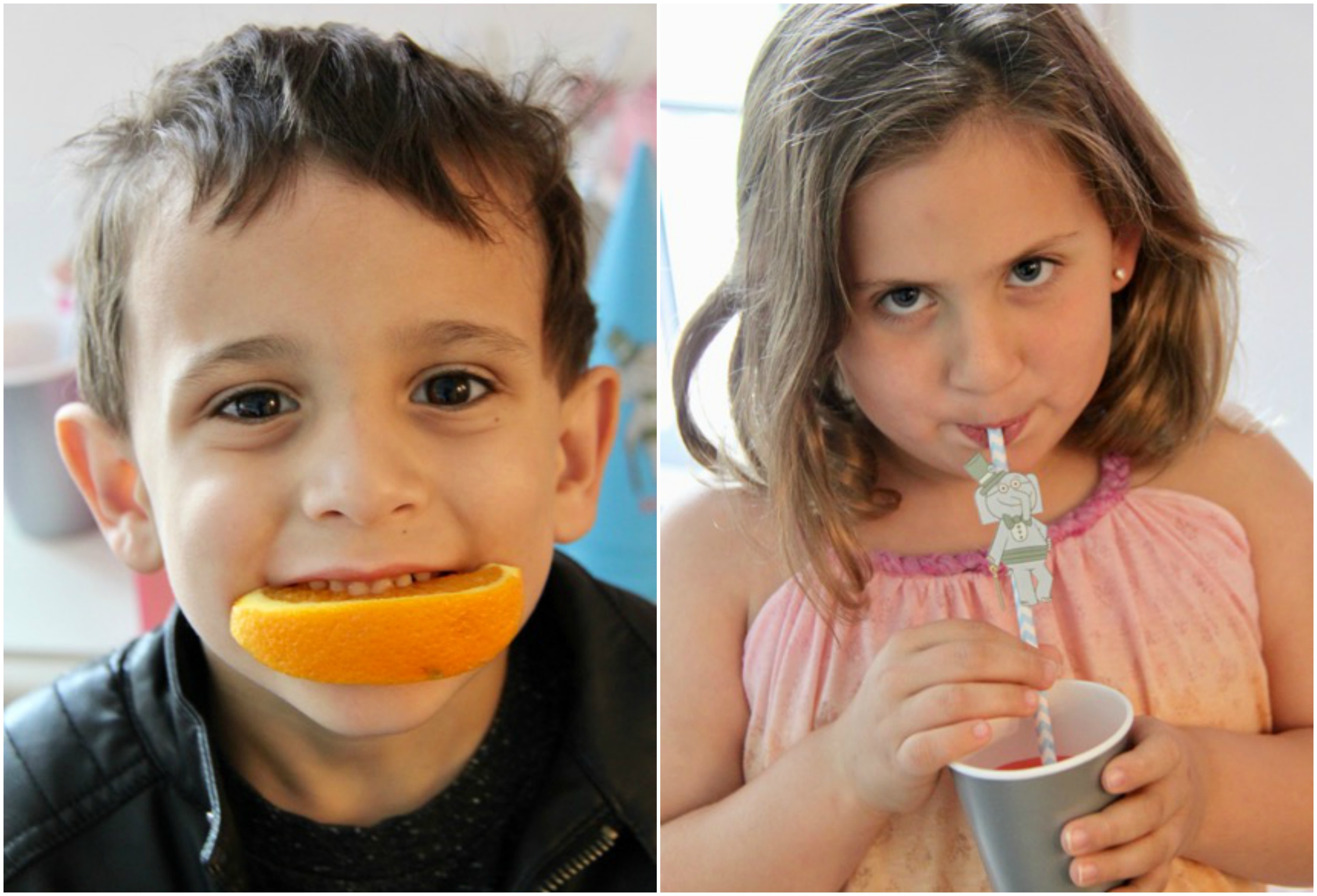 Here is a little bit about the 'Elephant & Piggie Like Reading!' series…
It is a new beginning-reader series created by Mo Willems!
Best friends Elephant and Piggie introduce kids to their favorite books – brought to life in original stories created by contemporary children's book authors and illustrators.
Books in the Elephant & Piggie Like Reading! series:
The Cookie Fiasco by Dan Santat (2016)
We Are Growing! by Laurie Keller (2016)
The Good for Nothing Button by Charise Mericle Harper (2017)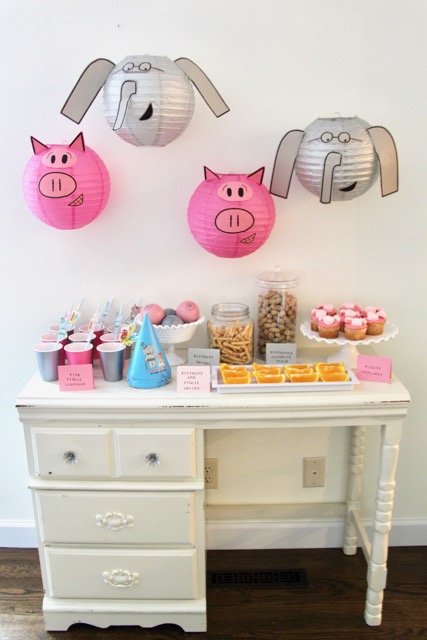 And now for the Giveaway Details….Celebrate 10 Years of Fun with Elephant & Piggie!
One (1) winner will receive:
The Good for Nothing Button
4 books from the Elephant & Piggie series
Plus Elephant & Piggie stress balls and temporary tattoos!
Giveaway open to US addresses only.
Prizing provided by Disney-Hyperion.
***Comment below with your favorite Elephant and Piggie Book!!! I'll pick a winner on Friday!!!
WINNER CHOSEN!!!!! GIVEAWAY CLOSED!
Visit PigeonPresents.com
Tweet @The_Pigeon and @DisneyHyperion
Follow @DisneyBooks on Instagram
Like @MoWillems on Facebook
Thanks for stopping by today!
Love,
Maggie