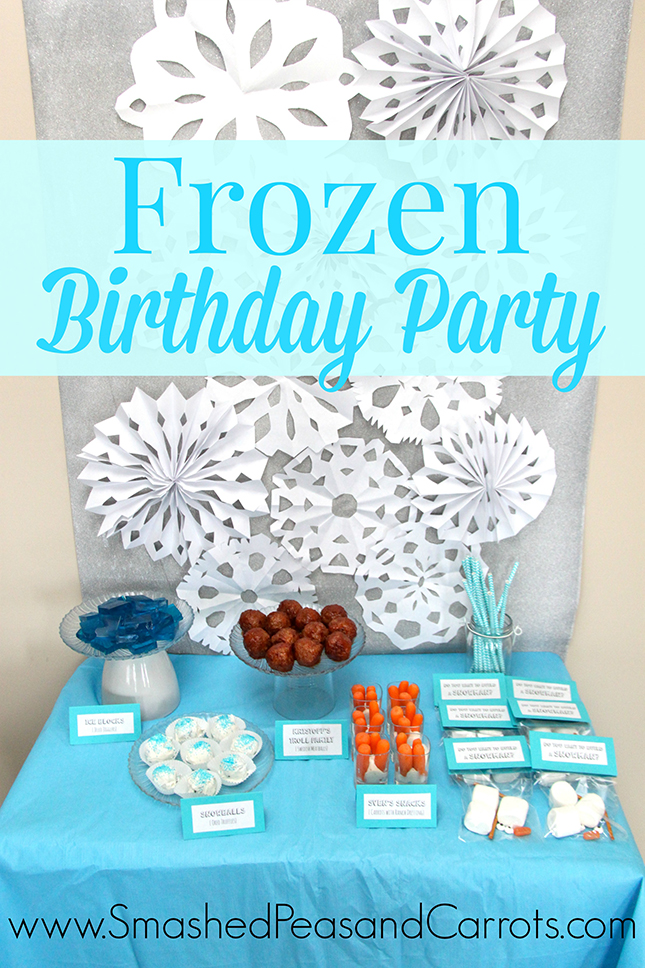 So you may remember me posting that our little Eloise had her 4th birthday not too long ago….okay, maybe it was like a month ago. Gah, why does summer have to go by so darn fast!? Well, I finally uploaded the pictures from her birthday party and went through them so I could share them with you (yay!) I have got to say this was the cutest little party to put together. Frozen is such a fun movie and there are so many ways to decorate and design with it you can really get carried away, the ideas are endless for sure!
Being that this was a Frozen party, I decorated this party using lots of ice blue, silver, and white. I also used a few of the movie's characters to theme the food and goodie bags. That made it extra cute in my opinion!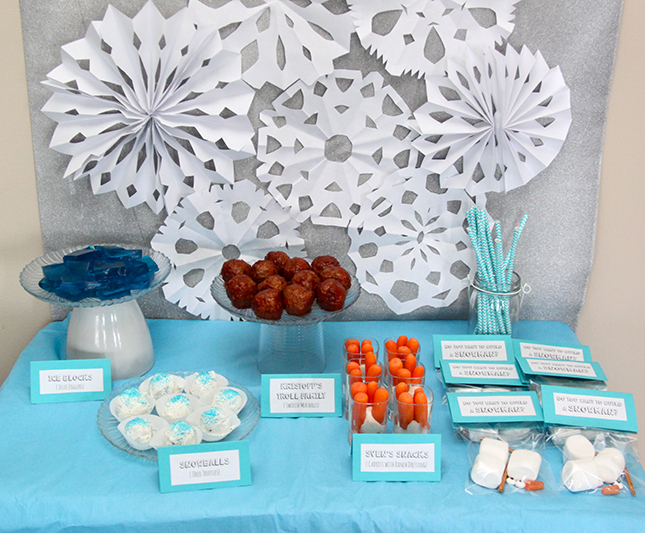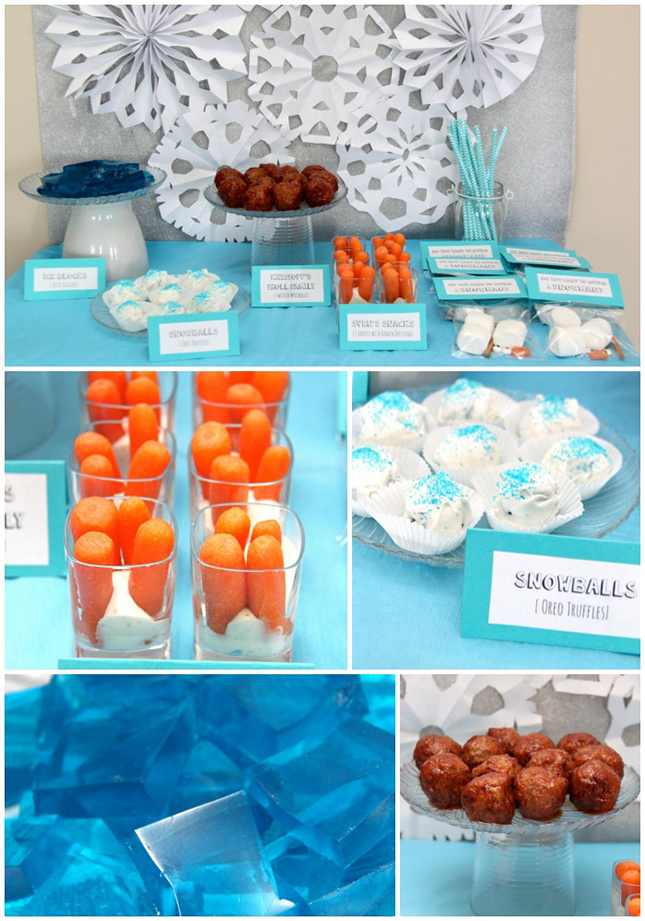 For the themed food, I placed some Ranch dressing in the bottom of shot glasses and topped them with baby carrots calling them, "Sven's Snacks" (cute, right?!) I also made blue jello jigglers and cut them up into squares and piled them high just like Ice Blocks. I made Swedish meatballs and called them "Kristoff's Troll Family" cause they looked like rocks, har har. And then I made Oreo truffles but dipped them in white chocolate and sprinkled them with ice blue sanding sugar so they looked like Snowballs! It was all super cute, super easy to eat, and super delicious!
You can find the FREE printables for the food labels here:  Frozen Foods FREE Printable
Just print it out on white paper and cut to size to fit onto blue card stock tents!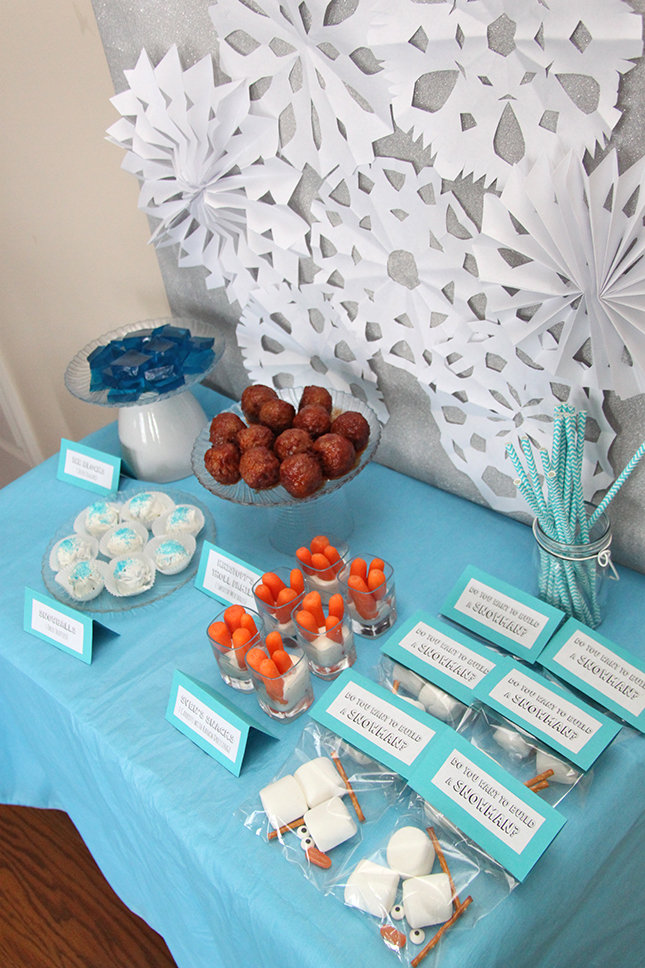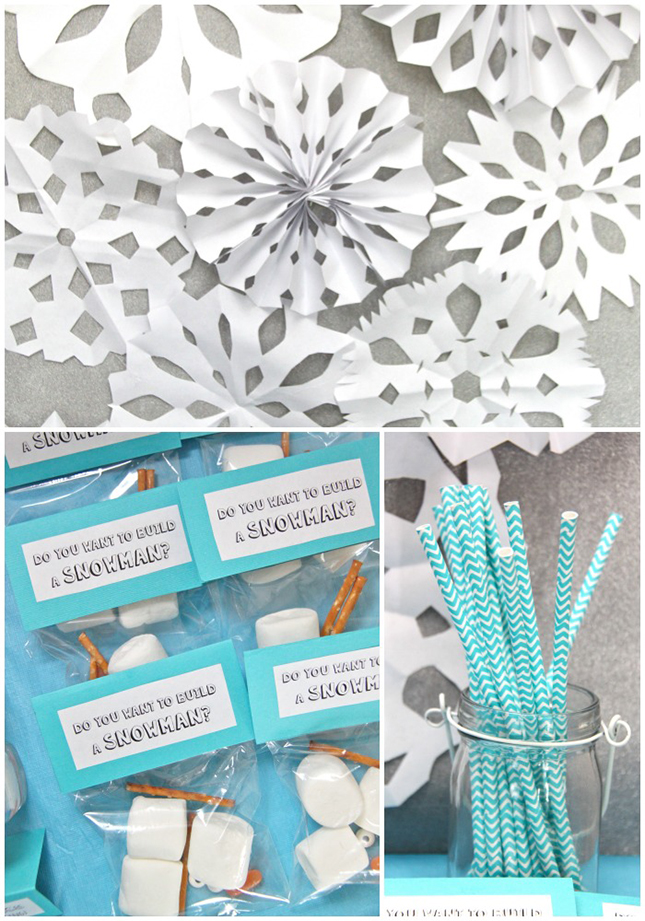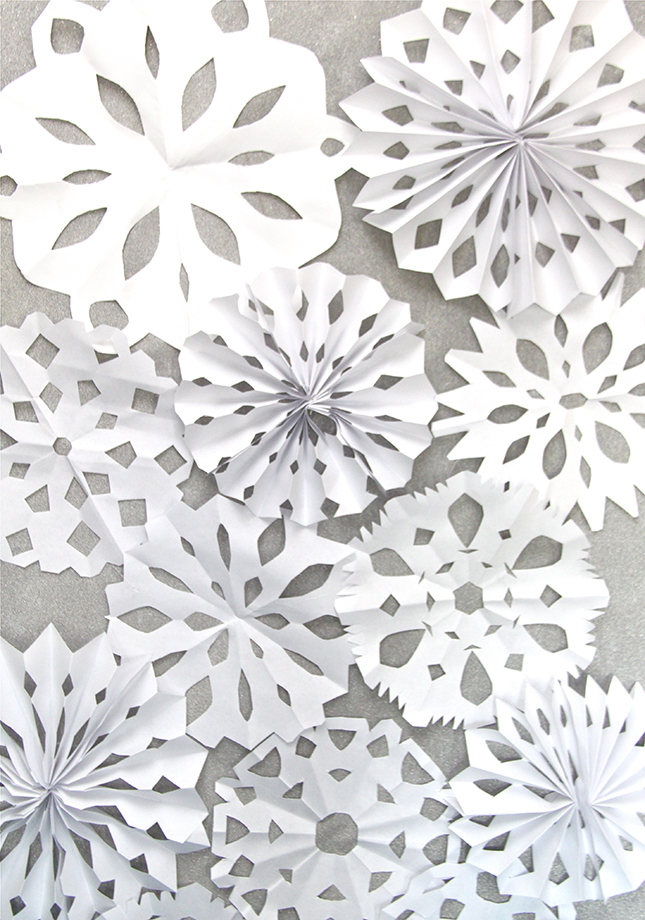 For the decor I found some aqua colored stripey straws as well as some glittery silver wrapping paper at Michaels, it was vinyl-like actually, and hot glued a whole mess of snowflakes onto it. Noah stayed up after the girls went to bed and practically made them all by himself one night, win-win! Some of the snowflakes were made just like you make them in school while others we made like paper rosettes and cut little designs into them before bending them and glueing them together. I think they turned our really cool! 
You might remember my post for our goodie bags HERE. You will also find a FREE printable for the "Do You Want to Build a Snowman?" graphic on that post too. The goodie bags were a big hit. I just threw large marshmallow, pretzel sticks, an orange Mike n Ike, and candy eyes into a bag and added the printable on top glued to some blue card stock.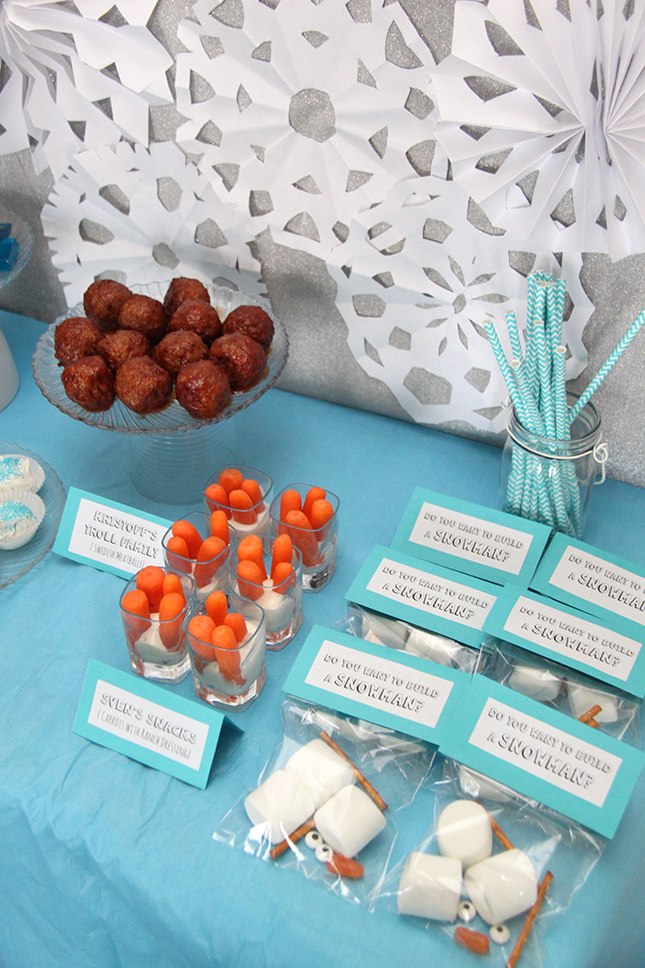 Eloise absolutely adored her party, as did everyone else! It was so much fun!!!  What a great memory for our sweet little four year old! If you've got a little one who is head over heels in love with the movie Frozen this party would be right up your alley!
Thanks for stopping by today!
Love,
Maggie