Ahhhh! This picture is me with my four littles on Mother's Day this year. Do you see my face? So relaxed. So happy. And if you can believe it this is after spending the whole weekend with my kids in a hotel in downtown Chicago… and with my husband working back at home half the time while we were there! Relaxing on vacation with four little kids is totally possible. Let me tell you how: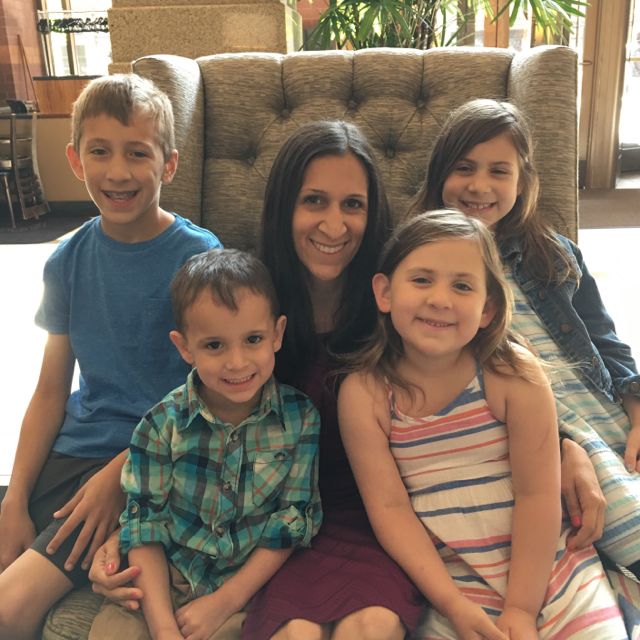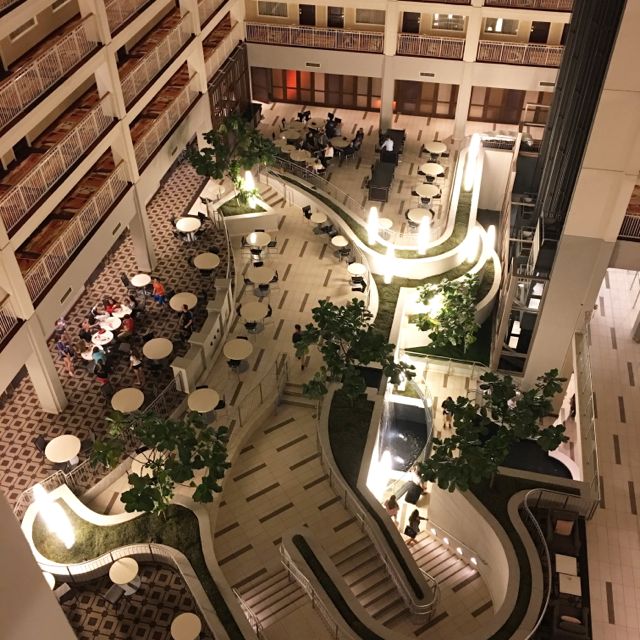 The first thing you need to do is book yourself a stay at an Embassy Suites by Hilton™ hotel. They offer free made-to-order breakfast each morning, and complimentary drinks* and snacks for two hours every night. Let me tell you…we totally lived it up on both those offerings and it made a difference from me being relaxed mommy vs crazy-eyed stressed out mommy for the entire weekend away, hooray! 🙂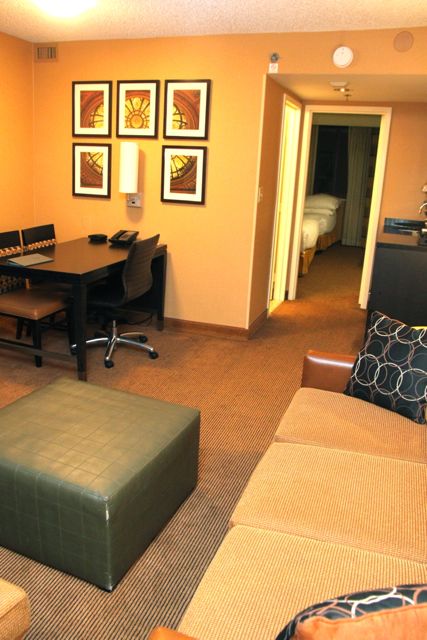 The hotel was just perfect! We were welcomed in with a beautiful two-room suite. There was lots of space for us to spread out which, when you have 6 people in your family, you definitely need some space for each person to do their own thing at some point in the day.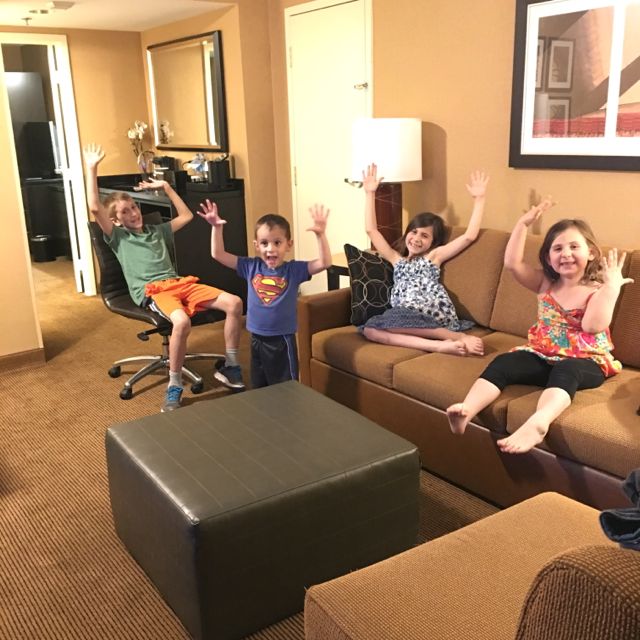 You can see my children made themselves at home right away! 🙂
There was a separate bedroom with two queen size beds and another TV, as well as the bathroom tucked in between.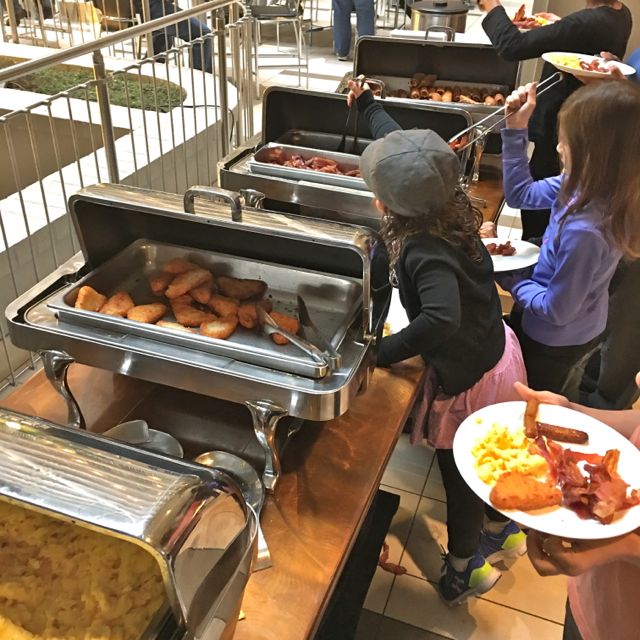 I felt like this was the perfect Mother's Day weekend away with my kids because they were always taken care of at the hotel, it was truly relaxing. Each morning breakfast was provided and it was an affair to remember. Bacon, sausage, eggs, pancakes, hash browns, plus cooked to order eggs and waffles. There was even a Mexican breakfast bar with quesadillas, spicy beans, salad fixings, a Greek yogurt bar with toppings, as well as the usual bagels, muffins, cereals, and oatmeal. Heck, anything you wanted they had! Plus a huge variety of juice, coffee, tea, and soda if that is your thing!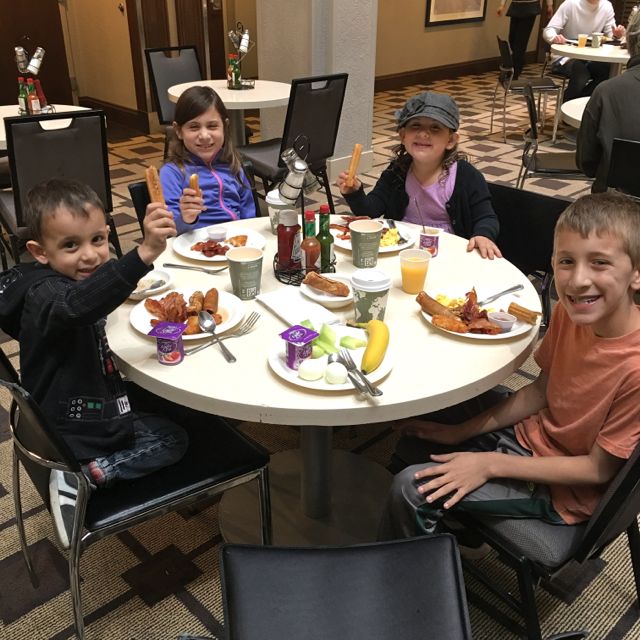 My children were in heaven and ate until their bellies were full!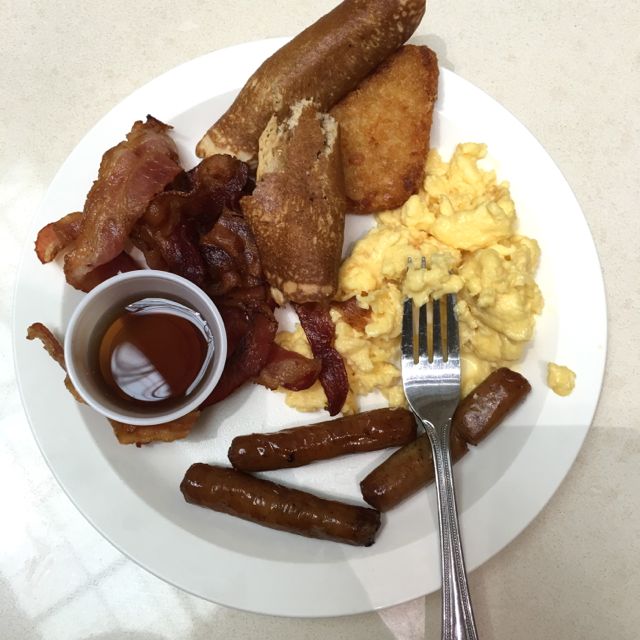 Being the momma, I loved that breakfast was served from 6AM-10:30AM on the weekends so there was no rush for us to get up, get ready, and get moving. Because of the long breakfast hours there was always an open table, which is always a stressor for us when bringing four hungry kids in tow!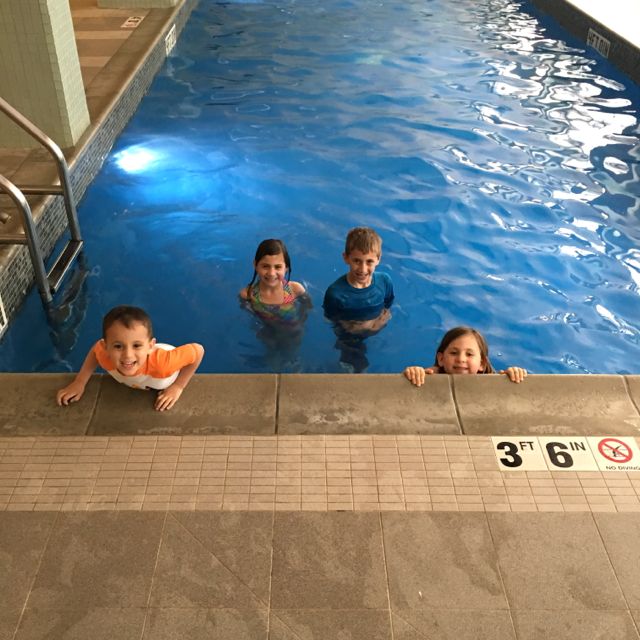 The mezzanine level housed the pool, which is always a huge hit with my children! The pool also had long hours (5AM-midnight), which I loved because we could go before dinnertime and it meant there were no teenagers there since they could go in the evening when little ones are getting ready for bed!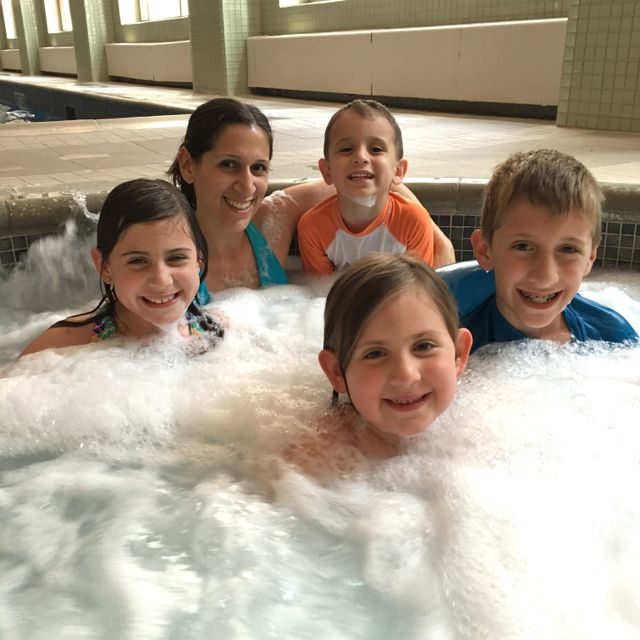 They even had a hot tub…now tell me that is not relaxing!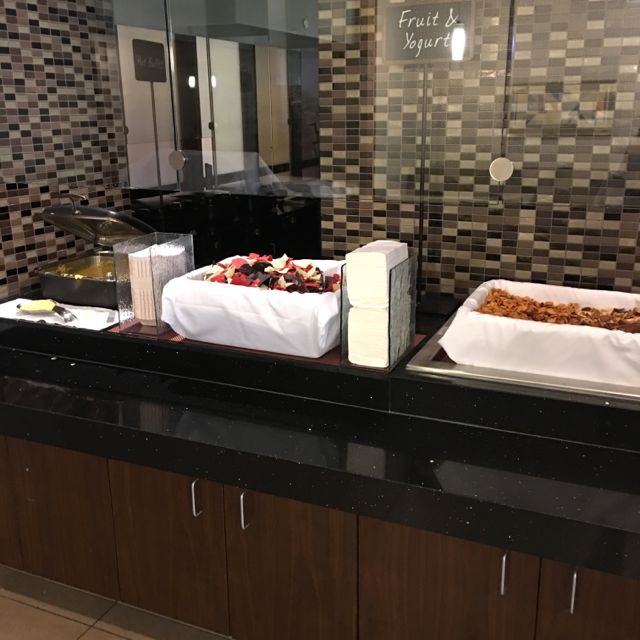 In the evenings, from 5PM-7PM the hotel offers complimentary snacks (and alcoholic drinks if you are of age). My kids were sooo sooo sooo excited for this. We had our whole day planned out around the complimentary food at the hotel, we were that excited!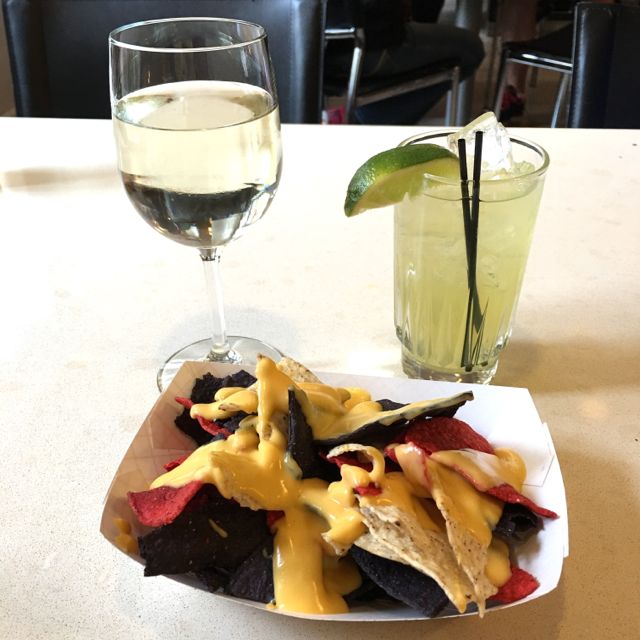 They had a nacho bar and some bar-type snack foods like Chex mix type things to nosh on. And while the kids could lap it up with lemonade and juice, my husband and I enjoyed some wine and margaritas! We just chilled out and even played a few rounds of I Spy before heading out for a night on the town with the little ones!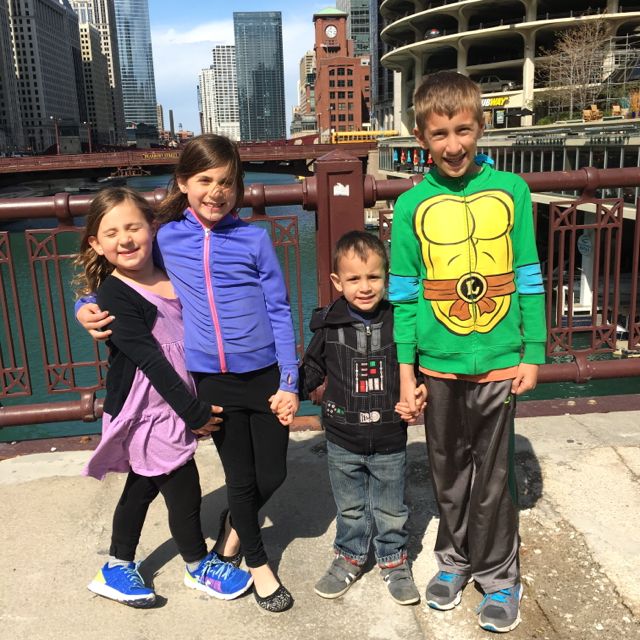 We truly had such a great weekend away and on Mother's Day weekend no less! No one wanted to leave, which tells you something about the wonderful experience we had with Embassy Suites! In addition, Embassy Suites has some #PrettyGreat family travel tips to help parents share ways to get the most out of their family vacations. Some of my favorite travel tips are:
Always take a picture of your children at the start of your day. This way you have a current picture of what they look like and what they are wearing in case anyone ever gets lost!
We place extra pillows on the floor nearest our youngest sleeper in case he falls out of bed. This way he has a soft place to land!
We flip over a sturdy (and empty) garbage can and use it as a stool in the bathroom so little ones can easily wash their hands and brush their teeth.
If you are interested in staying at an Embassy Suites by Hilton you can find current offers here and great travel tips here. And you can always learn more about this wonderful hotel by following along via social media: Facebook//Twitter//Pinterest//Instagram//YouTube
*Service of alcohol subject to state and local laws. Must be of legal drinking age
Love, Maggie
Tell us some of your tips for traveling with the whole family and you could win a $100 Visa gift card
Entry Instructions:
No duplicate comments.
You may receive (2) total entries by selecting from the following entry methods:
Leave a comment in response to the sweepstakes prompt on this post
Tweet (public message) about this promotion; including exactly the following unique term in your tweet message: "#SweepstakesEntry"; and leave the URL to that tweet in a comment on this post
Blog about this promotion, including a disclosure that you are receiving a sweepstakes entry in exchange for writing the blog post, and leave the URL to that post in a comment on this post
For those with no Twitter or blog, read the official rules to learn about an alternate form of entry.
This giveaway is open to US Residents age 18 or older (or nineteen (19) years of age or older in Alabama and Nebraska). Winners will be selected via random draw, and will be notified by e-mail. The notification email will come directly from BlogHer via the sweeps@blogher email address. You will have 2 business days to respond; otherwise a new winner will be selected
The Official Rules are available here.
This sweepstakes runs from 6/1/2015-7/1/2015