So,
another option I thought about for one of those
t-shirts I bought on clearance
was to decorate it with fabric flowers. Fabric flowers are soooo easy to make, they literally take minutes to do! It's a
super fast
project that will transform a boring t-shirt, tank top or sweater into something with
personality
. You can use any type of fabric or color that appeals to you…drapery fabric (like I did!), tulle, quilting cotton, you name it, the choice is yours. So, you interested in making some of these babies?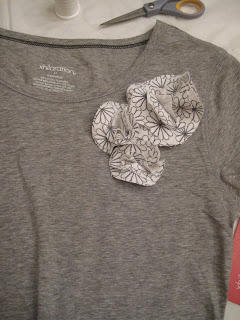 Man, I like this t-shirt even better now!
Ok,

then

on with the tutorial!
Scrap fabric of your choice
Scissors or rotary cutter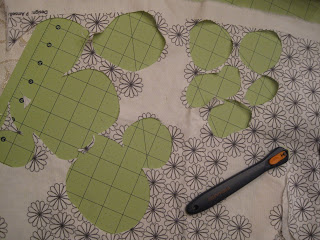 First, cut out circle-type shapes (circles, ovals, whatever…) in various sizes from your fabric. I just did this by hand so some of my circles were oblong and some had flat edges, that gave them some nice character so they weren't so cookie cutter looking. I also made 3 different flowers, 2 smaller ones with 3 small circles apiece and then 1 larger one with 4 circles.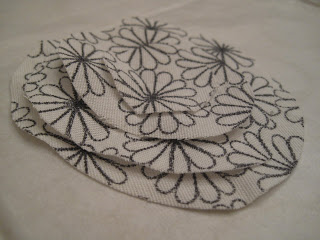 Stack
your circles on top of each other so that they look like a flattened flower, like the picture above!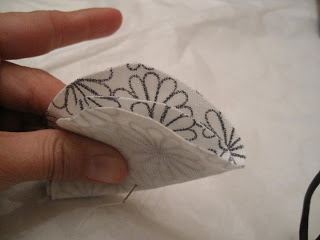 Now, fold all your circles in half, like your making a taco (Mmmm…food reference, that's right, I'm good like that!) Make sure you have all your circles pinched, including the smallest circle, with your fingers!
Then,
take your needle and thread and make a row of about 4-5 stitches so that all the circles are secure. See picture above!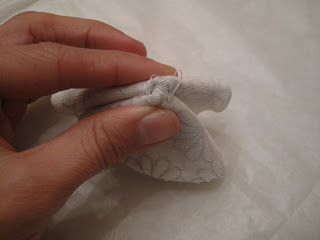 Now,
let go of your taco shape and fold it in half in the other direction, like the picture above. Sew another 4-5 stitches to secure the circles in place.
Do
this again in yet another direction…basically, the more times you fold and sew the more bunchy your flower will look!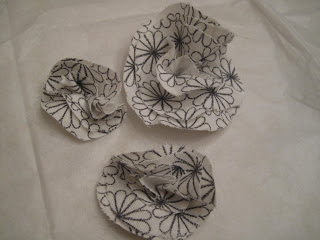 This what your flowers will look like after two 'fold-and-sews'!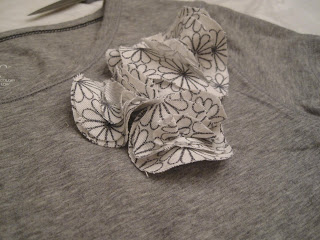 Pick
a place on your t-shirt wear you want to put the flowers and stitch on with your needle and thread. Or you could pin them on so that way you could move them around!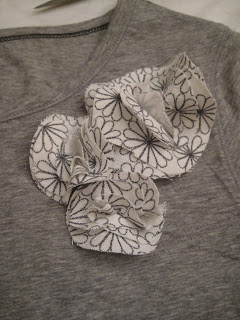 And there you have it…pretty fabric flowers to spice up your wardrobe!