Need
something fun for your front door? How about a super cute
Valentine's
wreath
made of fabric roses? Me thinks this is a great idea!
And
, super easy!!! Wanna see how cute my front door looks these days?
Ok
, go ahead and check it out: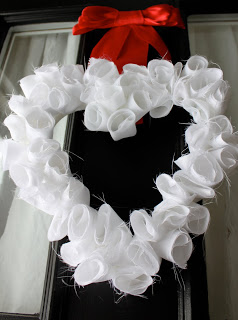 Romantic
and
Pretty
, isn't it!
So
, I am finally feeling good enough to get some crafting done.
Man
, I miss it. What withdrawal I have been in these past few months. Darn little baby causing me so much strife! Nah, two months and counting of being nauseated is worth it especially after seeing him/her (
see this post
).
Do
you want to make one of these beauties for your front door? I think you should!
Fabric Rose Wreath
1 foam heart (
I bought mine at Joann's)
1 1/2 yard white party tafetta (
you
could also use apparel lining or bridal satins, you just need the fabric to be a little stiff so the roses stand up!
)
red ribbon (
mine was 2 1/4 inches wide!
)
rotary cutter and mat
hot glue and gun
fray check (
optional…I left my fabric frayed and thought it looked great!
)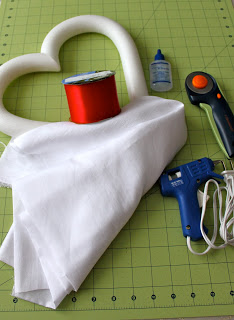 Here's what you'll need to get started!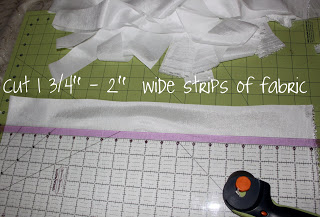 Cut your fabric into 1 3/4 inch up to 2 inch wide strips by about 20 inches long.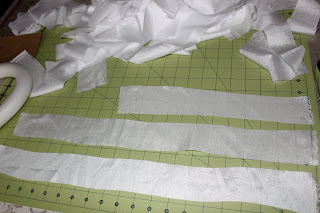 I also alternated
by making some of my strips 8 or 9 inches long just to vary the thickness of the fabric roses. Totally optional though 🙂
To make
your fabric roses, start by placing one end of a fabric strip between your index finger and thumb.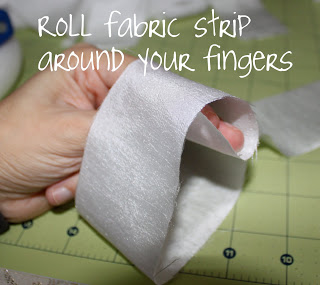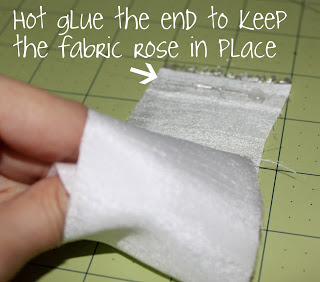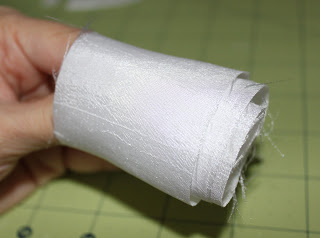 Press
the hot glued end to the fabric roll and there you have it, the beginnings of a
fabric rose!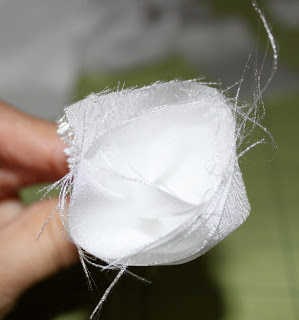 See, now it looks all rose-y!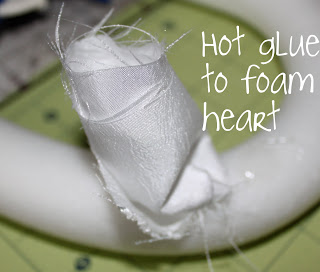 Now, start dabbing hot glue onto the front of your foam wreath and press the fabric roses into place.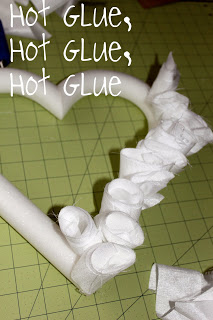 Fill
the entire wreath (front only) with your fabric roses, making sure you have a nice full wreath when you are done.