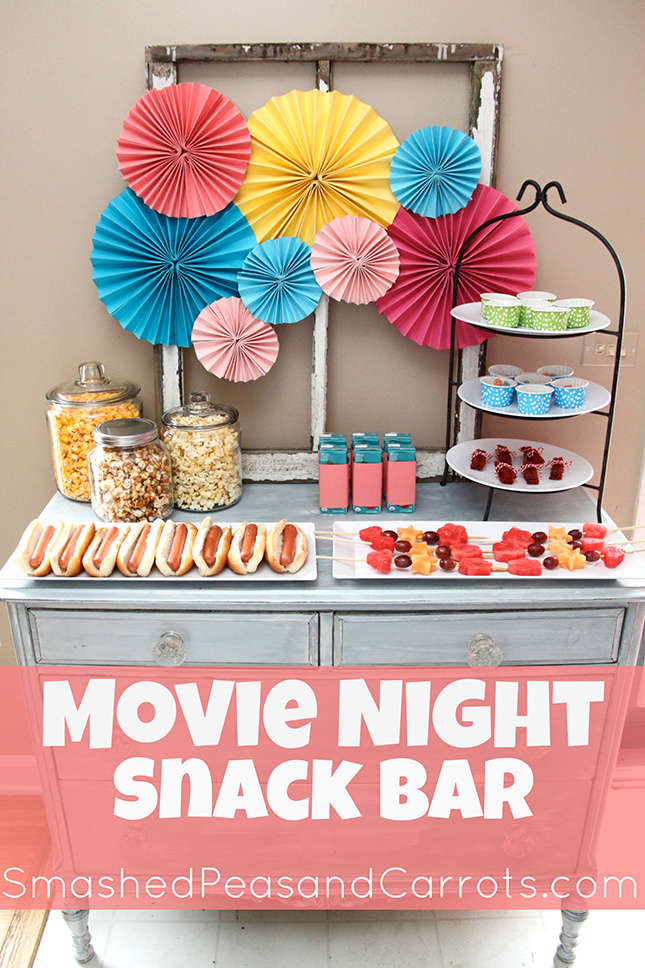 I used to adore going to our local drive-in movie theater in the summers, laying out blankets, eating popcorn and candy during the double feature, and getting to talk and chatter as much as we wanted because we were in our own little bubble in our car. However, since we've had children, and our oldest is only 7, we just don't get to do it anymore. With the first feature starting at dark, which in the summer is usually around 9 pm, and our little ones' bed times hovering near 8 pm, it is just something that doesn't work easily into our schedule. So instead we opt to enjoy Family Movie Nights at home! This way we can bring the drive-in movie feel to us instead of going there and dealing with 4 grumpy kids the next day.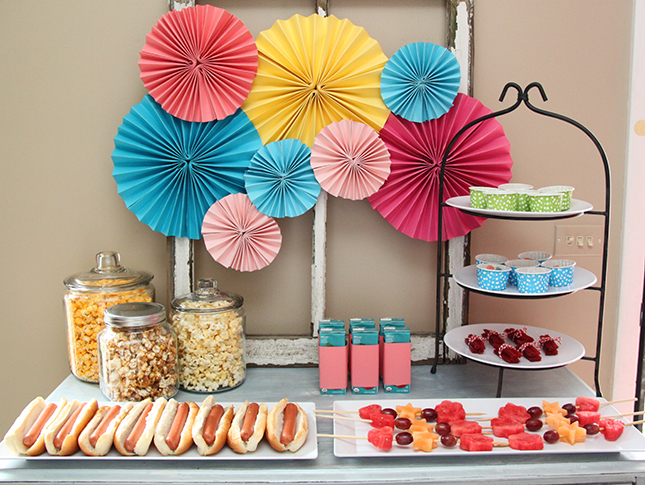 We try to have a movie night every couple of weeks; the kids really look forward to it and dare I say Clif and I look forward to it too! They are really so much fun. I usually grab a whole bunch of blankets and pillows and we set them up in our living room with the lights on dim. We typically pick up a movie at our local library or sometimes we just pick something off of Netflix. We usually plan it around dinner so we may have something special like delivery pizza, or we may let the kids decide on the special meal, or sometimes it's just a smorgasbord of randomness like grilled chicken pieces, a veggie plate with dipping options, or even fondue. We
always
have popcorn and some candy or other fun snack that I don't buy often. It just makes the night more fun! To make the night even more special I will often times set up a "Snack Bar." This just takes our movie nights to a whole new level. The experience of stepping up to a counter and ordering your hotdog, popcorn, candy, and drink is like no other… and it totally gives movie night that drive-in feel.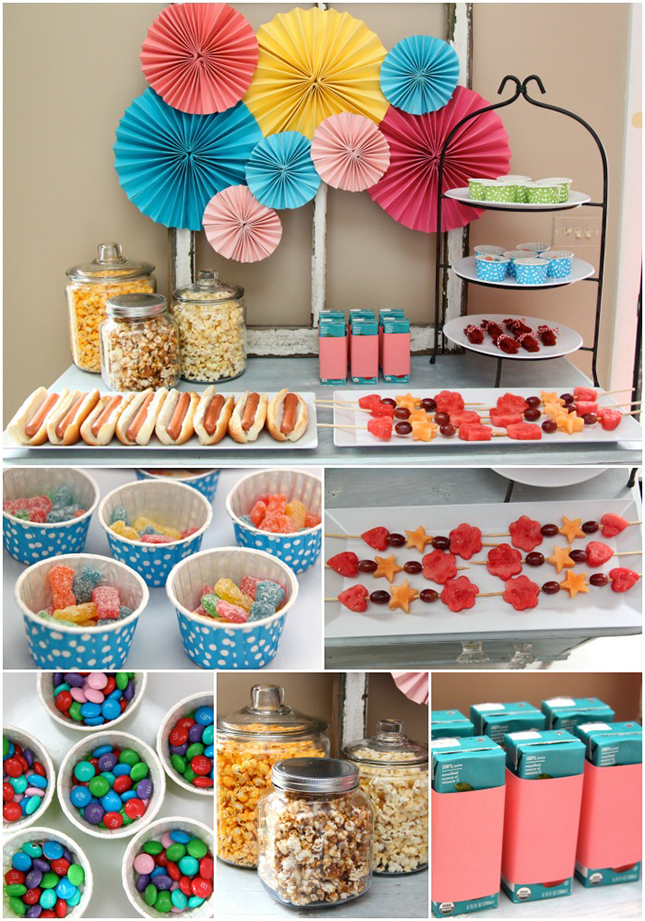 Some fun foods I like to offer in our Snack Bar are single servings of movie theater candies. I like to put them in cute little paper cups that are easy for grabbing and eating during the movie. Plus, this way my kids aren't eating too much junk! I always offer fruit which can be even more enticing to eat if it is cut into fun shapes and skewered like a kabob. One of my super-duper favorite things to offer is a popcorn bar. You can do any flavors you like but we tend to stick to the basics… caramel, cheese, and buttered popcorn. My "littles" love to create their own mixes! We don't drink soda in our house so I usually have a juice box or lemonade as a "fun" type drink besides water.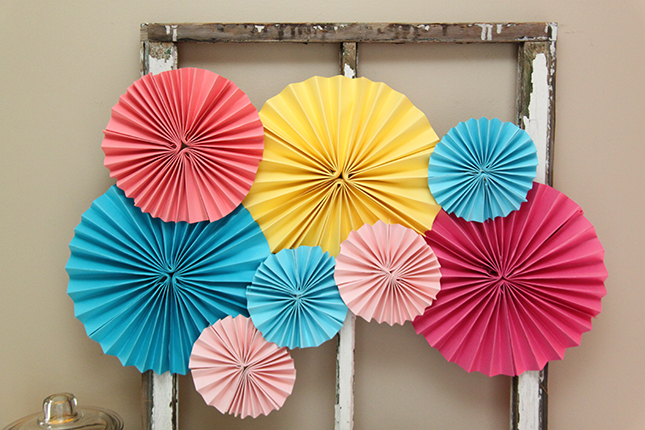 I made a fun paper rosette backdrop for our snack bar for this particular Movie Night. It was the perfect pop of color to start off our movie night in a fun way!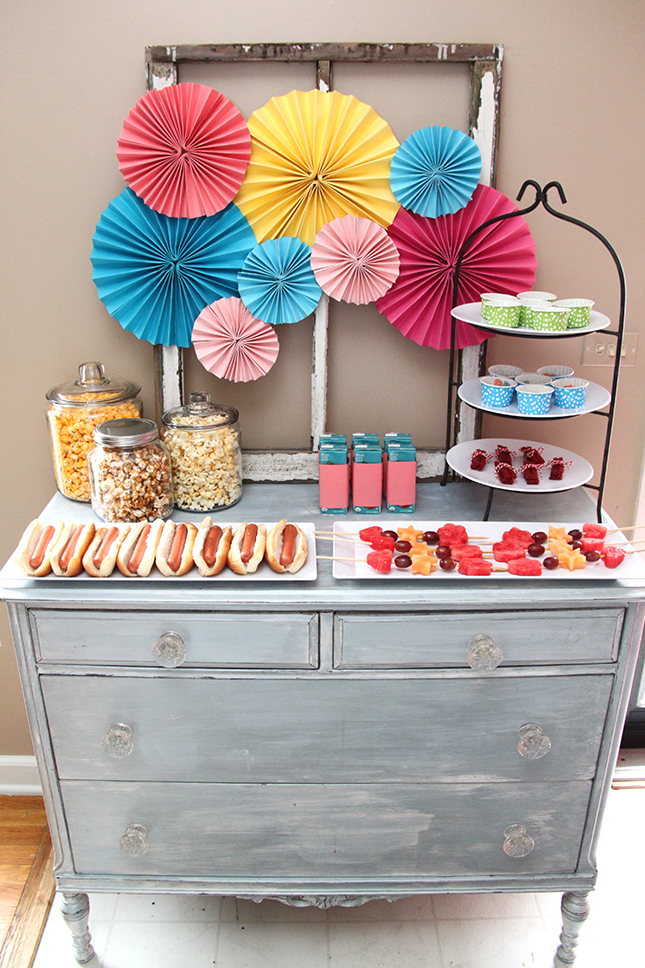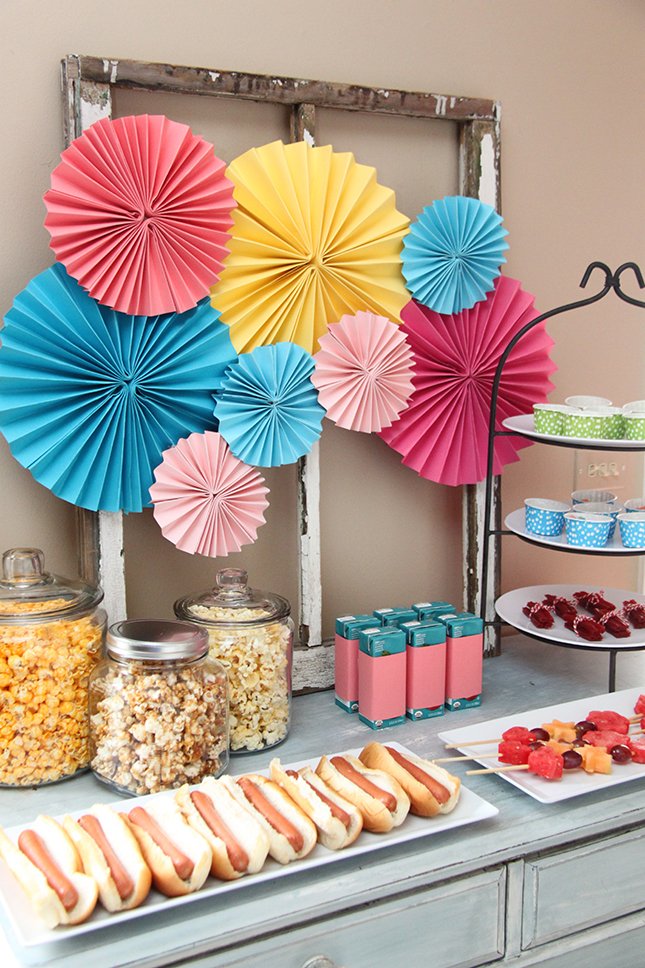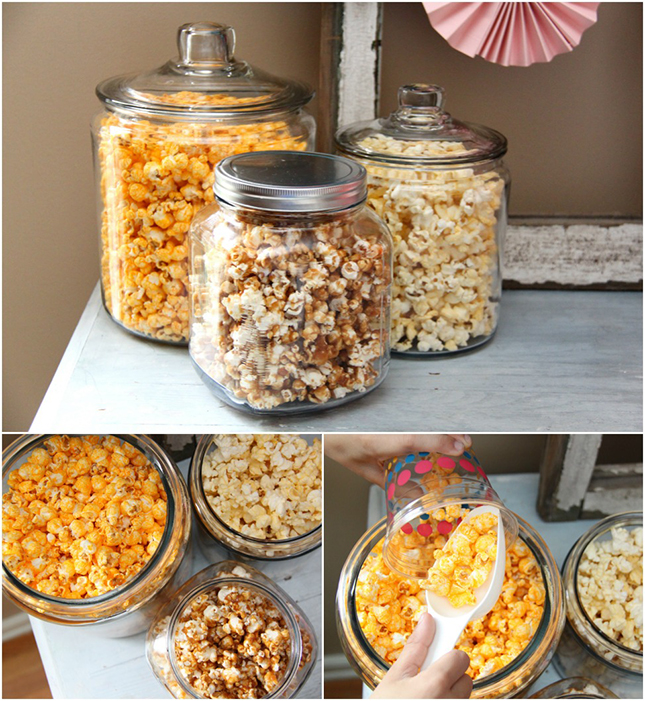 I always think it is more fun to put your different popcorn flavors into glass jars with little scoops. The glass jars not only showcase the flavors but I think this gives that movie theater/drive-in experience where you can see all that delicious popcorn and get crazy giant eyes thinking that you just might be able to eat every last kernel of it! Plus my kids can scoop up their very own servings and feel like a snack bar worker… every kids dream, right? Well, except for Oliver, he just isn't there yet, lol! You can find our favorite
Caramel Corn recipe here
– it is soooo good!!!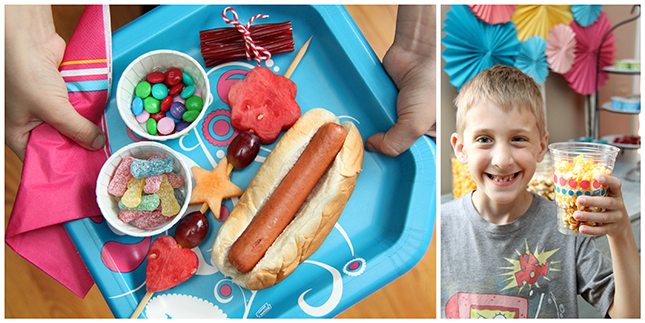 And to make our movie nights fuss-free we break out the paper plates for a no mess kinda night. I love the 
Dixie
 Ultra Moments®
 plates. Their unique 8-sided plates built with a deep rim, durable construction and Soak Proof Shield® are a must for our family of messy eaters. They're also strong enough to hold up for any gathering or party. I love how their plates, cups, and napkins all coordinate so nicely too. I was able to coordinate them with my paper rosette wall hanging which totally made my night, holla! Dixie Ultra Moment plates are stylish and strong.
Celebrate with Style and Strength

™

!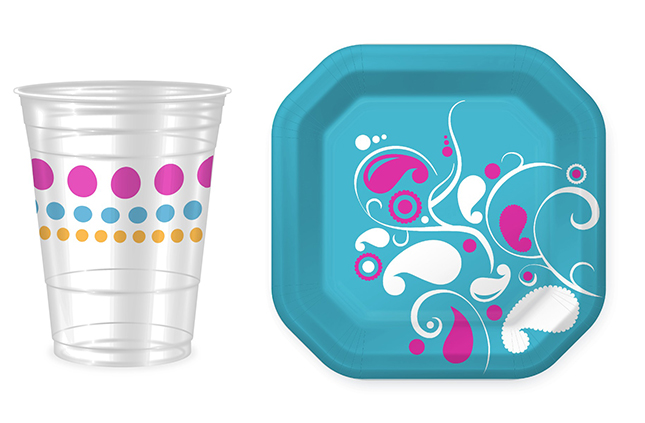 Dixie Ultra Moments® Tableware has a contest going on called the 
Dixie Ultra Moments® "The Ultimate Host." 
Dixie Ultra Moments® Tableware has partnered with David Tutera in search of "The Ultimate Host."  The Dixie Ultra Moments® "The Ultimate Host" Contest is seeking consumers who epitomize hosting, showcase originality, style and creativity when planning or hosting events.
Consumers can enter "The Ultimate Host" contest by sharing 2 photos that demonstrate what makes them "The Ultimate Host." Although not required, consumers are encouraged to use Dixie Ultra Moments® product in their submitted photos. Entrants will receive a product coupon once they enter. Following the entry period, the top 10 submissions will be posted on UltraMoments.Dixie.com for the public to vote – the top three winners will receive a prize!
One grand prize winner will be chosen to receive a cash prize of $2,500, a year's supply of Dixie Ultra Moments® Tableware and a feature in a webisode to be posted across Dixie® social pages.
One first prize winner will receive a cash prize of $500 and a year's supply of Dixie Ultra Moments® Tableware.
One second prize winner will receive a year's supply of Dixie Ultra Moments® Tableware.
I hope this post inspires you to spend a night in with your family and host your own Family Movie Night. It really is so much fun and such a great memory maker for you and your kids! To learn more about Dixie Ultra Moments® visit their pages here: Facebook  // Pinterest // Twitter
 //Instagram
Disclaimer: This post was in partnership with BlogHer for Dixie Ultra Moments® Tableware. All opinions, tips, and photos are my own.
Thanks for stopping by today!
Love, Maggie