So
, ever since I made Penelope her little
girly-punk dress
from
this post
for the the
Dharma Trading Design Challenge
that
Lil Blue Boo
is putting on, my little Noah has been asking daily…more like multiple times daily…when I am going to make him a dress too. Now, I might have just sealed the deal for future years of therapy for telling you all he has been begging for me to make him a dress but I what I think he meant was just for me to make him something too. Clarification and interpretation of a 3 year old, that's what it's all about,
right!?!
Well, I had been debating what to make him and then I thought that maybe I could just shorten the Sienna dress pattern and make it more box-y instead of dress flare-y at the bottom and it could be the perfect easy shirt for me to make him. So that is what I did and it worked, the perfect boys' shirt!!
Inspiration hit me during all my Super Bowl prepping last week…a
F
ootball Jersey-Style shirt
…
and when I found the cutest t-shirt with the Lucky Charms logo and little leprechaun on it I thought that it would be even cuter to put a St. Patrick's day spin on it too. It was all coming together, don't you love when stuff like that happens!!
What I did was use the colors from the Lucky Charms t-shirt, yellow and green, and found some cheapy Hanes t-shirts in those colors to construct Noah's shirt. I kept the word 'Lucky' from the old t-shirt and part of the leprechaun's face for the center and added a reverse applique shamrock underneath it, so it could read, Lucky 'Charms' but the charm is a four leaf clover…
get it!?!
Then, I reverse appliqued another shamrock on the back and freezer paper painted some football jersey-style stripes at the tops of the sleeves.
Want to see how it turned out?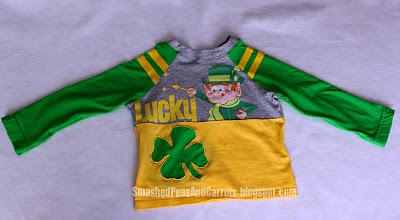 Front view of my boys' shirt version of the Sienna Dress pattern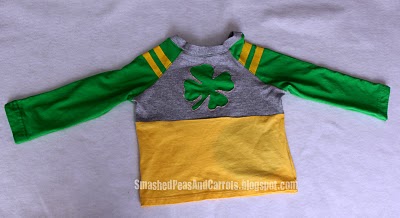 Back view
Close-up of backside with reverse applique shamrock and football jersey stripes on sleeves.
So, do you likey!?!
Want to see how I did it?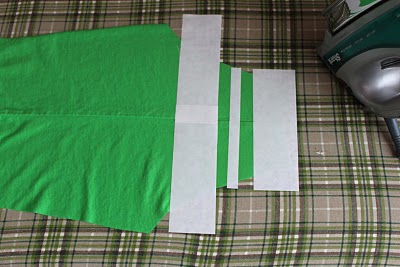 To make the football jersey stripes, I just cut strips of freezer paper and ironed them on waxy side down at the place on the sleeves where I thought they looked most 'football jersey' like!