You guys are not going to believe how on top of Christmas package mailing I am this year!!! You would be so proud of me! I'm a going-to-the-post-office fiend these days, it's pretty amazing actually. I have a couple more packages I need to send out and then it's just the Christmas cards (which I have already stuffed, stamped, and addressed)!!! Can someone give me a high five? I thought I'd share the cute little gift I put together for our sweet little cousins who literally live on both coasts of the US. It's a Rudolph the Red Nosed Reindeer Family Movie Night with movie, book, and snacks included so all you need to do is get into your pjs!!! Hooray for easy family fun!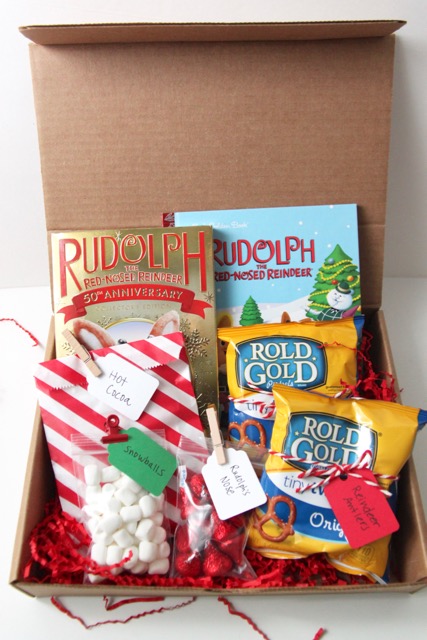 Since the littles and I cannot get enough of holiday movies and books (see posts on our Christmas Book Advent and our favorite holiday movies here and here!) it seemed like this gift was just calling for us to put it tougher. Especially after our big Rudolph movie night with our yummy snack I shared here! We are just a little Rudolph obsessed!!!! OMGoodness, did you see the sheets I shared on Instagram for my kids beds every winter? Yeah, just a little obsessed! 😉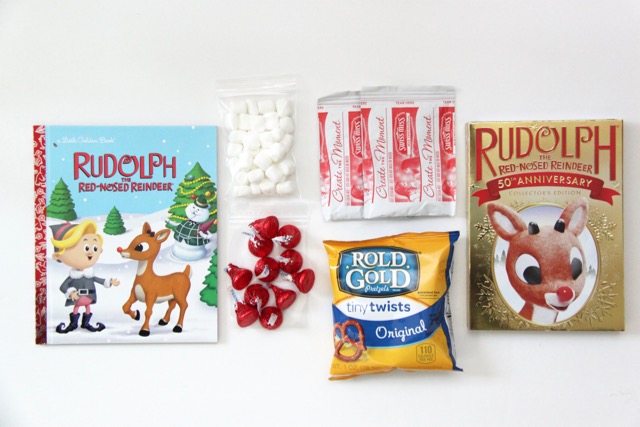 Alright, back to the gift! So of course the first things I bought for the Rudolph the Red Nosed Reindeer Family Movie Night box were a Little Golden Book of Rudolph the Red Nosed Reindeer and then the movie to go with it. Then I thought it would be fun to create a little snack for all the kids…mini marshmallows for snow balls in their hot cocoa, pretzel twists for reindeer antlers, and red Hershey's Kisses for Rudolph's bright and shiny nose! A little salty and sweet…the perfect combination!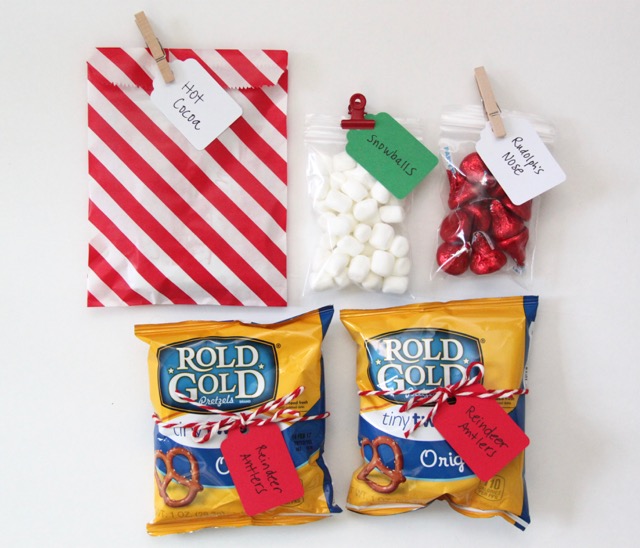 I packaged everything up all pretty and added a few cute tags too!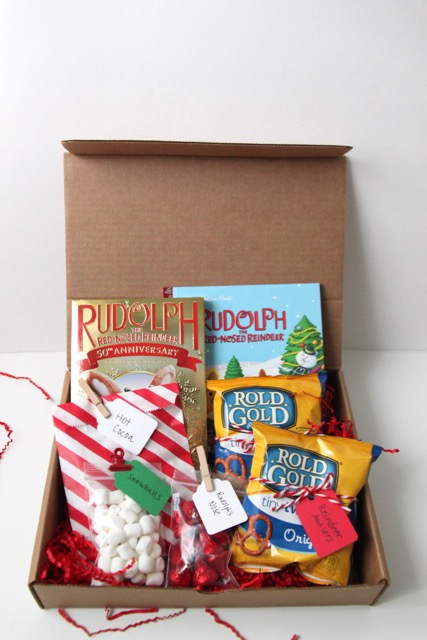 Then placed it all snug as a bug in a rug into a box with lots of red crinkle paper. Crinkle paper really does up the cute factor of any package, don't you think?!
Then off we mailed them…one to the east coast and the other to the west coast!
I hope they love them as much as we did shopping and packaging them up!!!!
Thanks for stopping by today!
Love,
Maggie