Here is another fun shirt I made my girls using my Silhouette Cameo and heat transfer vinyl from Expressions Vinyl! In line with my earlier #DisneySquad t-shirt I made Penelope for our trip to Disney World, I also created these super cute personalized #GirlSquad T-shirts for both my little girlies because they are my Girl Squad (I call them that all the time!) and I also want them to know that they belong to this amazing Girl Squad of strong, brave, and mighty women. I want my girls to know that they can do anything, I want them to be strong, powerful, smart women. I want them think they can achieve anything in life.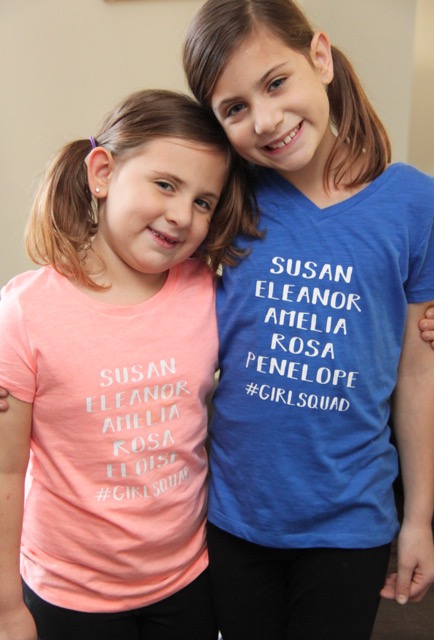 I was tooling around the internet a while ago and I found this awesomely amazing shirt. I just loved it so hard. Isn't it so rad? And just like that, my inspiration was born, I loved the idea of this shirt…just maybe not all the faces, lol! There's just something weird to me about wearing someone else's face on your shirt, am I right? 😉 So I created a simpler more personalized version that I knew my girls would want to wear. 🙂 I really wish I could find who originally created it to give them credit but it seems like there are many different online t-shirt shops that sell it?! If you know, please let me know so I can add a link to them!!!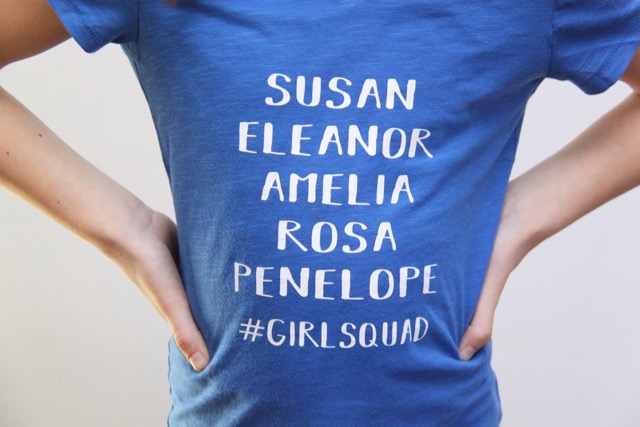 In case you are wondering, the strong women in our history whose names I chose to have on this shirt are:
Susan B. Anthony
Eleanor Roosevelt
Amelia Earhart
Rosa Parks
…and of course, I added each of my daughter's names at the end of the list so they see that one day too they can (and will!) be a part of history!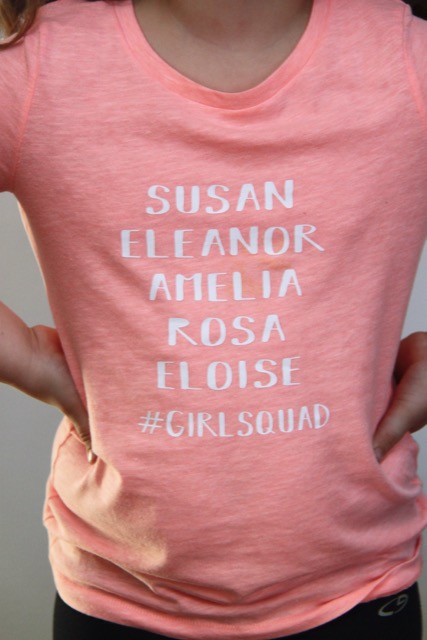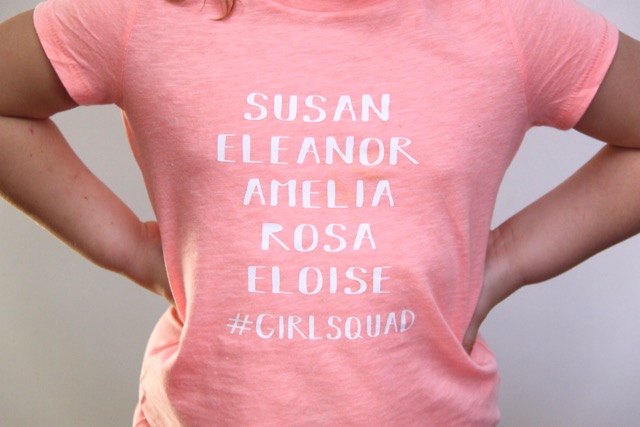 My girls are thrilled to wear their personalized shirts and love seeing their name next to such brave, mighty, and powerful women. Women who worked hard to achieve things that others thought weren't possible in their lifetime, stood up for the rights of themselves and others, and were just some pretty bad a** ladies in general, am I right!? We have a lot to thank them for, and this shirt is just a small thank you to a few of them. Here's to all the strong, brave, and mighty women of yesterday, today, and tomorrow!
Thanks for stopping by today!
Love,
Maggie