*This is a sponsored conversation written by me on behalf of Van's Simply Delicious®. The opinions and text are all mine.
If you are like me and have a major sweet tooth, it is hard to resist a sweet treat on a daily basis. And as I looove to bake we always have our fair share of treats around the house. One thing I truly believe is that it is okay to indulge in a treat every now and again especially if they are made with more wholesome or nutritious ingredients. For me, that means getting rid of gluten and dairy when I can in my recipes. Luckily no one in our family is gluten or dairy intolerant but I believe that moderation is key and lowering our family's intake of gluten and dairy is a part of that! I created these amazing Gluten and Dairy Free Smores Cereal Treats to indulge our sweet tooth and let me tell you they taste sooo good! You seriously must try them!
We have been buying gluten and dairy free products for a long time now…and if you can believe it for many years I was a vegan. I have to say that shopping for these types of products has come a long way. I used to have to specifically shop at health food stores to find gluten and dairy free things and now you can find them everywhere! What a joy that is!!! And the taste? So much better!!! I love that so many companies have jumped on board to creating foods that leave out gluten and other allergy sensitive ingredients.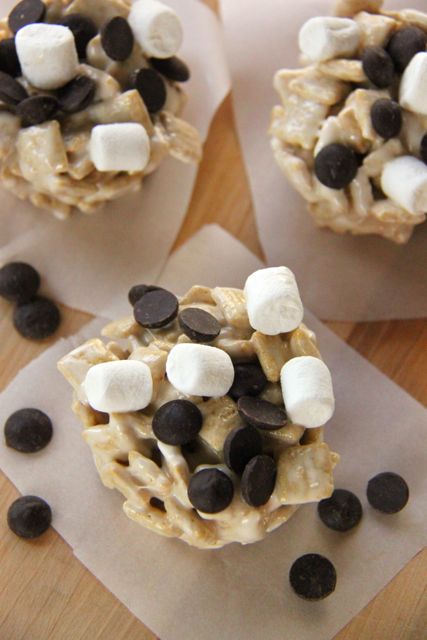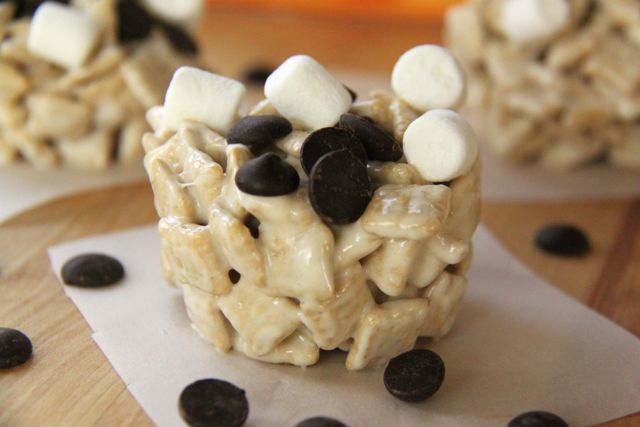 Okay! Have a tempted you enough with these pictures!!! 😉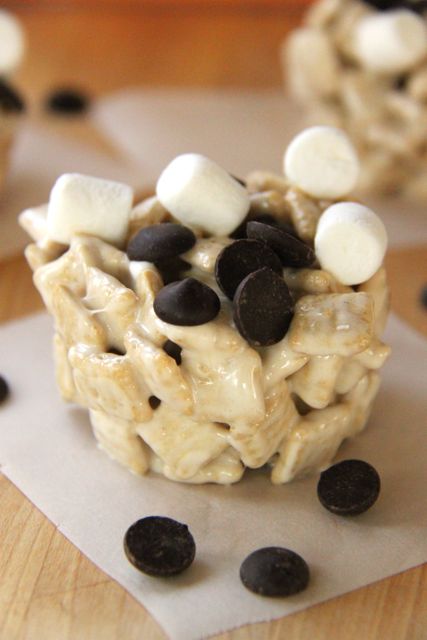 Here is the recipe for my Gluten Free Dairy Free Smores Cereal Treats…hope you love them as much as we do!

Gluten Free Dairy Free Smores Cereal Treats Recipe
Ingredients
3¼ cup miniature marshmallows, divided
1 /4 cup non-dairy butter
4½ cups Van's Simply Delicious® Honey Crunch Cereal
¼ cup non-dairy chocolate chips
Instructions
Grease a 12 count muffin tin and set aside.
In a microwaveable bowl, place 3 cups of the marshmallows and the ¼ cup butter.
Heat on high for 1 minute.
Stir the marshmallow and butter mixture together until well combined.
Add in the cereal and mix until the cereal is well coated.
Fill each muffin tin with the cereal mixture, wetting hands to keep the cereal from sticking to you as you pat the mixture down into the tins.
Sprinkle the remaining mini marshmallows and chocolate chips over top and press down slightly so they stick to the tops of each treat.
Let cool before removing from muffin tin.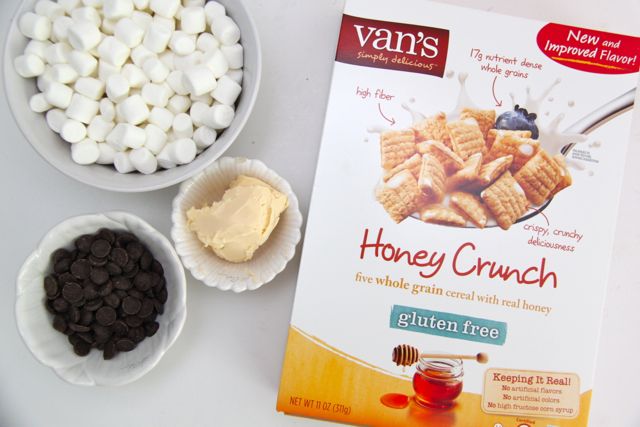 I was so excited to see a whole line of new Van's Simply Delicious® products at Meijer on my most recent trip and each one I brought home was a hit with my kids, yay! The Van's Simply Delicious® Honey Crunch Cereal is a huge hit for breakfast and snack time and really good with some fresh fruit and yogurt! I love that all the Van's Foods products are gluten free and made with fresh, simple ingredients…you know me well enough now to know that is always a hit with me!
Did you know that May is Celiac Awareness Month? During this month, foundations like the Celiac Disease Foundation work to raise awareness of celiac disease (gluten intolerance) and offer many helpful suggestions to lead a healthy, gluten-free life. Meijer is supporting Celiac Awareness Month and select Meijer stores will be having an in-store demo beginning on May 1st where you can try out many of the new Vans® products!
Thanks for stopping by today!
Love,
Maggie
This is a sponsored conversation written by me on behalf of Van's Simply Delicious®. The opinions and text are all mine.