*This is a sponsored conversation written by me on behalf of The J.M. Smucker Company. The opinions and text are all mine.
Oh man, it's my favorite time of year again! The cooler weather is on its way and the Halloween and fall stuff is in full bloom in all the stores! I can't help but stalk these aisles once September hits and pick up some fun things to craft or bake with on the daily. Halloween, followed very closely by Thanksgiving, is my favorite holiday and I feel like I overdo it just a tad but it only happens once a year so in my eyes you gotta live it up! Part of the fun of Halloween is making festive after school treats for my littles and their gang of friends they run around with in the neighborhood. I'm sharing these super cute Halloween Spider Cupcakes because, number one, they are super cute, number two, they are super easy to make, and number three, little hands can participate in the making (and the eating!)
To make these uber cute cupcakes you need a few simple things!
Pillsbury™ Funfetti® Halloween Cake Mix
Pillsbury™ Funfetti® Halloween Vanilla Flavored Frosting
3 eggs
1 cup water
1/2 cup oil
1/2 cup semisweet chocolate chips
Zippered plastic bag
Waxed paper
*follow the instructions on the box to make and bake your cupcakes!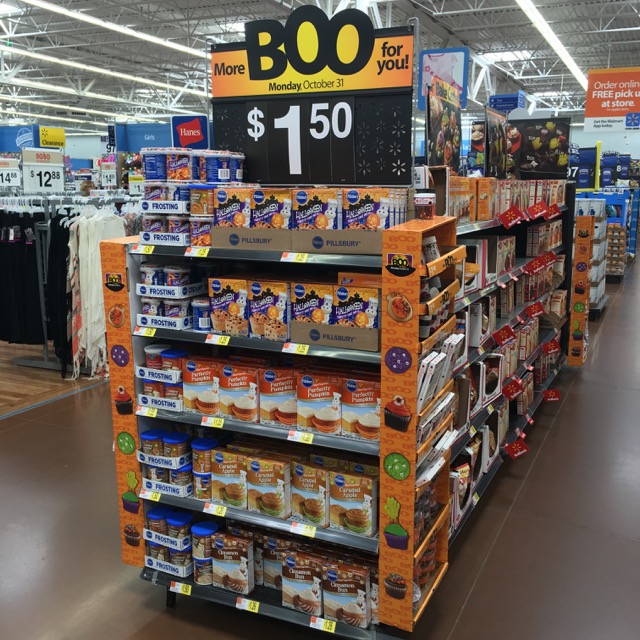 You can purchase Pillsbury™ Funfetti® Halloween Cake Mix and Pillsbury™ Funfetti® Halloween Vanilla Flavored Frosting at Walmart from the Bake Center that can be found in the middle of the store near the baking aisle. You can also find other Pillsbury™ products in the Bake Aisle. PS. Can I tell you how convenient this bake center is, I usually see it the minute I enter the store and I can grab a box of baking mix or frosting easily. It is such a time saver as I know I can find all my holiday baking needs right here and everything is always at a great price so stocking up is simple!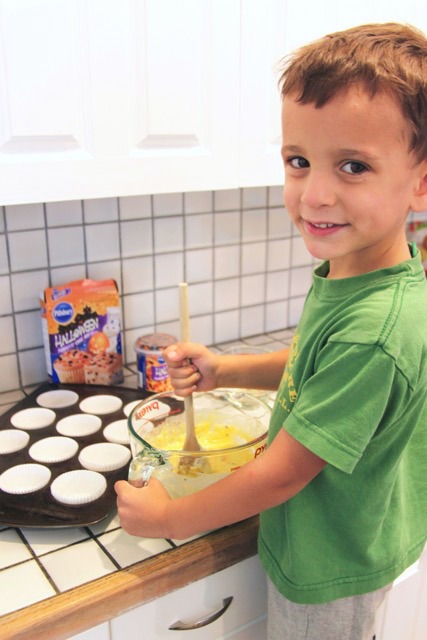 The first thing you will need, before you begin baking, is a cute little assistant! Oliver has become my right hand man now in the kitchen now that it is just him and I during the day. I am absolutely living up all these moments we get to have together now that his siblings are all in school full day. Can you believe how quickly I went from 4 children to 1 at home during the day? Time goes by so quickly!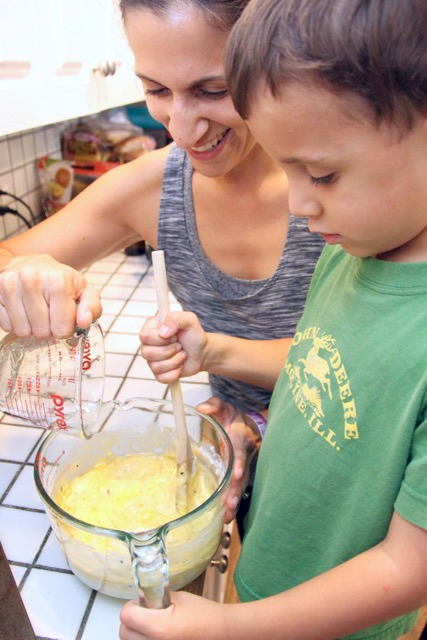 We love to #MixUpAMoment together every afternoon while we bake after school snacks for my older three. There is just something so sweet about bonding in the kitchen while making something yummy. I love our time together because I get to see his personality shine with the decisions he makes. Often times that can be hard being the youngest of 4!
We work together when we bake and I teach him how to measure the oil and water, how to crack eggs, and to stir all the ingredients together. He is so good now that the messes are more contained and not all over the floor, lol! We often bake from scratch but it is nice to have Pillsbury™ baking mixes and frostings on hand when you are in a hurry, and really, you cannot beat a cute Halloween themed cupcake right down to the orange frosting!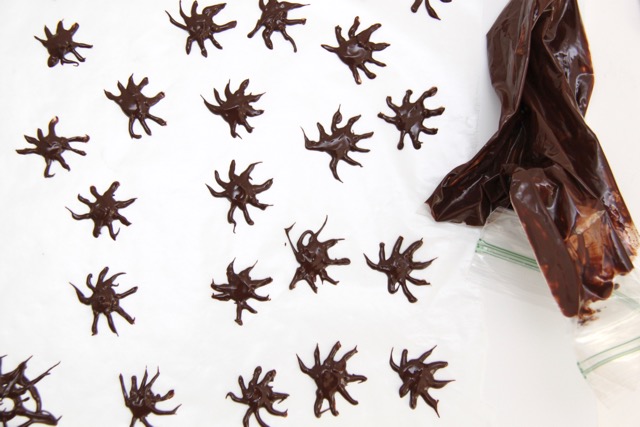 While our cupcakes bake and cool we started on our Chocolate Spiders!
Pour 1/2 cup of semisweet chocolate chips into a zippered plastic bag. Cook in the microwave for 30 seconds-1 minute or until the chocolate is melted. Be careful as the bag can get hot! Squeeze the chocolate down to one corner of the bag and using a pair of scissors snip just the tip of the corner off, making a frosting pouch with a very small hole for piping.
On a sheet of waxed paper, pipe a small circle about the size of a penny for the spider's body. Then add eight legs, four on each side, to finish the look. If you are in a hurry, you can place the waxed paper onto a cookie sheet and place the cookie sheet into the freezer to fasten solidifying the chocolate.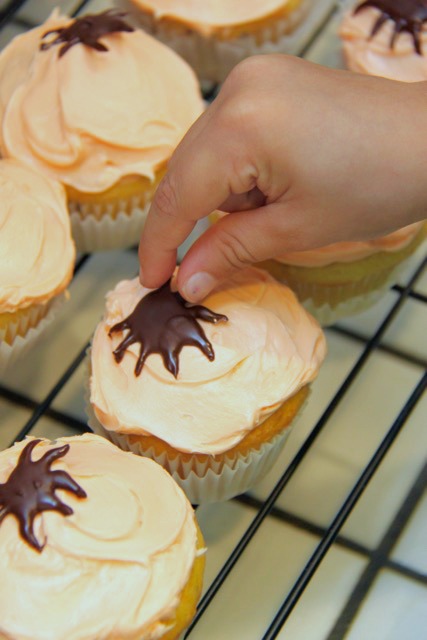 Once the Chocolate Spiders are firm and cooled, peel each one off of the waxed paper and place on a frosted cupcake.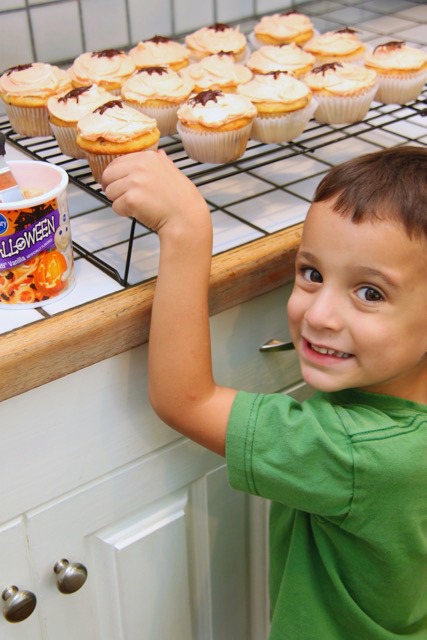 Taste testing all his hard work!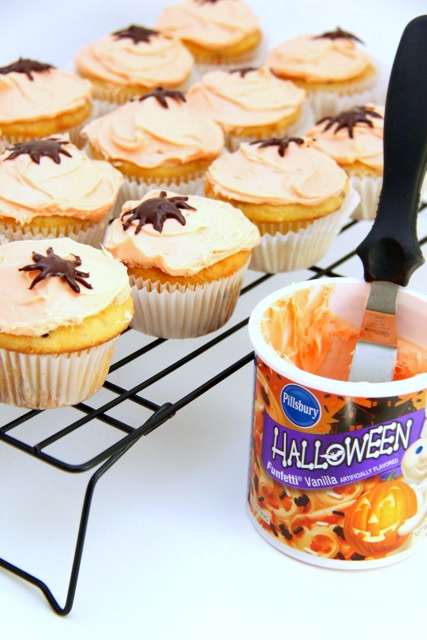 Such a fun and easy way to make Halloween treats! How do you #MixUpAMoment with your family?
Thanks for stopping by today!
Love,
Maggie
.