Happy Halloween! I am soooo happy to say that all our Halloween costumes are done!! Woohoo! We had a bit of a last minute change of heart with costumes these last couple of days so I spent the last few nights up late trying to create costumes for everyone. With all those last minute costumes to make I honestly didn't think I wasn't going to finish..but I did! And if you can take a wild guess at our theme this year….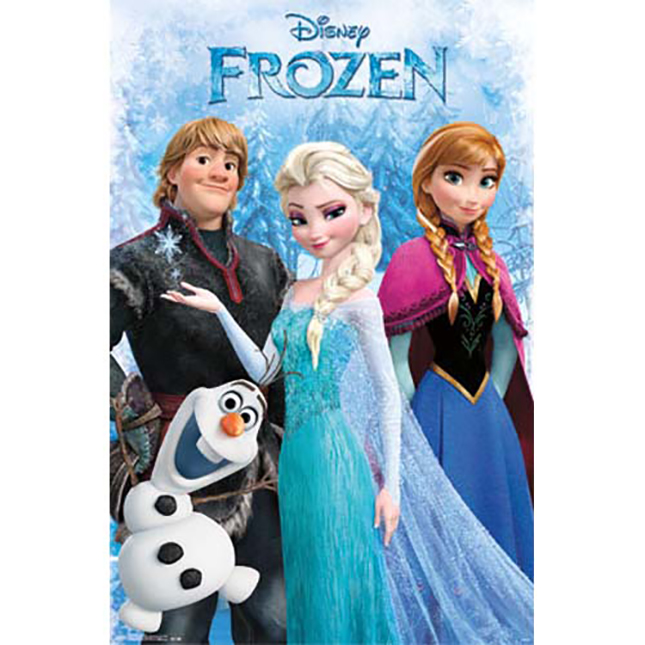 Yup! Just like a million other kids and families, we are doing the Frozen theme! We love this movie so I am super happy that we all came full circle to this theme.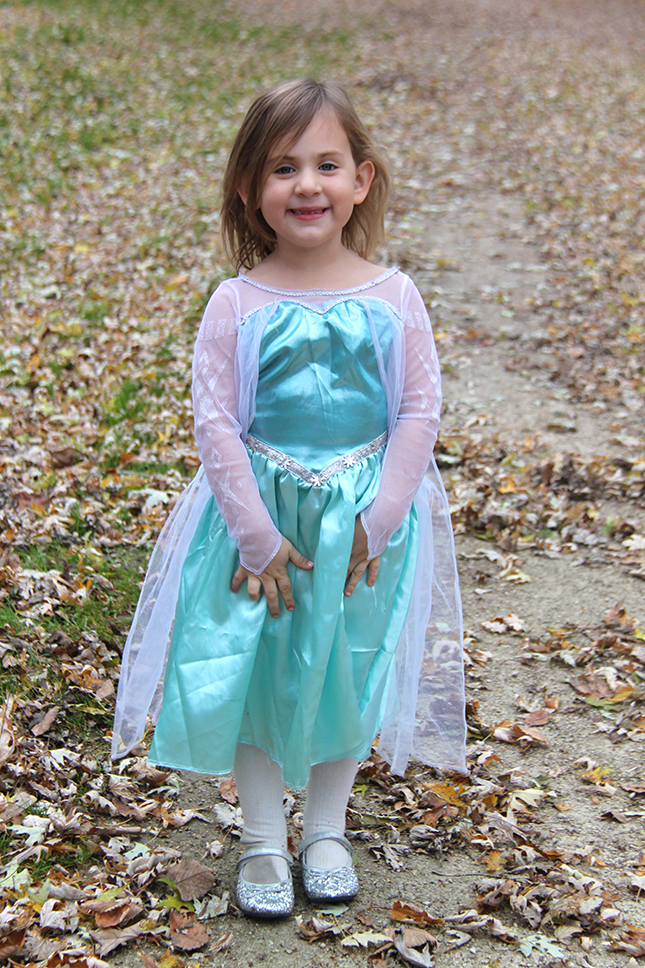 Do you wanna build a snowman? Just kidding. Do you want to hear a funny story? Well, right off the bat this sweet little girl wanted to be Elsa. I mean, c'mon, after her birthday party (here) this year how could this not be her costume? So back in August this was already determined. Well, my two oldest hemmed and hawed on costumes For.Ever. And finally earlier this month they came to the conclusion that they both wanted to be skeletons, a boy and a girl one of course. So, I thought to myself, these are all costumes that I think I'd rather buy. Sewing Ellie's Princess Peach costume a few years ago made me pretty set in the fact that I hate to work with silk and other silky type fabrics, they are just too fickle for me. And that is precisely what an Elsa costume is made of, nothankyou! Skeletons would also be on my list of costumes I'd rather not make. Really. Even as a chiropractor, I was not overly excited to sew or glue or iron lots of bones onto a black outfit. So it was settled. And I was pretty good with it…no momma guilt here, trust me. So off I went and bought Ellie her Elsa dress and then I found a boy skeleton costume for Noah and as luck would have it one of Penny's little school buddies had a girl skeleton costume she could borrow…hooray the stars were aligning!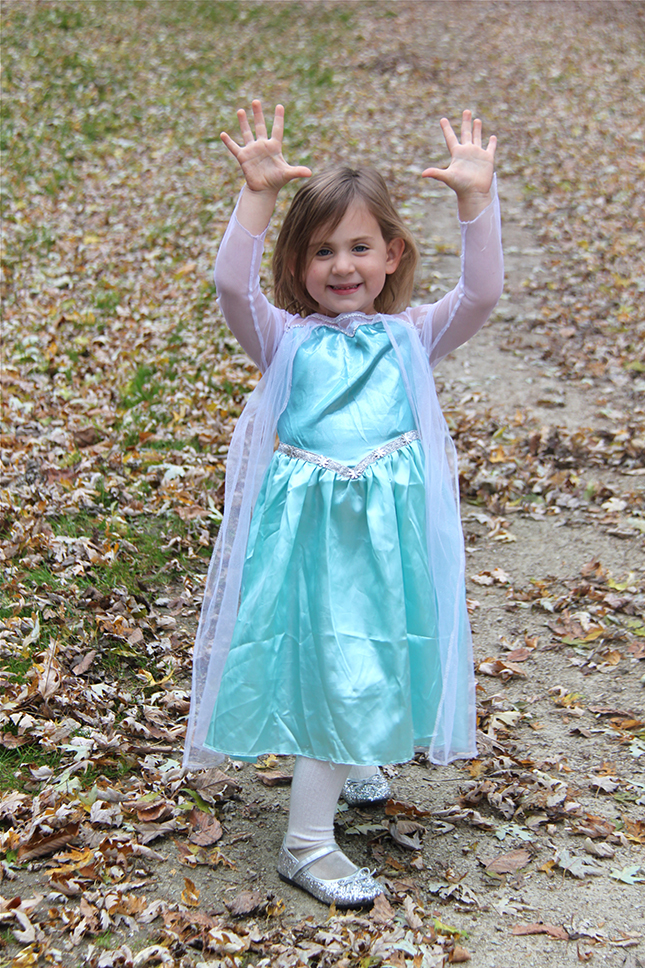 Sorry for the story interruption but I just had to show you the world's cutest little Elsa using her magical powers!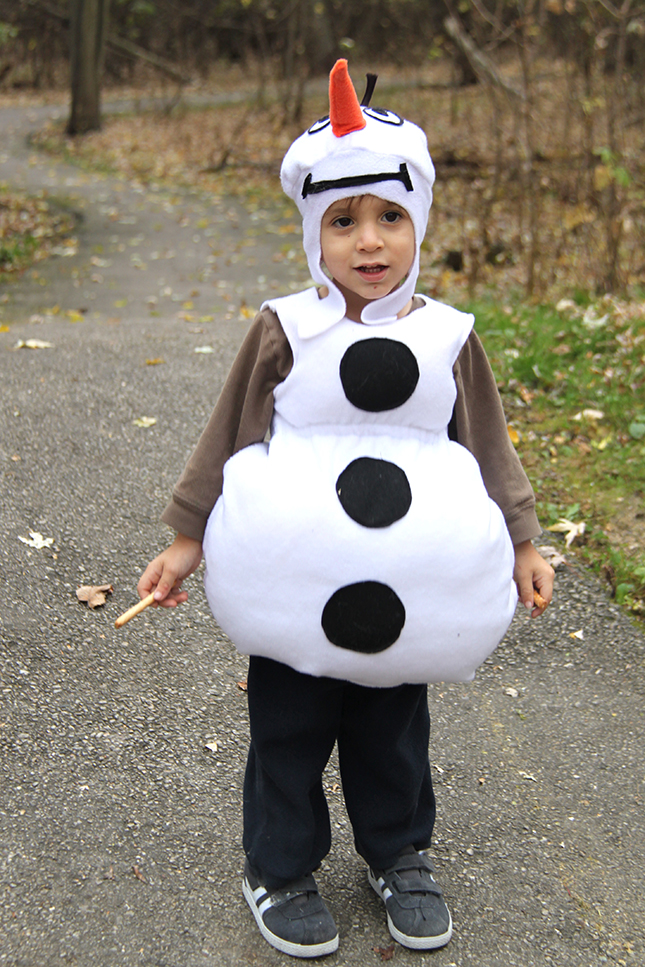 Well, what happens next is that I realize I left a kid out. Yup, I had no costume for Oliver. None, nada, zilch. So in a last minute attempt to coordinate costumes (as I do have a major love for that as you can see here, here, and here) I made Oliver the sweetest little Olaf costume to go with our Elsa. How freakin' cute is he? I used the tutorial and pattern here if you want to make one too!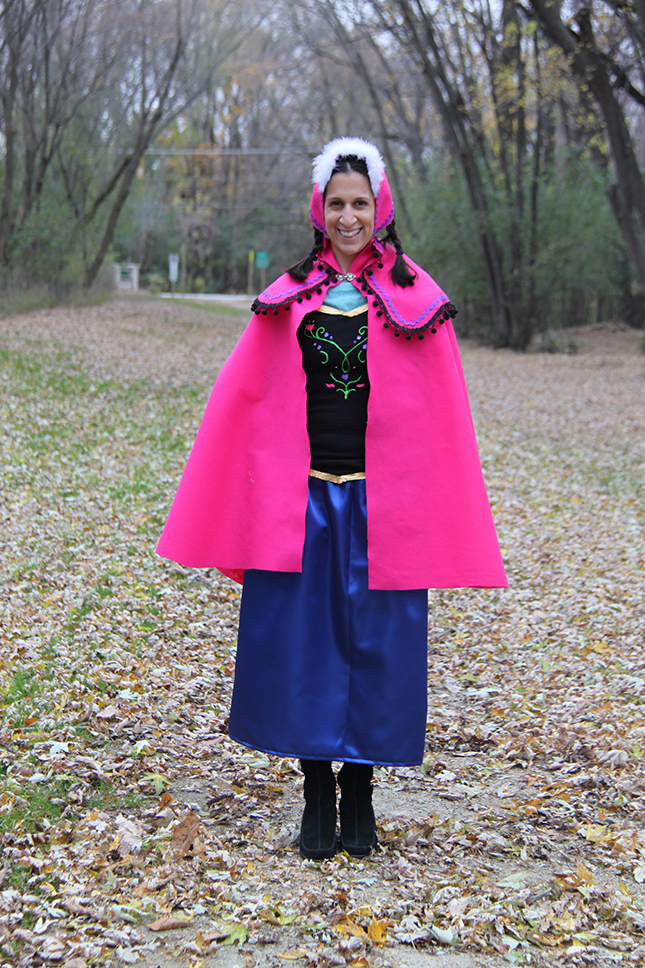 Now, after I made that Olaf (it really is so quick to make) I had the fire lit inside me to make more…more coordinated family costumes…it was in my blood. I HAD to do it. Well, that and the fact that Ellie kept me to be Anna so we could be sisters!!! How could I say no to that sweet little face? So I ran out to the fabric store and spent the rest of my day off on Tuesday making this little Anna number for me. My favorite part of this costume? That hat and cape!!! No tutorials or patterns here, just free handed this baby. The hat took some tweaking but everything else went together without a hitch. I think it turned out pretty well!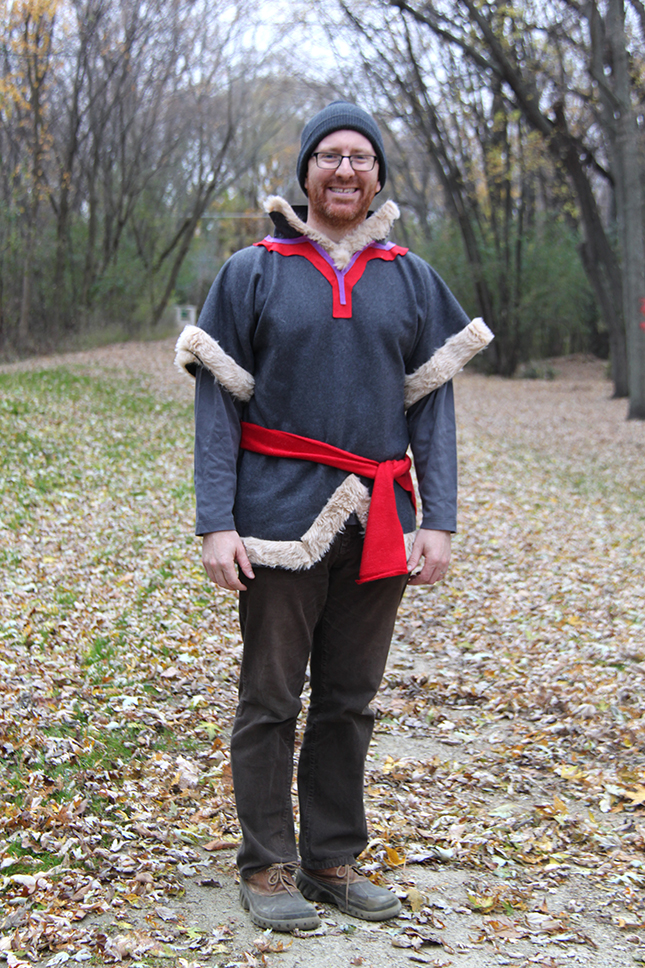 I also bought material for Clif to dress up as Kristoff. Holy cats I think he makes a pretty awesome Kristoff! I bought a yard of fleece, 2 yards of fur trim, 1/3 yard of red fleece, and 2 sheets of felt and I had the perfect amount to make this costume. PS. In case you aren't a sewer, that NEVER happens. You either buy too much or too little, or you eff up and need to go back for more cause you bought too little. It was meant to be! No pattern again, I just traced over a roomy t-shirt of Clif's and thanked God when it sewed up well then added fur and felt trim like the character in the movie.
So now we come to Tuesday. Time: about 4 pm CST. My oldest kids get home from school and Clif, Oliver, Ellie, and I decide to have a runway sesh and show off all our costumes to them. They are NOT happy. Now they want in on this Frozen theme. PS. a theme I threw out to them at the beginning of the month when they were all undecided and hemming and hawing, psh, kids! So on our way to after school activities that night we are trying to figure out what they can be…Hans? The Wandering Oaken's Trading Post guy? The Mayor of Weselton? Marshmallow Man? It was crazy town….drama in the only way two elementary school aged kids can have. We finally ended up on the Trolls. Yeah, they could be a pair of them. Gran Pabbie and the girl one. Okay, it was settled. Happy kids once again.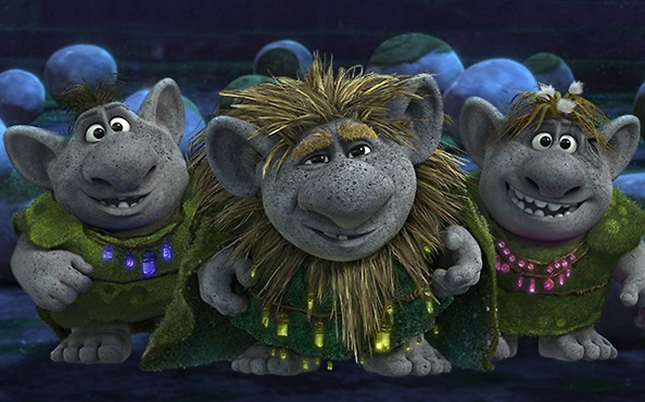 Now insert stressed out mommy. How the heck was I supposed to create these guys out of fabric? But I love a good challenge…maybe they should make a Project Runway Last Minute Halloween Costume Edition. I'd so been in on that one! So with a little drawing session and yet another fast trip to the fabric store in-between work and school stuff on Wednesday I came up with these…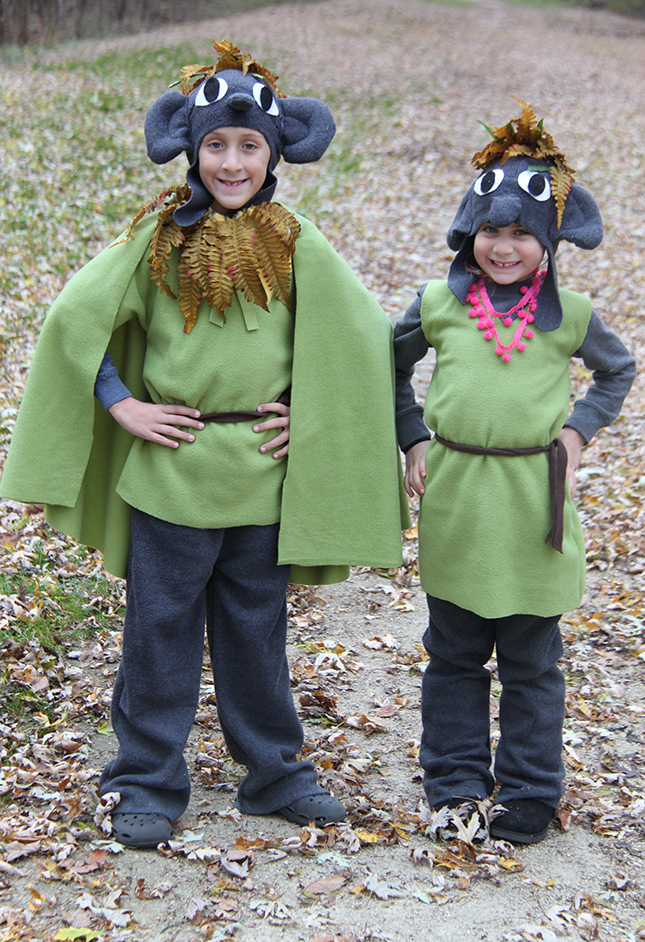 I think they are a decent representation of the Trolls from the movie…with a few artistic liberties of course. Noah and Penny were nothing short of ecstatic when they saw these costumes Thursday morning before school. They had a quick fitting before they were off to school and later that day I did some adjustments and worked on the Troll-face hats between work and volunteering. It was insane but fun. I used grey thermal shirts we had already owned and then I made the pants (using their own pairs of pants as a quickie pattern) and hats our of grey fleece (basic hat pattern here). The green shirt, green dress, and cape were made out of green fleece as close to moss color that I could find and I used their own shirts and dresses as pattern pieces. Two strips of brown fleece for the ties. Then I glued on some artificial leaves and grass to give them that "trolls that are rocks" effect, and made Penny's necklace out of pink pom poms.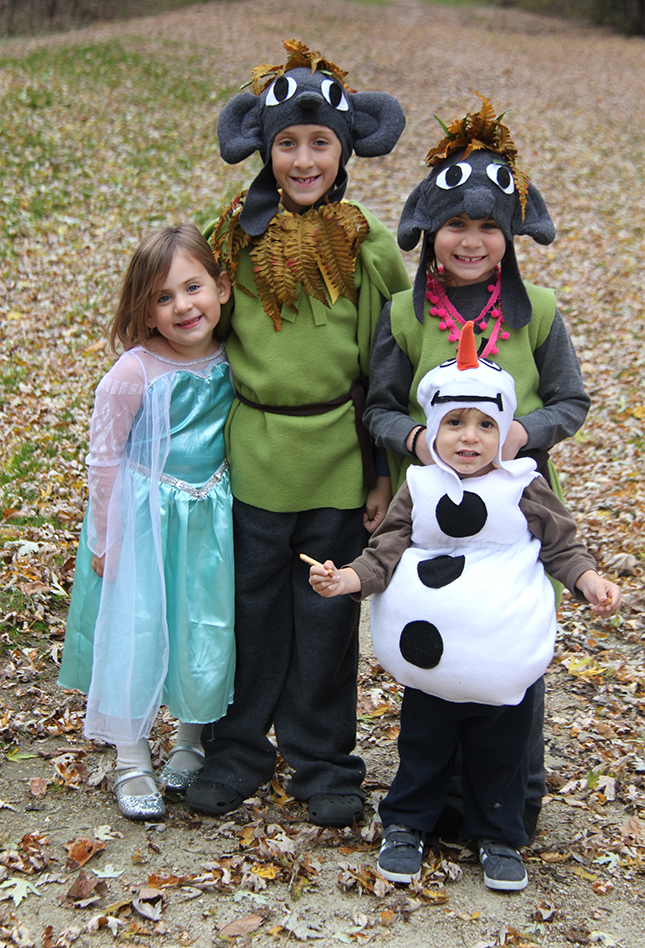 So there you have it. Thanks to one store bought costume we now have a whole family of coordinated handmade Halloween costumes…all made in 3 days. And now I need to go to bed, hahah! Too bad our trick-or-treating weather is looking mighty cold…but thank goodness for last minute costumes because I made everybody's in fleece, BAM! I'm so good like that! We are just going to have to bundle that cute little Elsa up nice and warm later tonight!
Hope you all have a Happy Halloween and enjoyed our little story of our Handmade Halloween this year!
Thanks for stopping by today!
Love,
Maggie