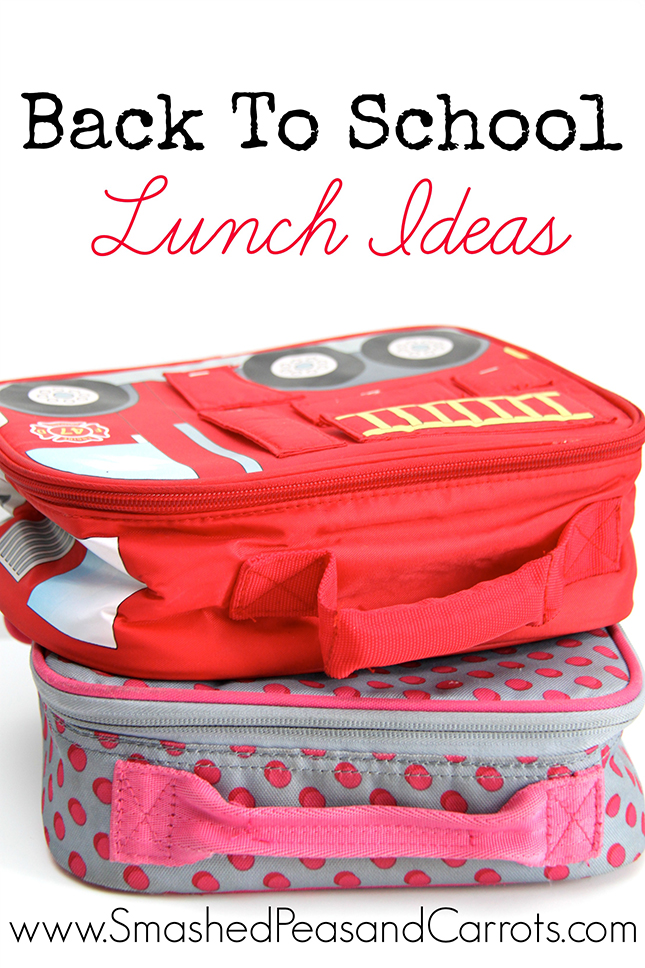 Holy moly, where has summer gone! It seems like I blinked my eyes and my kids are in school again! Hooray? I gotta say I'm pretty excited for my littles to be back to the school grind, it means we get to pick out school supplies together and they get to meet their new teachers and find out which of their friends get to be in their class… all such fun memory makers. But then I'm also kinda sad about it. It has been so fun having them around during the day to go on random adventures whenever we please. Ahhh, life! You get me every time! Well, part of getting in the mode of Back to School for me is starting to think about their school lunches. We pack our lunches 80% of the time as I want them to eat a healthy and nutritious lunch as often as possible. Plus by packing lunch I get to see what they eat, and ask them about what their favorite parts of their meal were since I know what exactly I put in them!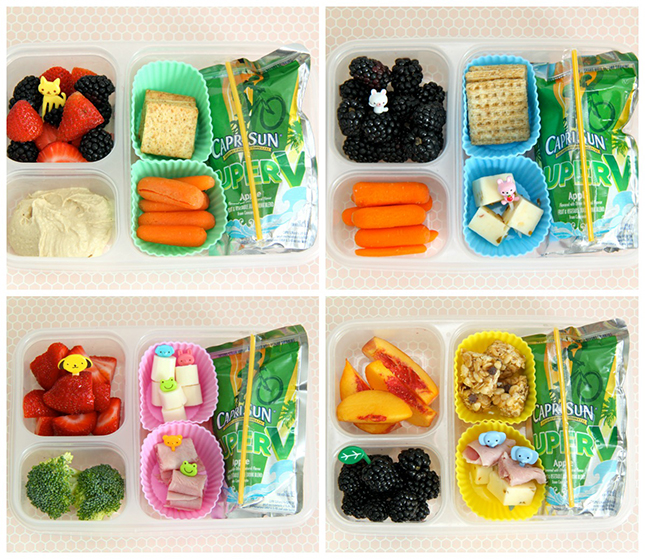 If you've followed along with my blog over the past few years you know I love to make them Bento lunches. I think they are just perfect for the elementary age set and younger! Bento lunches are basically just little portions of lots of different foods. It gives your kids a great variety of foods to eat but yet not a ton of it so they will actually eat it! I love it because it is a great way to add lots of healthy fruits and veggies to their meal. So instead of, 'Mommm! You mean I have to eat cauliflower?' It's all, 'Okay Mom, I guess I'll eat it since I just have to eat these three pieces. I got that!' Bento lunches are also a great way to introduce new foods. It's just a little taste so it's easy to try! And if you add cute little food picks or cut the foods into fun shapes it totally helps the process too.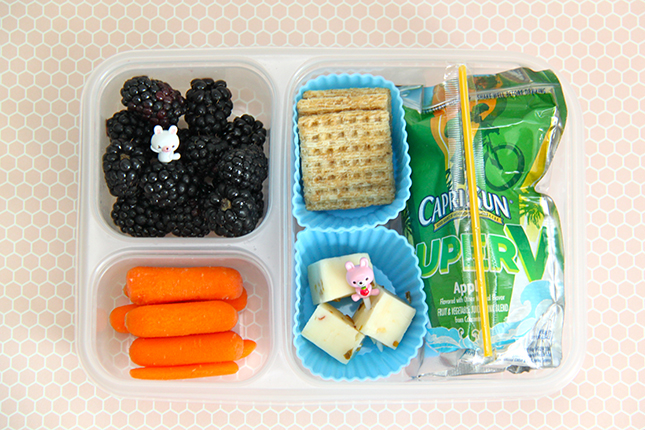 Here are a few fun ways we like to make our healthy Bento lunches, hopefully they will give you inspiration for this school year…you can do it Mom!
Lunch 1: Blackberries with a little bunny pick, baby carrots, wheat crackers, jalepeno cheese cubes with a little bunny pick, and a Capri Sun Super V Fruit and Vegetable Juice Drink.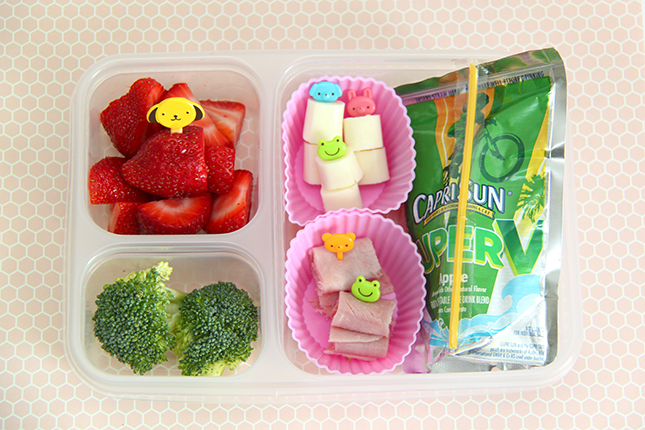 Lunch 2: Sliced strawberries with a mini dog fork, raw broccoli, cubed string cheese with little animal picks, rolls of organic ham with little animal picks, and a Capri Sun Super V Fruit and Vegetable Juice Drink.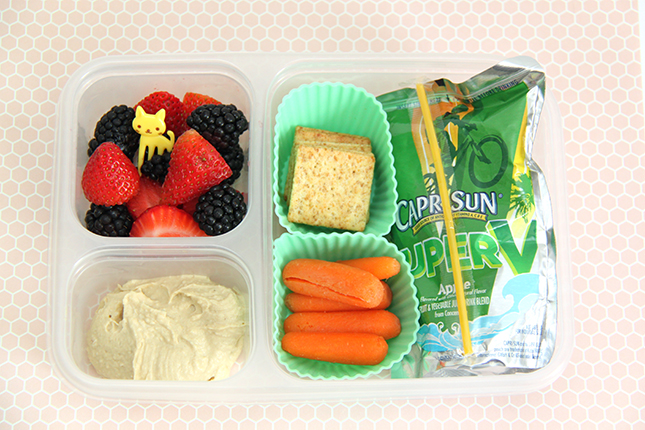 Lunch 3: Blackberries and sliced strawberries with a little kitty fork, wheat crackers, baby carrots, and hummus with a Capri Sun Super V Fruit and Vegetable Juice Drink.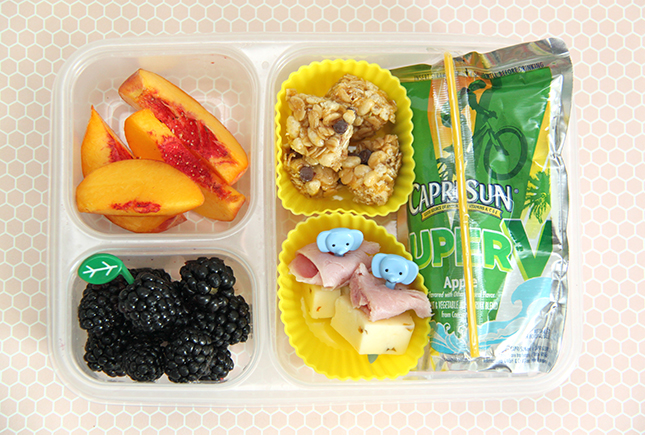 Lunch 4: Sliced peaches, blackberries with a little leaf pick, an organic chocolate chip granola bar cut into pieces, rolls of ham and cubed jalepeno cheese on elephant picks, and a Capri Sun Super V Fruit and Vegetable Juice Drink to drink.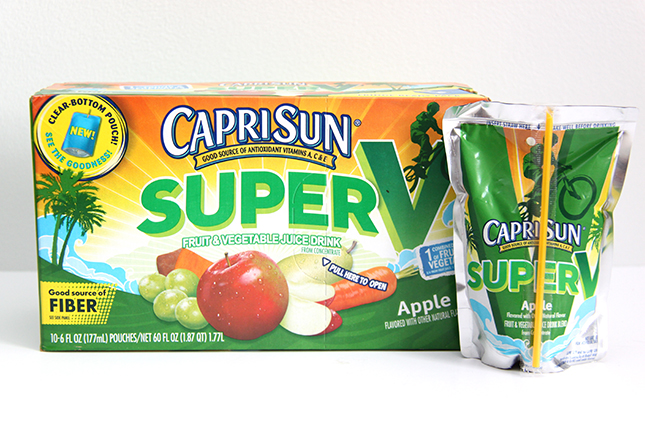 Now my kids loooove their juice just like the next kid and they are always begging me to buy juice boxes for their lunch. But I gotta say, I'm pretty picky and when I allow them I want them to be healthy and wholesome… it's a must! I love that Capri Sun 100% Juice and Super V Fruit and Vegetable Juice Drink offer exactly that. My kids go wild for them. They are the perfect choice for moms who want to give their kids something that not only tastes good, but is also good for them. Here are the varieties they offer in case you're wondering: * Capri Sun Juice Drink
* Capri Sun Roarin' Waters Flavored Water Beverage
* Capri Sun 100% Juice
* Capri Sun Super V Fruit and Vegetable Juice Drink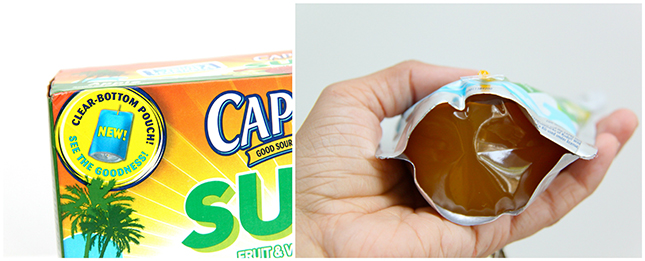 I also really appreciate that Capri Sun Juice drinks are made with no artificial preservatives, colors, or flavors. And you can see that for yourself with their new CLEAR bottom pouches, how cool is that?! I know my kids think it is, lol, you can watch your juice drink disappear! If you are looking for a great juice drink addition to your lunchbox this coming school year make sure to check out Capri Sun! You can learn more about Capri Sun here or on their Facebook page.
Thanks for stopping by today!
Love,
Maggie