I bought a ready-to-serve cooked shrimp tray for my New Year's Eve gathering as well as the Daily Chef Beef Filet wrapped in Peppered Bacon frozen appetizers.  Both of these were super yummy and neither one of them contained gluten which I had to be really aware of as a few of my friends are sensitive to gluten foods!
I also purchased a bottle of Beviamo Sparkling Moscato.  Can I just say Deee-lish!  And it was a great price too at only $11.98 for the bottle.
For dessert, I found a huge package of giant fresh strawberries at Sam's Club that I decided to dip in the best dark chocolate.  I always think chocolate-dipped strawberries are such a posh dessert, not only are they pretty to look at they are gluten-free too!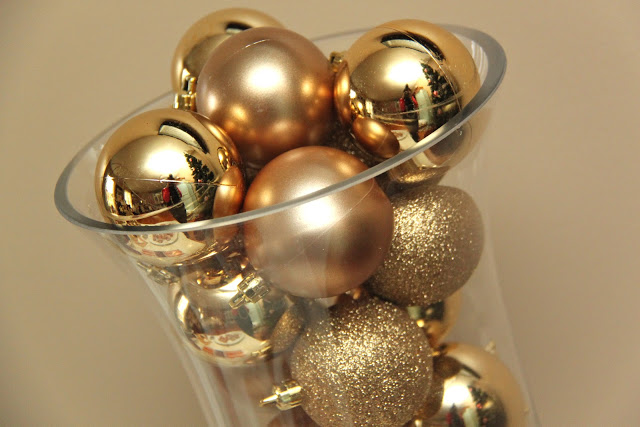 To decorate for the party I decided to use shimmery gold accents to help with the "Hello 2013!" party theme.  I placed a bunch of gold and glittery Christmas ornament balls into a large glass vase, simple and classy!
I also dug around my backyard and found a few broken tree branches which I place in a vase and decorated with gold glittered snowflake ornaments.  I love bringing natural elements into party/home decor.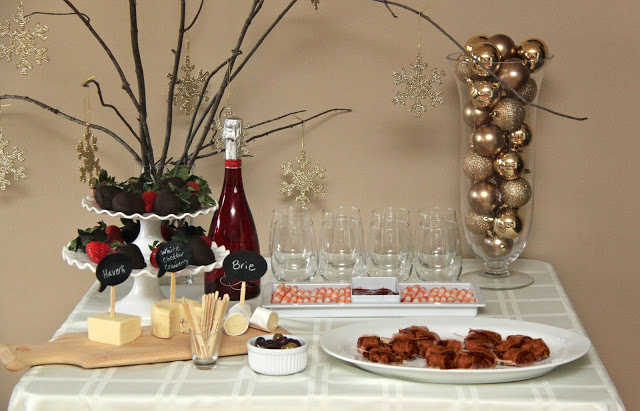 Here is a picture of one of my tablescapes.  I forgot to take a picture of the other table…that one had wine, non-alcoholic sparkling cider, veggies with gluten-free hummus and a few other goodies brought by my friends!
I left some strawberries un-dipped so guests could eat them while they sipped the moscato.
I made these cute little chalkboard thought bubbles a while ago and decided to tape them to wooden skewers and use them to label the different cheeses on the cheese tray.
Cute, right?
I also served olives marinated in olive oil…yum!
And of course the shrimp tray with cocktail sauce!
To enter:
XOXO,