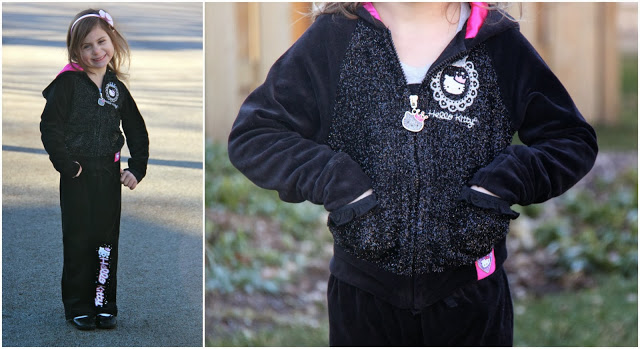 The adorable little hoodie even came with a cute pink Hello Kitty bow headband!
Can you tell Penny absolutely loves this outfit? She is a headband girl through and through so that was the icing on the cake for her 🙂
I love that both pieces are interchangeable with so many of the clothes that she already owns so she can get lots of wear out of each item!
One of the neat things about this line of Hello Kitty clothing is that each piece from the line has a clothing tag/marker that you can scan using the KuKee app and the Hello Kitty Dress Up experience comes to life. So your little girl can dress Hello Kitty up in different outfits, crowns, and accessories. Plus you can take a picture, glam it up, and share it with friends.
Here is what the clothing tag looks like. You just download the KuKee app and scan it with your phone like the picture on the right, above.
So easy and so fun!
You can use the KuKee markers to go on a scavenger hunt (and you can even get started by scanning one from this post)! Here is a little bit more info on how the hunt works:
Macy's is having great Cyber Monday and Black Friday sales so if you have a Hello Kitty lover in your family you will want to stock up on some of the great items from the Hello Kitty Let's Play line!
You can find more about KuKee here:
 XOXO,