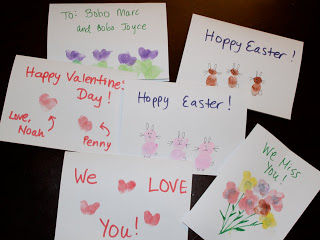 Here
is a fun project to do with your littles that grandparents and relatives will
LOVE!
Get some washable ink pads, plain cardstock and a nice supply of baby wipes and you have the makings for some easy, fun and very
"Awwww"
inducing cards.
I always
love
to make cards using the kidlet's thumbprints which we turn into some sort of design. It not only let's you capture their fingerprints at a certain age but let's others in your family have a little artwork from your budding picasso(s) that doesn't look like the typical little kid chicken scratch.
For Valentine's day, we make thumbprints into hearts and flowers. For Easter, we turn them into bunnies. For Birthdays, they become cupcakes, candles and 2-tiered birthday cakes (these ones are great to give to all their little friends and cousins at their birthdays!) Mother's Day, more flowers, Father's Day, ties. Really, the list goes on…whatever your imagination comes up with 🙂 Sometimes I'll embellish their thumbprints with some hand drawn additions just so the pictures aren't too abstract.
Go ahead and try it, your grandparents will thank you!
Fingerprint Cards
Different colors of washable ink pads
Plain cardstock
Baby wipes (
to wipe off little fingers before they use the next color
)
Butcher paper (
for your table
…
so they can put their little hands anywhere without giving us mommas a heart attack!
)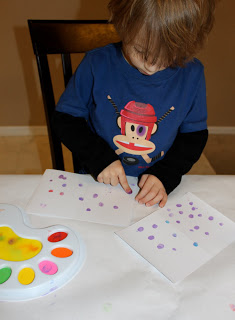 The artist deep in thought.
YES, she is wearing her swimming suit and YES, it's winter in Illinois, you see
I bought her a new one for a trip to a water park resort we are taking next month and wanted her to try it on to see if it fit. She wouldn't take it off 🙂 Pick your battles, right!?!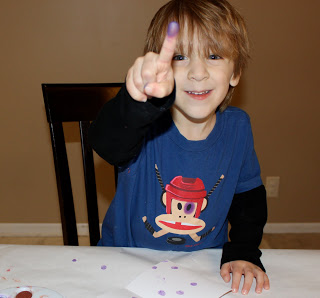 Dirty fingers and little boys go together nicely…and dirty fingernails too…
Eeeew!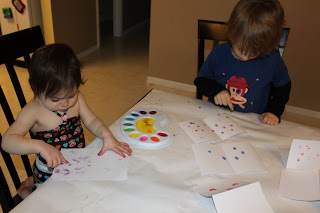 In the zone.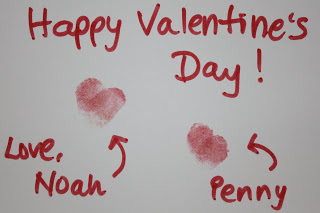 ♥
A Valentine's card from Noah and Penny
♥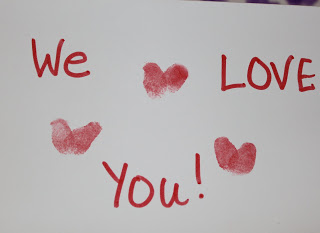 Little baby hearts from little baby Penny!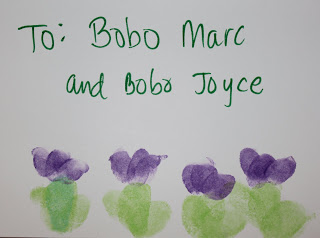 A garden of violets for Grandma Joyce and Grandpa Marc
(FYI, Bobo is Noah's word for grandma/grandpa!)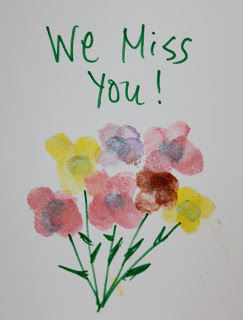 A mess, I mean bouquet, of flowers!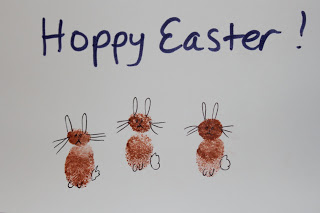 And some Easter cards…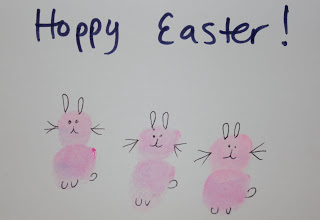 Have fun getting messy with your littles!
See, even I had to take a few deep breathes after seeing this:
(Her mouth and cheeks all the way back to her ears, hands, arms and chest are covered in marker and ink from the inkpad!!!)
Thank goodness for washable markers is all I have to say!!