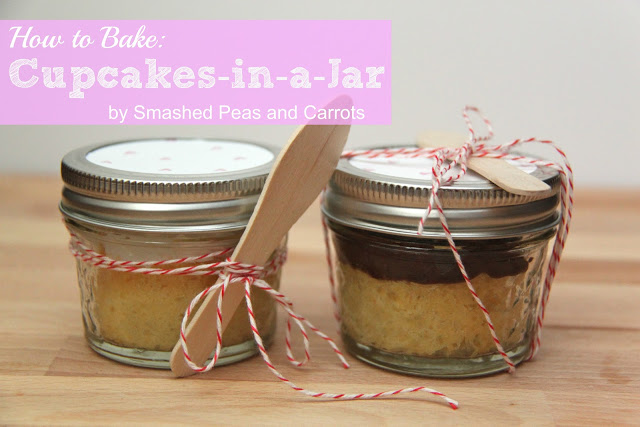 I've been getting lots of emails ever since I posted a picture of our take home gifts, 
Cupcakes-In-A-Jar,
for the
Girls' Vintage Birthday Party
(
seen here
) so I  thought instead of writing my answers over and over in emails I would just do a post about it.  Saves me a bit of time since answering emails with one hand while I nurse Oliver is a task I still have not perfected, even after 3 kids!
Many of you wanted to know if I baked the cupcakes separately or baked them in the jar and if I could share a recipe for the cupcakes and the icing.  Lots of you wanted to know what kind of jars these were, what size they are, and where I bought them.  Along with where I bought the wooden spoons and how I made the decorative tops.  Phew!  I think that was most of the questions anyways 🙂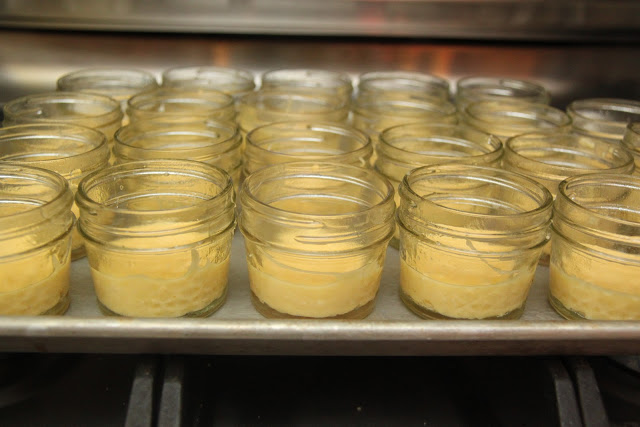 Well, first off I used the tiny 4 oz mason jelly jars to make my Cupcakes-In-A-Jar.  You can buy them at many places from Walmart, Target, Hobby Lobby, and even online.  They tend to be lower on the shelves than the more popular sizes but I have seen (and bought) them in all those places one time or another.
I baked my cupcakes directly in the jars.  I saw in some places where people would bake the cake (or bought the cake) and then used some type of biscuit or cookie cutter to cut out a circular piece of cake to fill the jar.  Nope, that was just too much work for me.  Did you know you could bake with mason jars?  You totally can…and I did.  It was so much easier and took out the middleman.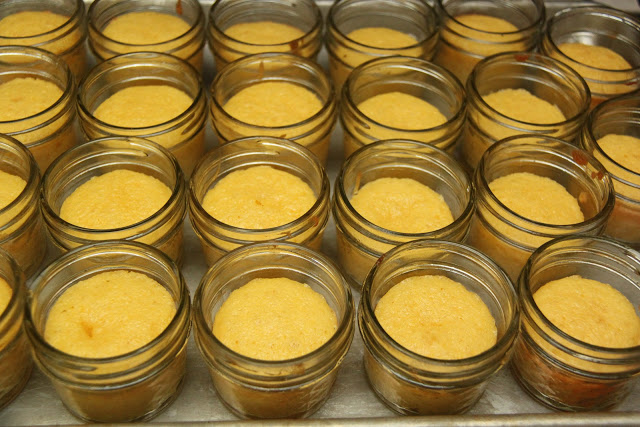 To answer the recipe question…I used a store bought mix!  I love making cake from scratch but to be honest 'cake in box' was just easier this time.  My time isn't really my time these days since I'm nursing on demand as the little man sees fit so I never know if any given day is going to be one long nursing session where getting other things done around the house, mind you party prep, is going to happen.
I used a simple yellow cake mix, followed the directions on the box and filled each mason jar only 1/3 of the way full with batter.  This way there would be room for lots of frosting and sprinkles after the cake baked up.  I baked the cupcakes according to the 'cupcake baking time' but checked them early in case they baked faster in glass, and they did.  So watch out for that!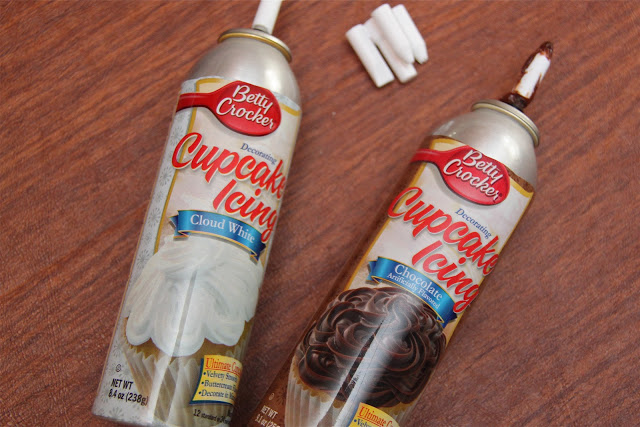 My frosting…store bought as well!  I decided to buy these aerosol spray cans of frosting and let me just tell you they were soooo good!  Who knew?  I used both cans to complete emptiness to decorate 24 cupcakes.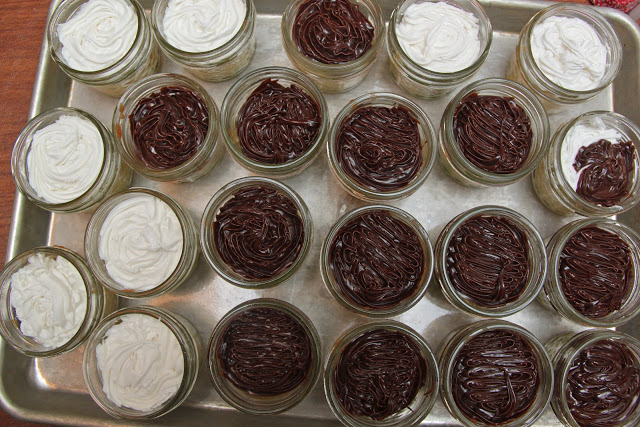 Half vanilla frosted and half chocolate frosted…Yum!  And some were half black and half white…I love me some frosting choices!
The girls picked out the sprinkles and we went to town prettying the cupcakes up.  I highly recommend decorating with sprinkles…so happy looking!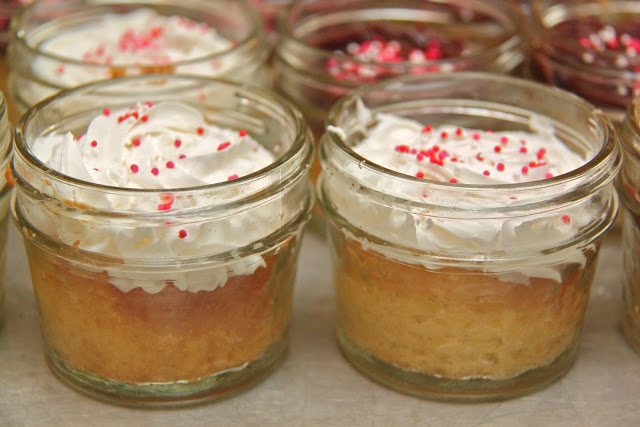 See how nice using 1/3 full batter bakes up!  There's plenty of room for lots of swirly frosting that won't get ruined when you put the lid on!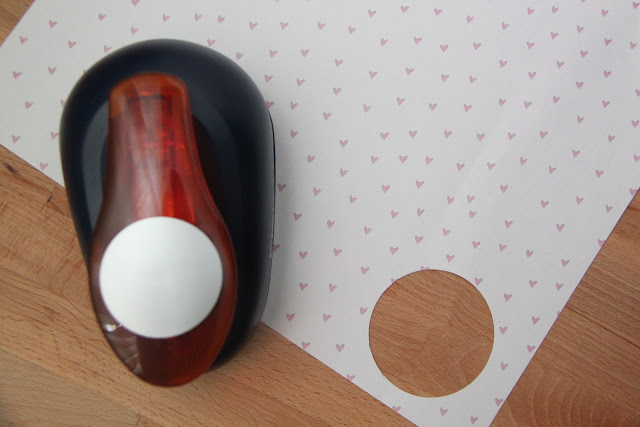 To make the decorative tops I just bought some cute scrapbook paper and used a paper punch, super easy and quick.  Aaand a 2.5″ paper punch fits perfectly onto mason jar lids, sweet!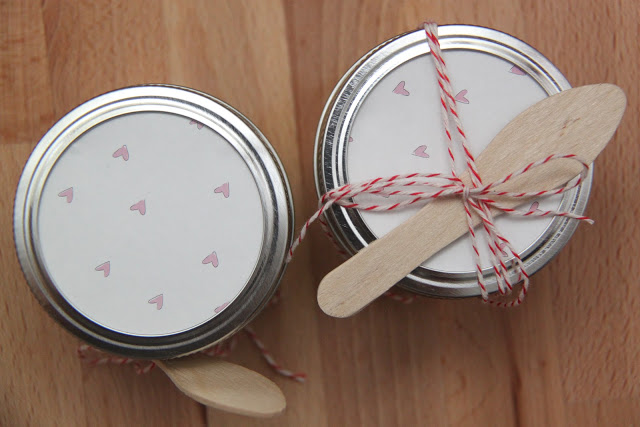 I bought the cute little wooden spoons at
Hobby Lobby
.  I thought they were the perfect size for the jelly jars…so cute!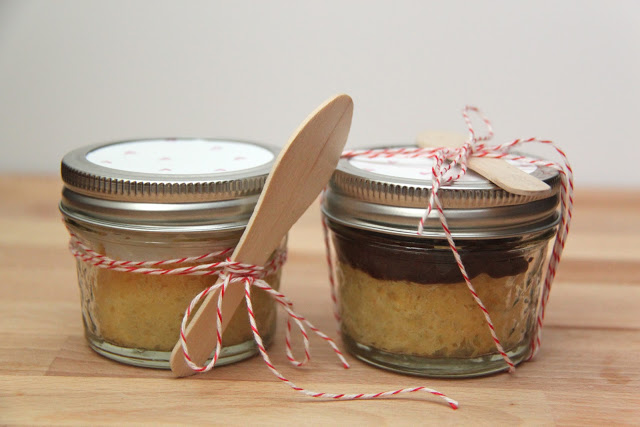 So that's it.  Let me know if I missed any other questions you might have had…I think I got them all!
Thanks for stopping by today!!
XOXO,