Hey friends! I'm back with another amazingly easy Instant Pot recipe! I just love my Instant Pot so much that I can't help share every delicious recipe I make in it. I know a this can be intimidating, I have my fair share of friends who text me daily about what they should make in it or that it's been sitting on their counter for 4 weeks IN THE BOX because they are just too scared to use it. I am here to help you get it out of the box and use it because once you do, you will realize how awesome it truly is!!! This Instant Pot Rotisserie Chicken is one of my favorite Instant Pot Recipes because you can cook a whole chicken in 25 minutes, bones and all!!! (affiliate links present)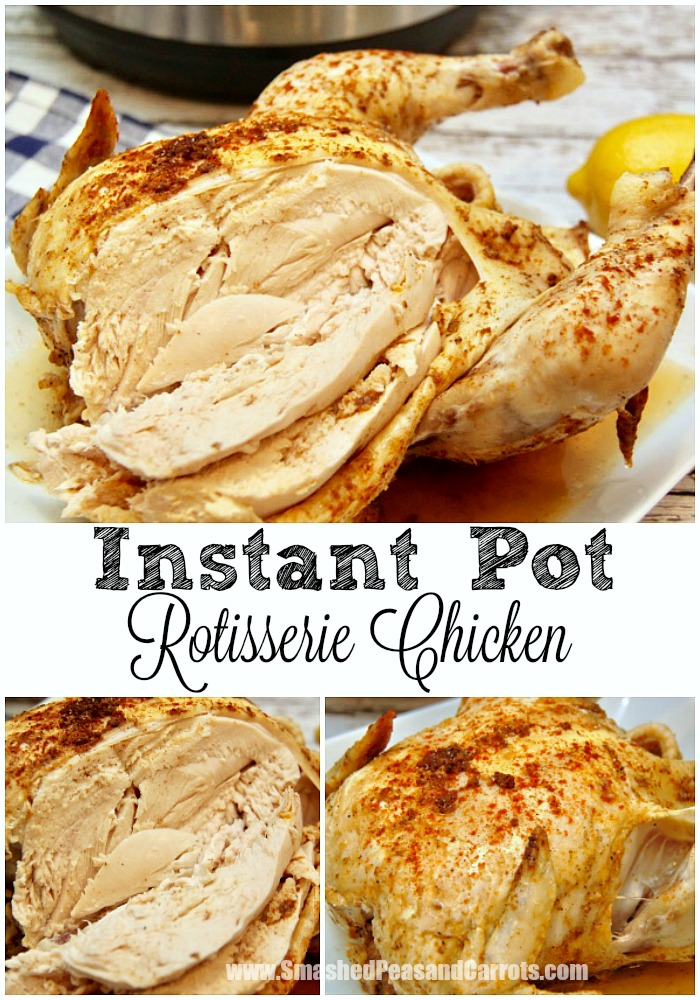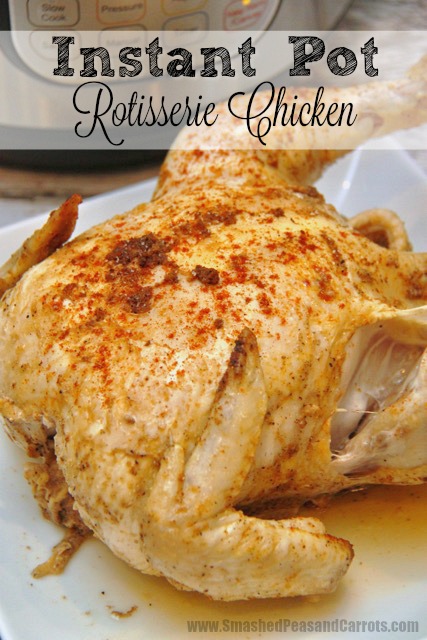 Doesn't that whole chicken in the Instant Pot look amazing? A pressure cooker can really cook a chicken and have it turn out Rotisserie style…amazing, right?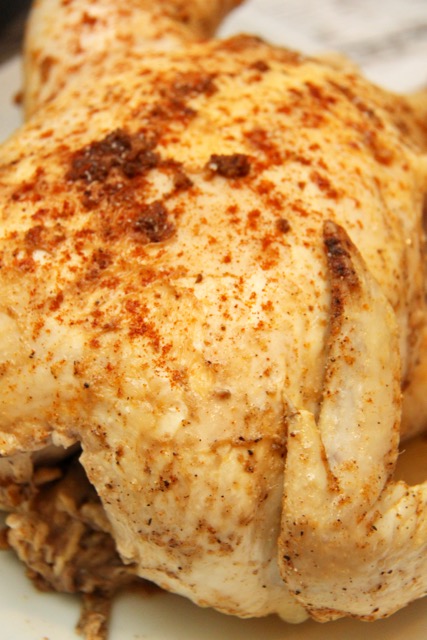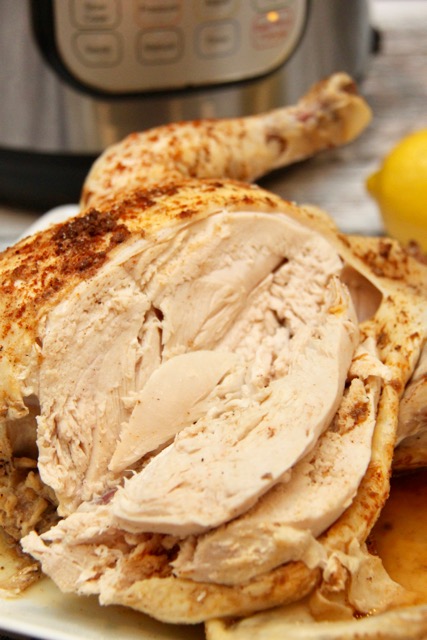 I'm telling you, this Instant Pot Whole Chicken tastes amazing, the meat is super juicy and fall off the bone tender. So good! And the best part about this recipe is that you can use any spice blends that you like! Want it spicy…sprinkle some chili powder or chili flakes on top! Love Lemon-Pepper Rotisserie Chicken…add lemons inside the cavity, and sprinkle salt and pepper over top with a squirt of lemon juice! My favorite blend is my Roast Chicken Spice Blend from my Crockpot Roast Chicken Dinner, it's a nice and flavorful blend that pleases every palate!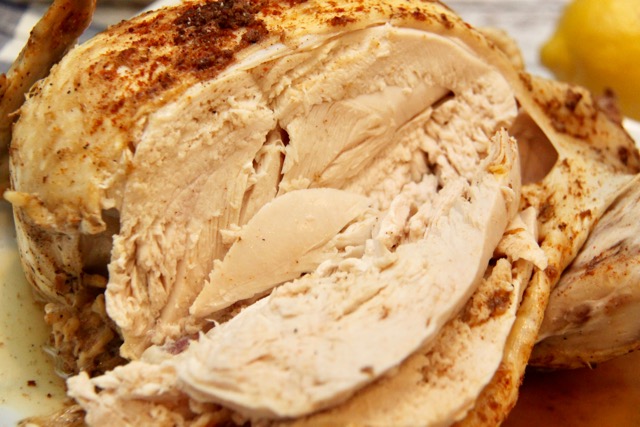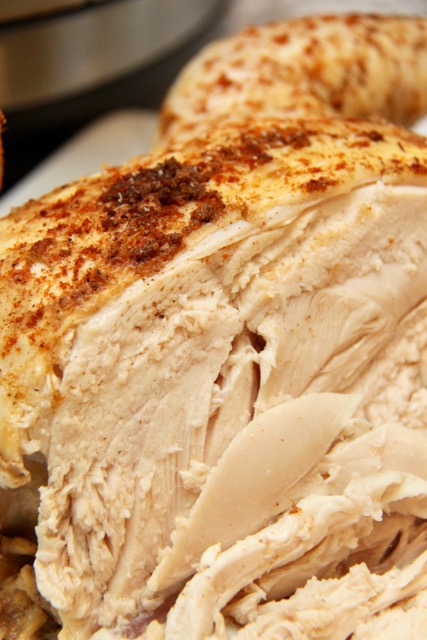 Instant Pot Rotisserie Chicken
To make this recipe you will need an Instant Pot, some spices, and a good pair of tongs.
We hope you enjoy this recipe as much as we do. PS. The leftovers make a great bone broth or soup!!!

Instant Pot Rotisserie Chicken
Ingredients
1 Whole Chicken around 5 lbs
1-2 Tbsp Coconut Oil (optional)
Spice Blend:
½ tsp black pepper
½ tsp garlic powder
1 tsp white pepper
1 tsp thyme
1 tsp onion powder
1 tsp cayenne pepper
2 tsp paprika
2-4 tsp salt
Instructions
Rinse and clean your chicken with cold water. (This means take out the giblet packet that is hidden in the open cavity!)
Pat dry with paper towels.
Mix all of the seasonings together and rub all over the chicken, especially the breast and legs.
In the Instant Pot insert, add the coconut oil (these next steps are optional but allow the chicken to have a more rotisserie style roasted skin!)
Press "saute" (the Instant Pot will show 30 minutes, but don't worry about that!) and wait 3-5 minutes for the Instant Pot to heat up.
Using tongs, add your whole chicken, breast side down, and "saute" for 5 minutes with the lid off the Instant Pot.
Using the tongs again, flip the whole chicken over and "saute" for another 5 minutes.
Now with the chicken breast side up, press the "Manual" button and adjust the time to 25 minutes.
Lock the lid onto the Instant Pot, making sure to seal the valve on it, and wait a few seconds for the Instant Pot to start.
When finished, carefully release the steam valve, then use tongs to carefully remove the whole chicken.
Plate up, carve, and enjoy!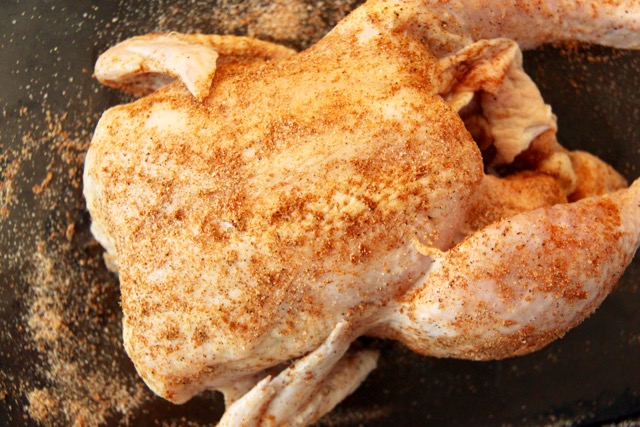 This Instant Pot Rotisserie Chicken couldn't be any easier to make! Mix up your spice blend and sprinkle generously all over the whole chicken.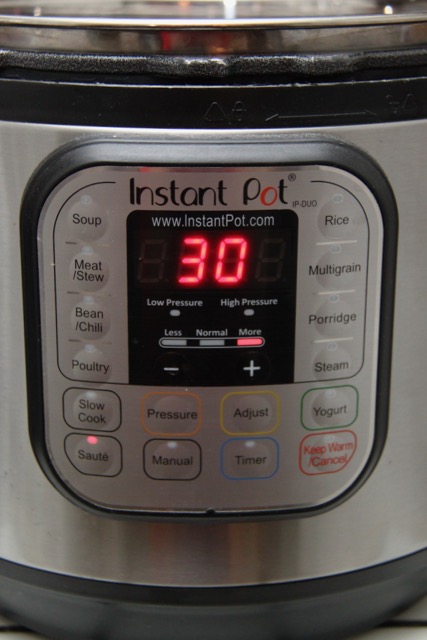 Press the "Saute" button and wait 3-5 minutes for the insert to heat up, don't worry about the time! Place 1-2 Tbsp of coconut oil in and let it heat up and melt.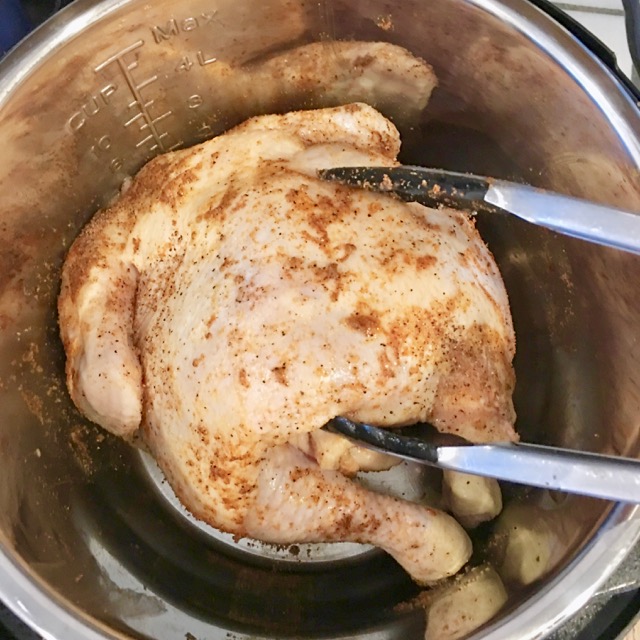 Using tongs, place the whole chicken into the insert and let sit for 5 minutes to let the chicken skin crisp up. Flip the chicken over and cook the other side. (You do not have to do these steps, but I always think it makes the chicken have that nice rotisserie skin look and taste…plus my kids love it!)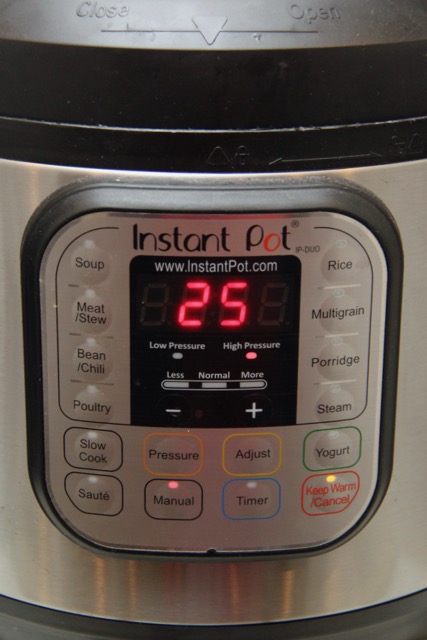 Next, change the setting on your Instant Pot to "Manual" and using the "Adjust" button, change the time to 25 minutes.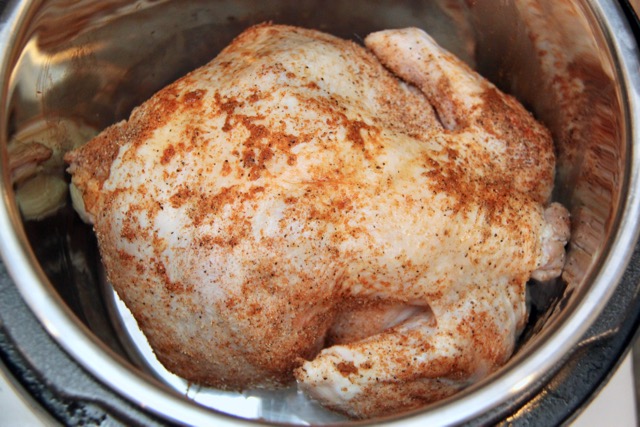 Make sure that the whole chicken is breast side up first, then lock the lid onto the Instant Pot and close the steam valve. Within a few second the Instant Pot will start building pressure.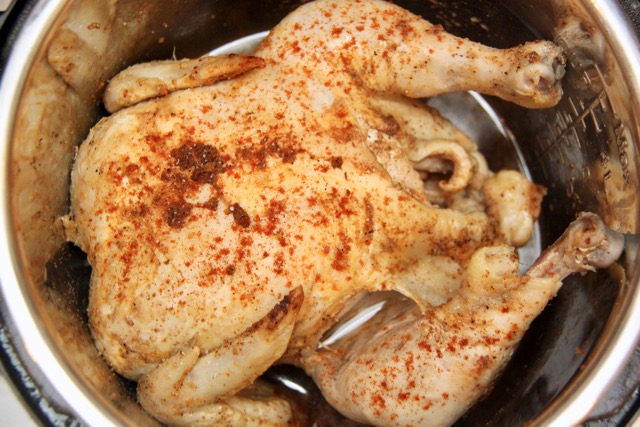 Once the chicken is cooked, you can let the Instant Pot naturally release the steam or you can carefully unlock the steam valve if you want to eat faster!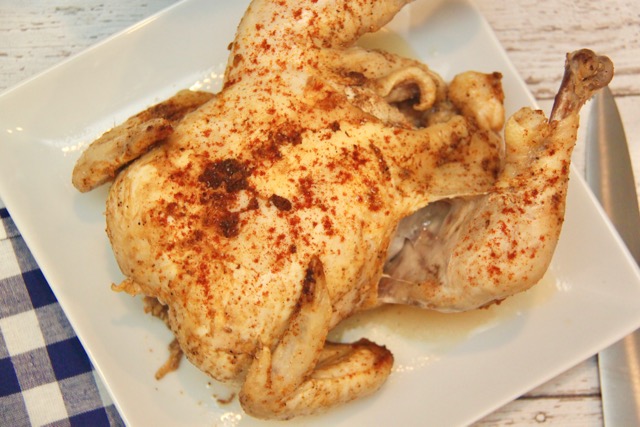 Ooh! Now doesn't that look good!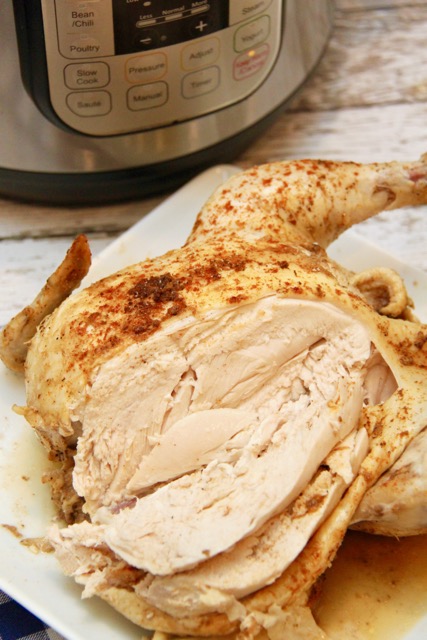 If you are looking for more Instant Pot or Pressure Cooker recipes, try our Instant Pot Ribs recipe or our Instant Pot Shredded Beef Tacos…both are super yummy and easy to make!
For more easy recipes, crafts, tips and tricks please LIKE Smashed Peas and Carrots on Facebook or follow me on Instagram or Pinterest for more great ideas!
Thanks for stopping by today!
Love,
Maggie