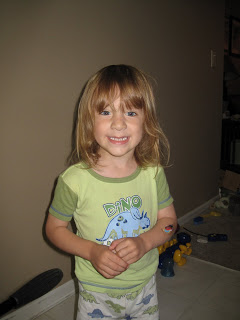 One of Noah's last pictures with long hair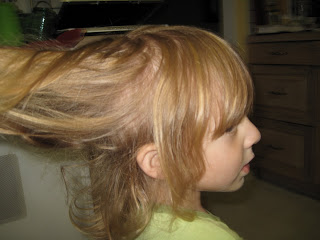 Look at that length!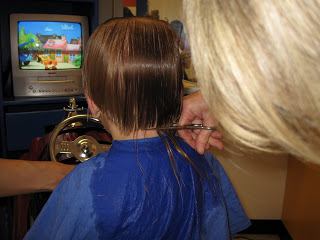 The first snips…good-bye lovely long hair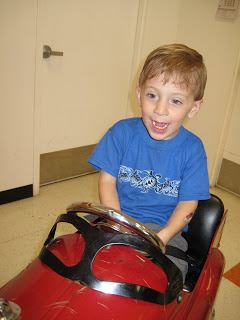 Hell-o new 'do!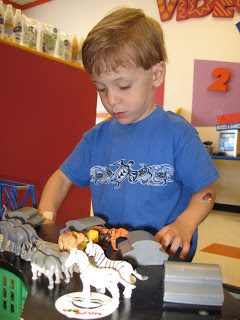 Reward at last!! Playing with the choo choos

We decided late last night that today would be the day for Noah to get his first official haircut. Gone is the long-locked baby Noah and here now is the grown-up little boy Noah…*tears*
We took him to a one of those cool kid's haircut places where they get to sit in a car…and yes, it was waaay cool. He chose to sit in a little red firetruck complete with a dinging bell. They even played some Bob the Builder on the little tv at his station. Clif was the ever present AV guy manning the video camera and the digital camera, one in each hand. Penny and I were the cheerleaders on the sidelines trying to diffuse any possible signs of tantrums or tears. I have to admit the kid did great! He sat still and followed his stylist's directions the whole time. Even smiling for the camera to show of his new 'do. Afterwards, we let him play with the big train table they had in their playroom where he choo choo'd his little heart out.
Clif and I decided that for such a momentous occasion he deserved a gift. So, the hair fairy is bringing him his very own train table and all the numerous pieces that come with it tonight when he goes to bed. I think we will live to regret this decision as soon as that box opens tonight. The box says "over 100 pieces!"…is that really a good thing?