So, the other night I knit myself up one of these: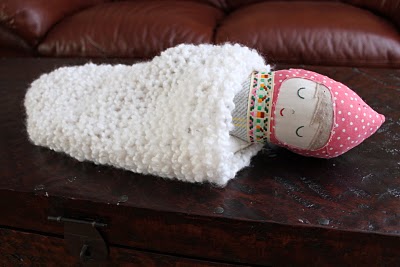 Isn't it freakin' cute!?!
It's a
Baby Cocoon!!!
 Basically, it's a knit baby sleep sack but I think a cocoon is waaaay cuter to say…Baby Cocoon…
awww
, doesn't it just sound adorable!?!  Penny kindly let me tuck her nigh-night baby doll in it, the only doll she gives a hoot about and ONLY while she sleeps.  
Melissa Riley is the pattern maker and you can find it
here
at her blog,
All You Need Is Love
.  I just LOVE it…I made it with a bulky baby yarn that is super duper soft.  Of course, since we don't know the gender of Bean III, I made it in white.  I figure I could add a sweet little ribbon in pink of blue once the baby comes and that way this little one will be stylin' for his or her first baby pictures…I can't wait!!!!
The pattern is quick to make and literally took me 3 hours to bust it out, partly while watching
The Secret Life of an American Teenager
…such a lame show, I know, but I'm totally into it…yup, let the mocking begin.  And now back to the pattern folks…just to let you know, it's a great pattern for a beginner knitter too, you just have to buy a pair of circular knitting needles since it's done in the round.  Wouldn't this make such an awesome baby gift, definitely not your normal knit blankie!! 
Ok
, so that's all…just wanted to share 🙂