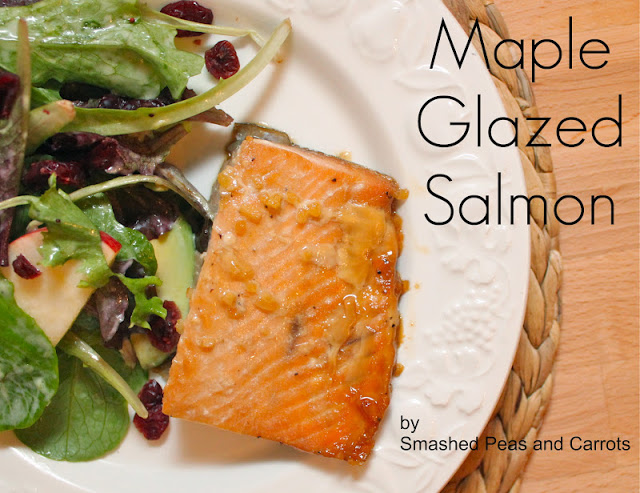 Looking for a delicious and healthy option for dinner tonight?  Why not bake (or grill if the weather near you is nice!) some salmon?  We love salmon and try to eat it at least once a week, it is sooo good for you and your brain.  All those Omega Fatty Acids.  Yup, so good!  If you have a great recipe like this one for
Maple Glazed Salmon
(or even this one for
Roasted Salmon with Herbed Yogurt
) it tastes awesome even if you are not a fish lover.  Know someone like that?  I thought so.  Well, try this recipe out on them and see if you swayed them to the deep, dark side of fish-eatin'.  It just may do it 🙂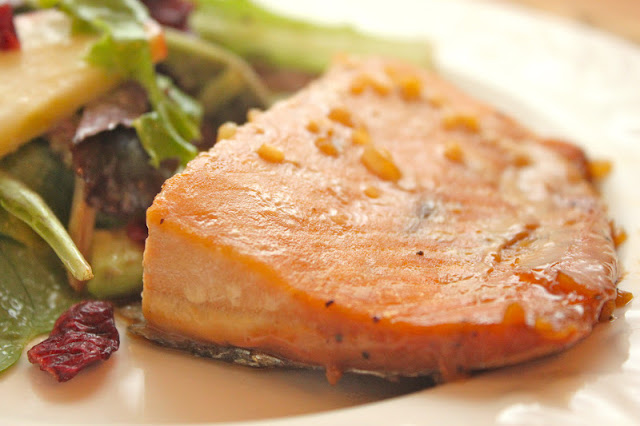 Maple Glazed Salmon
Ingredients
1 pound of salmon
¼ cup pure maple syrup
2 tbsp soy sauce
2 cloves garlic, minced
½ tsp dried minced onion
pinch of salt and pepper
Instructions
In a small bowl, mix together all of the ingredients above minus the salmon fillets.
Place the salmon in a baking dish and pour maple glaze over top.
Cover dish with foil and let marinate in the refrigerator for 20-30 minutes flipping salmon one time.
Place the uncovered baking dish in the oven at 400 degrees for 20 minutes or until salmon is opaque throughout and easily flakes with a fork.
**Salmon cooking time will vary depending on the thickness of each fillet. A good rule of thumb is 6 minutes per inch of thickness. Also, do not marinate fish for more than 30 minutes or some marinades may start to cook the fish!!!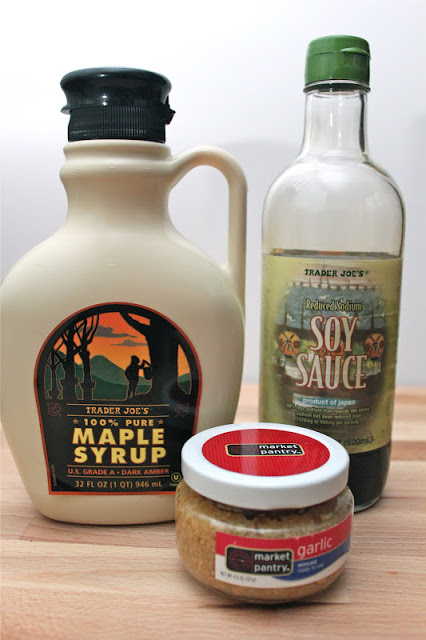 Easy ingredients list for this one.  Simple dinners rock!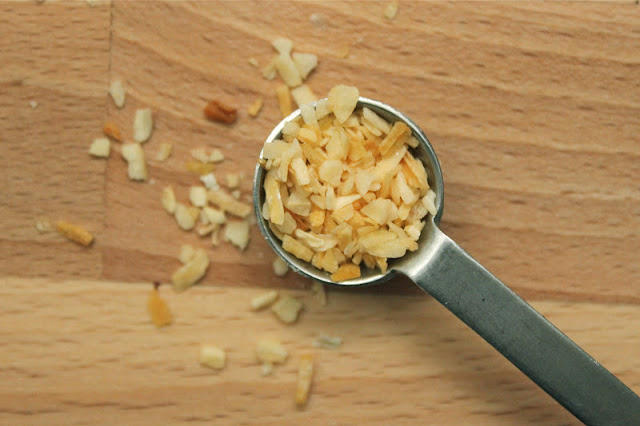 In a small bowl, mix together 1/4 cup of pure maple syrup, 2 tablespoons of soy sauce, 2 cloves of garlic (minced!), and 1/2 teaspoon of dried minced onion…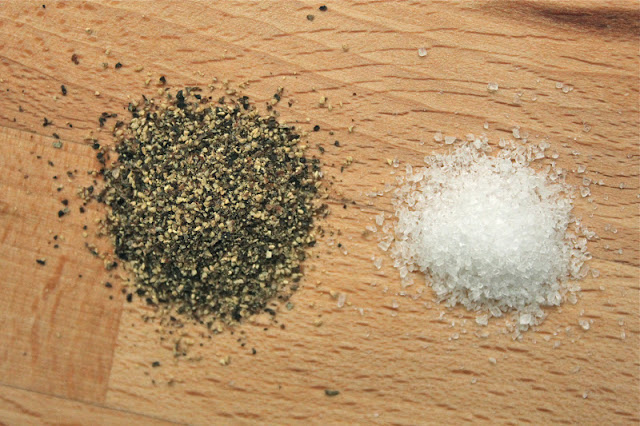 Then add a pinch of salt and pepper…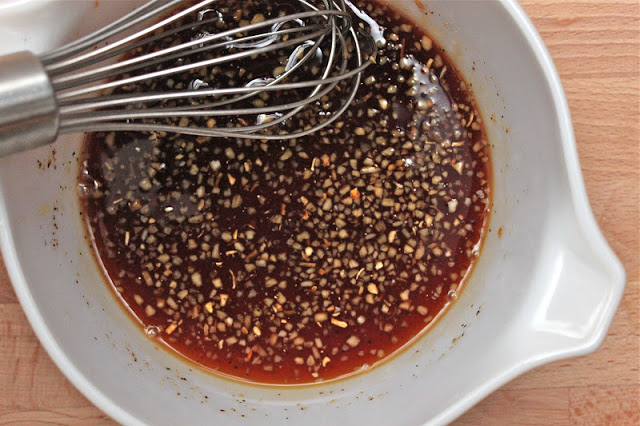 Whisk everything together until all is well combined.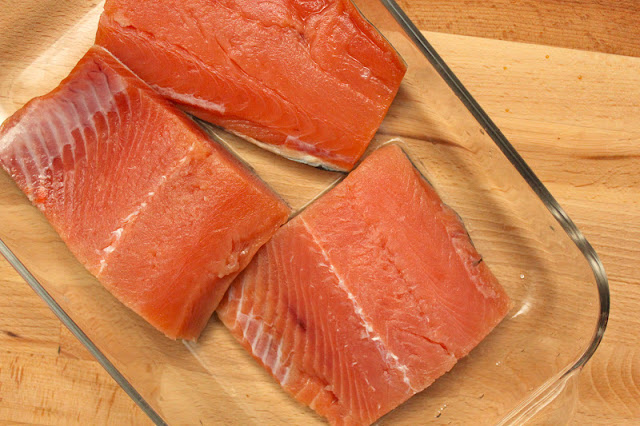 Then place your salmon fillets in a baking dish…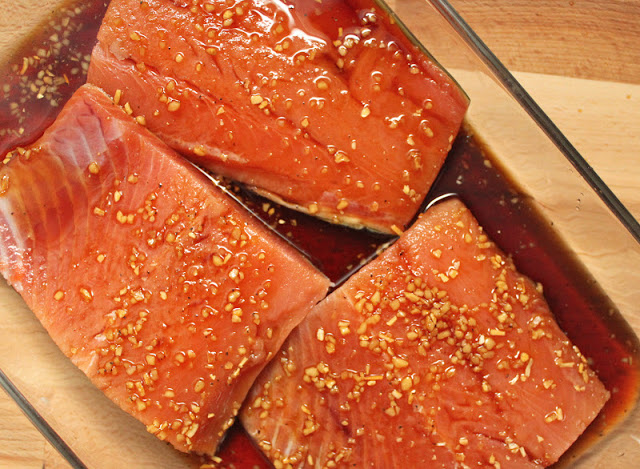 And pour all of your yummy maple glaze over top!
Bake at 400 degrees for about 20 minutes or until the salmon is opaque and flaky.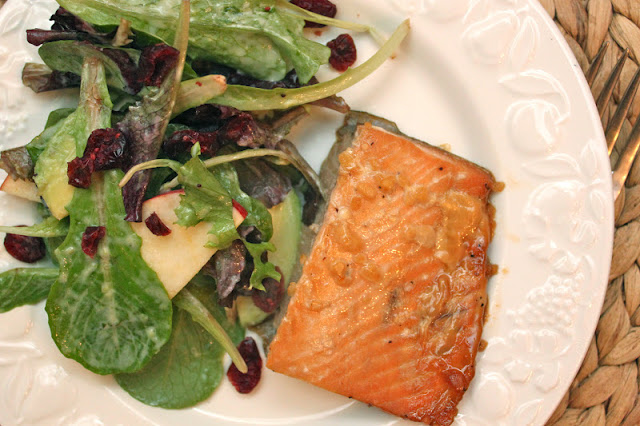 Enjoy your healthy meal with a nice salad…YUM!
And pour more maple glaze over your salmon if you're feeling up to it…I think you should…it's so good.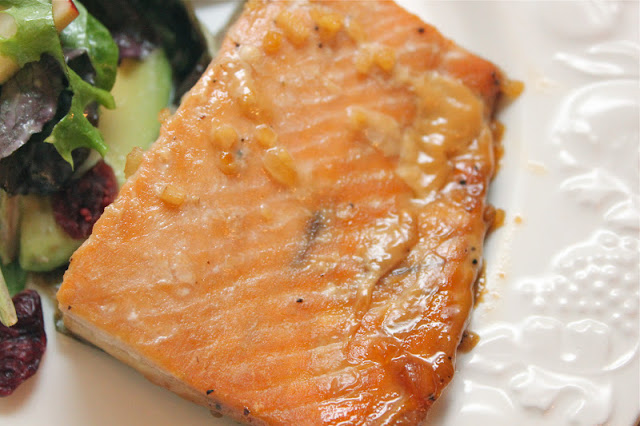 One healthy dinner done…yippee!
XOXO,