*This post was brought to you via Universal Pictures. All ideas and photography, as per usual, are my very own.
You don't know how excited my kids have been during the last few weeks as we have been planning Oliver's 3rd birthday party… our Minions Backyard Bash! We have adored all the Despicable Me movies and have been ready and waiting to see the Minions movie that will be in theaters on July 10 since we saw the previews months ago that this party was like one big celebration for the movie's premiere and Oliver's love for those cute little minions.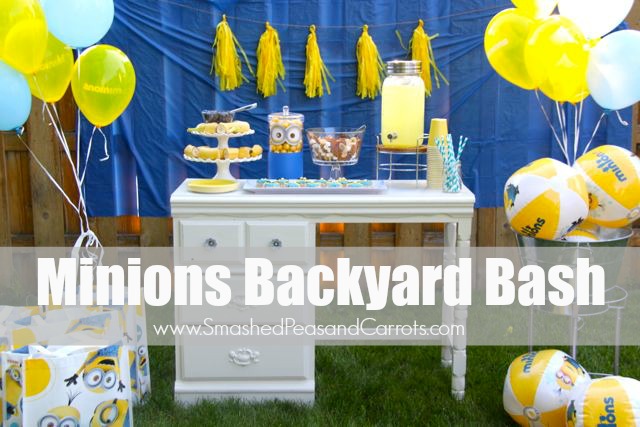 The excitement for this celebration was palpable in our house! So I started by having my littles create a fun kid-friendly "little bites" type of menu that would be easy to grab and eat while everyone played games in the backyard. It worked perfectly for a mid-day party.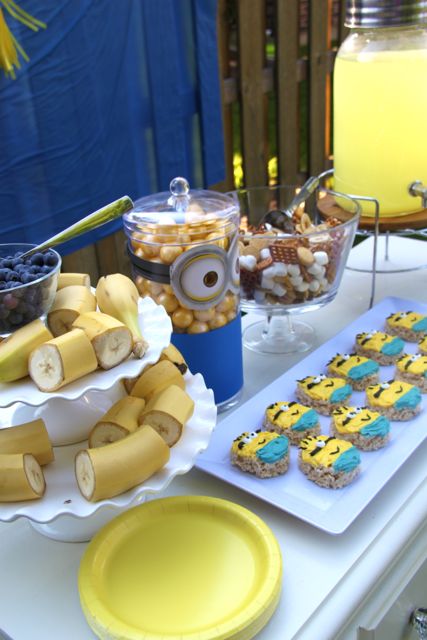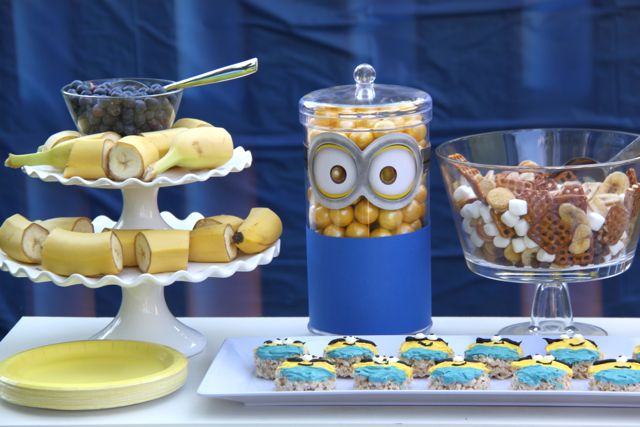 We offered sliced bananas (because we all know Minions love bananas!) and fresh blueberries to enhance our yellow and blue theme color. My kids love gum balls but I don't often allow them in our house so we decided it would be fun to make a Minion out of gum balls using a decorative container, blue scrapbook paper and fun paper minion goggles. Everyone loved it!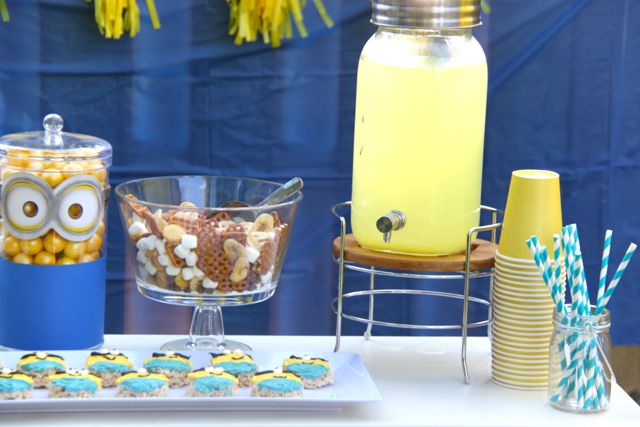 We also made what we call "Minion Munch" and it included pretzels, golden Oreos, mini marshmallows, chocolate chips, and dried banana slices. It was a nice combination of salty and sweet! We offered icy cold lemonade to drink because it's yellow, of course!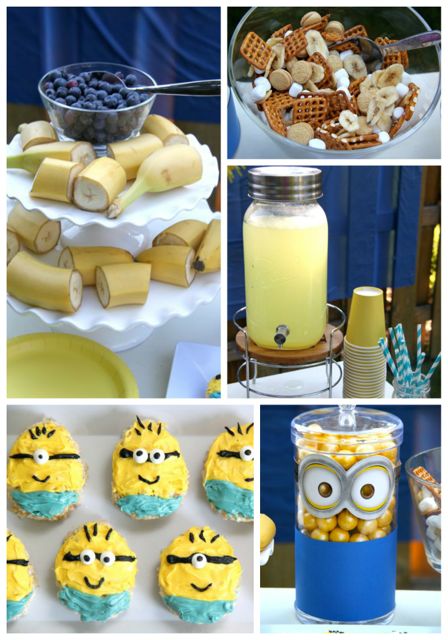 And in lieu of birthday cake we made Minion Rice Krispie Treats!! These were sooo flippin' adorable and so yummy! All the kids LOVED them to pieces!
Here is what you will need to make your own:
Minion Rice Krispie Treats
1 batch of homemade Rice Krispie Treats, cooled in a 9 x 13″ pan
1 cup of yellow frosting
1 cup of blue frosting
candy eyes
one tube of black frosting
1 egg-shaped cookie cutter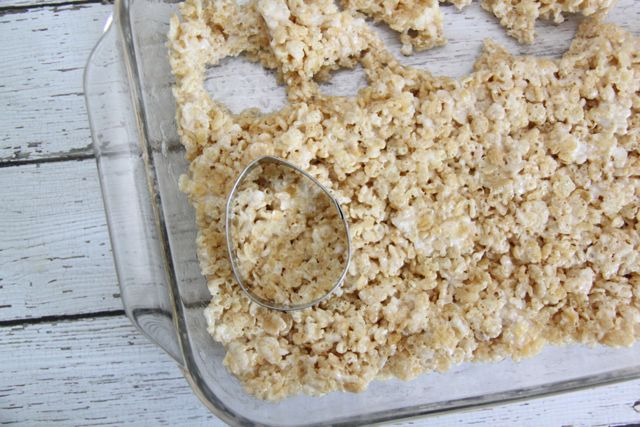 First, cut out a whole bunch of egg-shaped rice krispie treats, being careful to get as clean of a line around the egg shape as possible.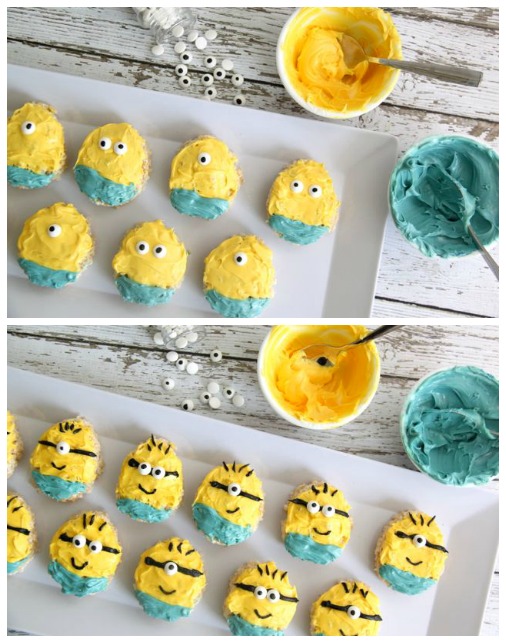 Next, frost the top 2/3 of the egg a light layer of yellow frosting. Then frost the bottom 1/3 of the egg with blue frosting. To save time I just bought a can of vanilla frosting and separated it into two bowls to color yellow and blue. After this we added the eyes just to see what they would look like but thought to really look like Minions we should add the black "glasses" strap first. We loved the outcome! Last, we added the eyes and then a bit of their cute little black hair strands at the top…perfecto!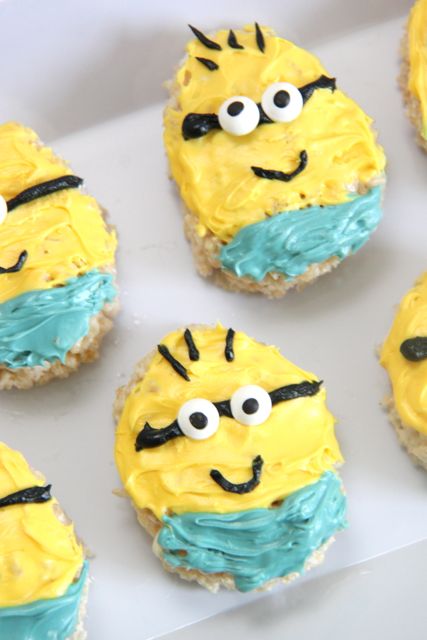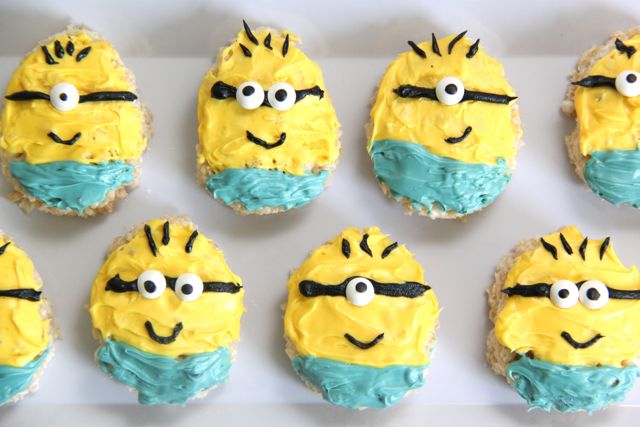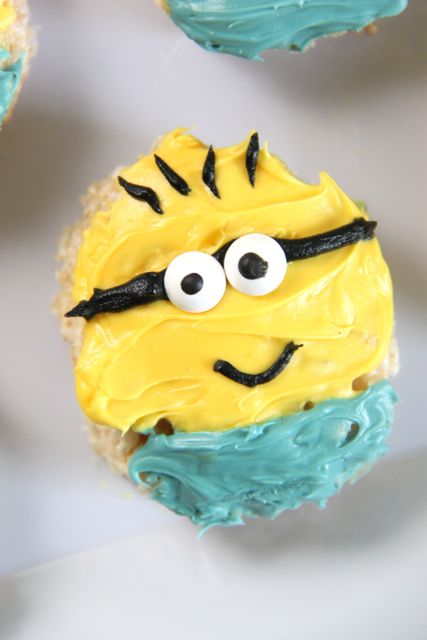 Sooo cute!!!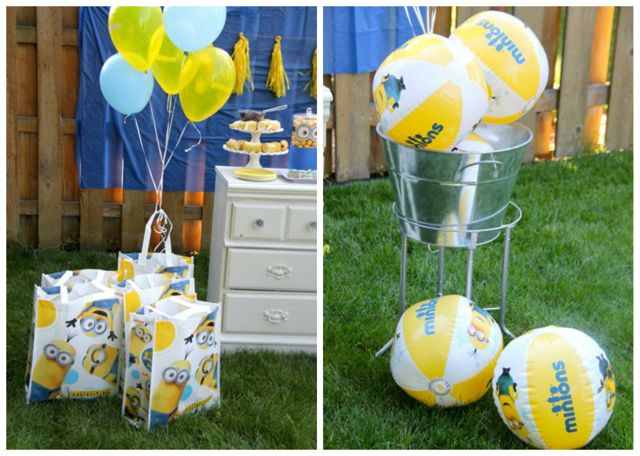 We set out a bunch of beach balls to play different games with…soccer, counting how many taps it takes to keep the ball in the air, and a very adorable version of kiddie volleyball, etc.
We sent all of our guests home with a Minions beach towel, sunglasses, their very own beach ball, and a Crayola Color Wonder puzzle. Now everyone will be set to see the movie too!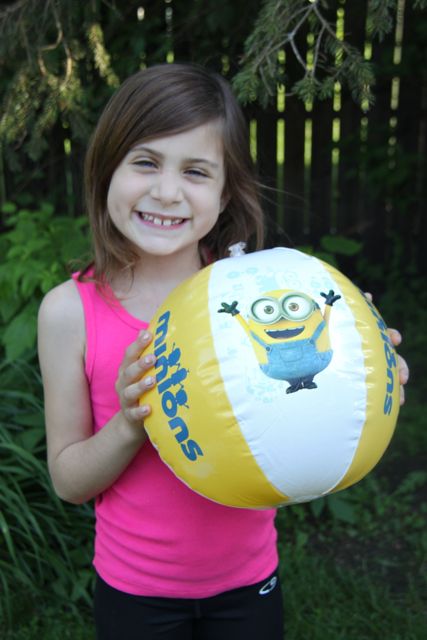 This party was so much fun! If you have kids who love those adorable Minions you should put together a party to celebrate the premiere of the Minions movie…what better way to gear up for enjoying the show in the theater!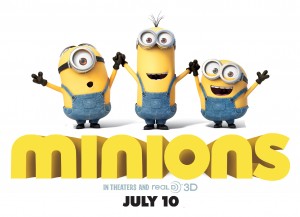 And in case you are curious about what the Minions movie will be about here is a quick synopsis for you!
MINIONS – In Theaters July 10
The story of Universal Pictures and Illumination Entertainment's Minions begins at the dawn of time.  Starting as single-celled yellow organisms, Minions evolve through the ages, perpetually serving the most despicable of masters.  Continuously unsuccessful at keeping these masters—from T. rex to Napoleon—the Minions find themselves without someone to serve and fall into a deep depression.
But one Minion named Kevin has a plan, and he—alongside teenage rebel Stuart and lovable little Bob—ventures out into the world to find a new evil boss for his brethren to follow.
The trio embarks upon a thrilling journey that ultimately leads them to their next potential master, Scarlet Overkill (Academy Award® winner Sandra Bullock), the world's first-ever female super-villain.  They travel from frigid Antarctica to 1960s New York City, ending in mod London, where they must face their biggest challenge to date: saving all of Minionkind…from annihilation.
Featuring a soundtrack of hit music from the '60s that still permeates our culture today, Minions is produced by Illumination's Chris Meledandri and Janet Healy, and is directed by Pierre Coffin and Kyle Balda.  Brian Lynch has written the screenplay for the 3D-CG comedy adventure, and Chris Renaud serves as executive producer of the film.
Thanks for stopping by today!
Love,
Maggie