Last month I posted about knitting myself up some
Swiffer Sweeper Covers
. And let me tell you, they were super duper easy to make!! An hour, maybe two tops if you are watching bad tv, is all it takes to rock one out. I have had some of you asking me to post about how they work and I'm here to say that they are
grrr-eat!
They swiff up just as nicely as the real thing 🙂 I haven't had any major issues from them yet…and at less than $2 a pop and only an hour's time, I say it's a project worth making.
So
, for this month my One Small Change is to get rid of some of the plastic storage containers in our house. I found these really neat-o stainless steel containers called Tiffins all around the web but found my particular ones at
World Market
(I know I have professed my love of this store to you already but if you don't remember, see

this post

)
A tiffin looks like so: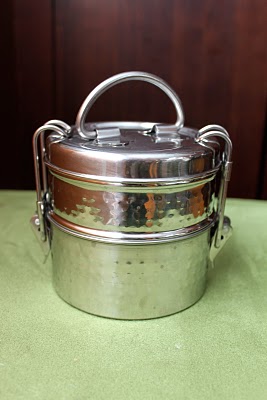 It's a really compact, portable stainless steel container with two compartments for your food, especially good for toting around soups or other non-dry foods (hummus or leftover dinners, anyone?) It looks like this when all opened up: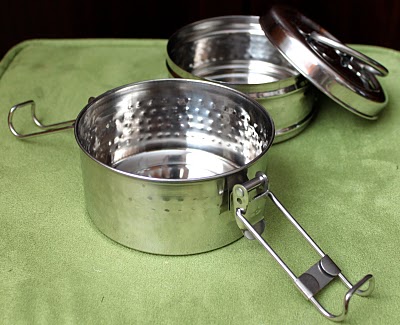 It's super easy to use and to wash too! At World Market it was only $10, so it was pretty reasonable in my eyes. The uses for these are endless…the hubs can bring lunch to work in them, picnics at the park, and adventures at the zoo…oh, the possibilities now that the temperatures are rising 🙂
Alrighty
, that's all folks! Just wanted to share this month's challenge love.
Have a great weekend and a lovely Easter 🙂 My parents are coming in tomorrow and we are all just a wee bit excited over here!! I'm still debating my final Easter Dinner menu…any last minute ideas from ya'll?