So
, remember last month I told you about the 
One Small Change Challenge
 that 
Hip Mountain Mama
 is hosting? (Click on the 'One Small Change Challenge' highlighted words above to take you to the new blogsite)! If your new to my blog just see last month's post 
here
.  Well, this past month my small change(s) were to: 
Add a brick to all of our toilet tanks
Add more green plants to our home
Make cloth napkins to reduce the amount of paper towels we use
My challenges have been going well so far…adding the brick was easy, check and done, we'll see if there is any difference in the water bill later this month.  Adding more green plants to the house was easy too…so far they are all still alive, let's cross our fingers that they live a nice, long, happy plant life 🙂  It's so nice to have so much green in our house these days considering winter looks like it's never leaving.  And making the cloth napkins was a super easy sewing project that I did in ONE nap time!!  We still use paper towels but now we use a lot less.  I really want to rid our home of them completely but that will take a little more time I think.
For this month, I am going to just choose one change.  Have you seen these recently: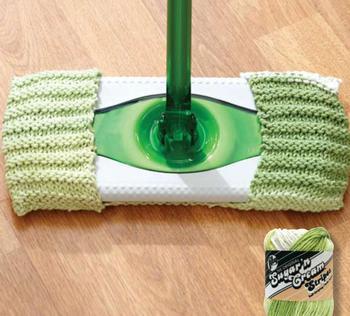 It's a knit cover for your 
swiffer sweeper
.  I found this pattern for free at Michael's last November and planned on making a bunch back then but a little bout of 3 month long morning sickness shot that plan to the netherworld.  You can find this pattern at the Michael's website 
here
, if you want to make some for yourself.  It seems like a super simple pattern that should be pretty fast to make, i think even a beginner knitter could get one done quickly.  
I am getting the itch to do some major knitting now that I am finally showing 🙂  Besides the swiffer cover, I plan to make some baby booties, a sweet baby blanket and a car seat blankie for Bean III.  I made Noah and Penelope all of these before they were born, so I gotta be fair and make this little one a set too 🙂  I am getting antsy to find out the gender of this babycakes, which we could do at our next midwife appointment.  I would love to make something that is not white, green or yellow….
hmmm
, do you think we should find out!!!!!?????  We still haven't decided yet!!