WOW!

I am so happy that so many of you have enjoyed my recipe for

natural deodorant!

It feels good to use something for your body that is

all natural,

doesn't it!! Here is another eco-friendly DIY recipe for natural air freshener. I have always been a little 'granola/crunchy' in my thinking and more so after having children. Who wants to spray all those yucky chemicals around their house and bathroom just to get the icky smells out especially with little ones whose little brains and bodies are growing like crazy? This is my version of a better-for-you, less toxic spray that gets rid of the stinky smells in your bathroom, garbage can, diaper pail, etc. I hope you

love it

as much as I do!
Natural Air Freshener
1 spray bottle

(I bought mine at Target for $1…yeah for Target!!)
16 drops of Tea Tree Oil (

You can find this at Whole Foods, Trader Joe's or any natural foods store)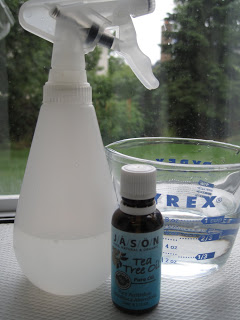 Get yourself one cup of water from your tap…if you don't like your tap water ie. too hard or whatever, you can use distilled water too…drop 16 drops of Tea Tree Oil into it and mix well. Pour into the spray bottle of your choice. That's it! Simple and easy, the way all DIY projects should be, right? Now, go find those icky smells
and

spray away!!
For the bathroom, I spray directly into the air just like you would with the other store bought sprays. One nice spritz usually does the trick…

try it,

your stinky areas will smell fresh and clean in no time…and you made it yourself

…naturally!

Go ahead and pat yourself on the back, you deserve it for helping the environment one air freshener at a time!!