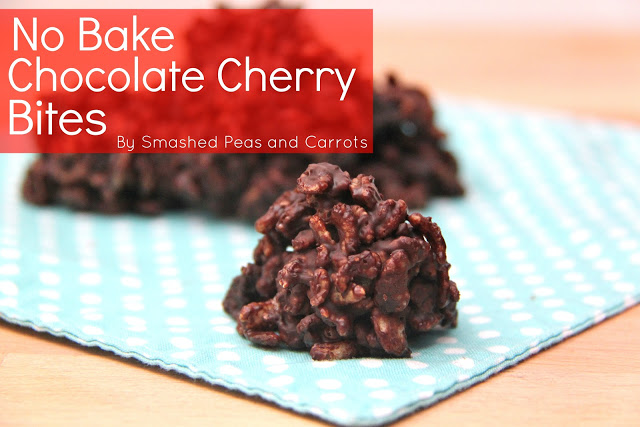 Do you ever have those days where you just feel like you are running around with your head cut off?  Maybe, it's the new school year and the not-so-summer schedule.  Maybe it's that we now have a 5-day-a-weeker in the house which makes our day-to-day schedule a bit more rigid.  Maybe it's the swim lessons, soccer practice, and gymnastics lessons.  Maybe it's that we now have 4 kids.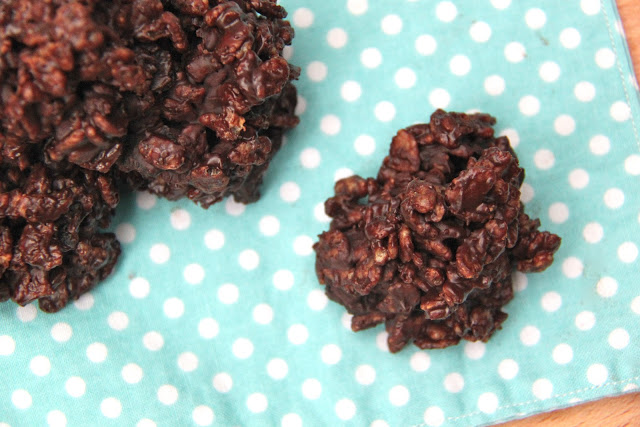 Who knows.  What I do know is that some days are just plain crazy at our house.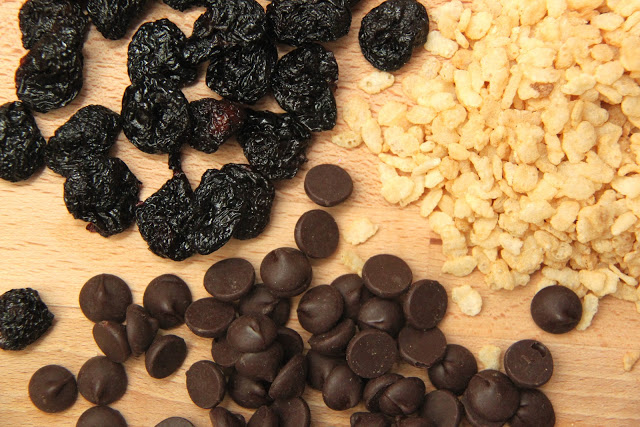 I told you earlier how I had been playing with some fun spins on my Energy Bites Recipe this summer in this post here.  Yup, so far I shared my Nut-Free Energy Bites with y'all and you have given them your seal of approval.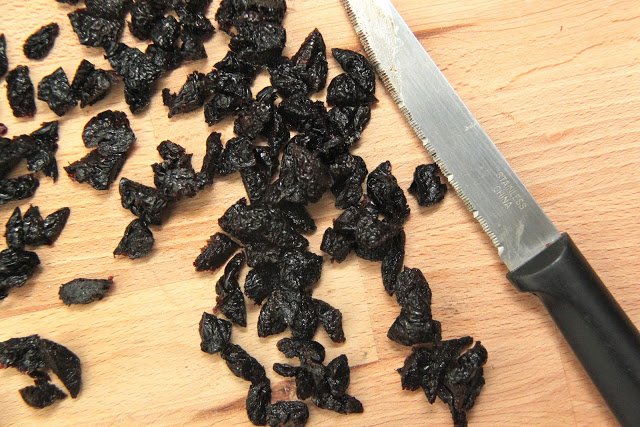 Well, today I'm going to share another easy peasy 'bites' recipe with you…hooray!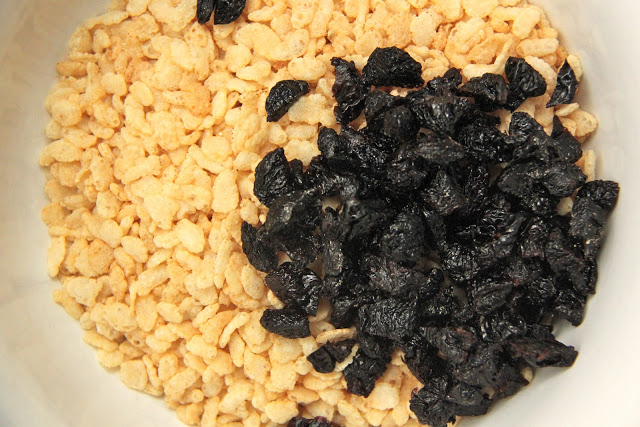 This one is called, 'No Bake Chocolate Cherry Bites' and guess what?  They only have 4 ingredients.  Can I get a 'holla!  Yesirree Bob, these little beauties will help with that 'running around with your head cut off' feeling you might have (or maybe that is just me?) since they are super duper fast to make and help satisfy little and big tummies everywhere!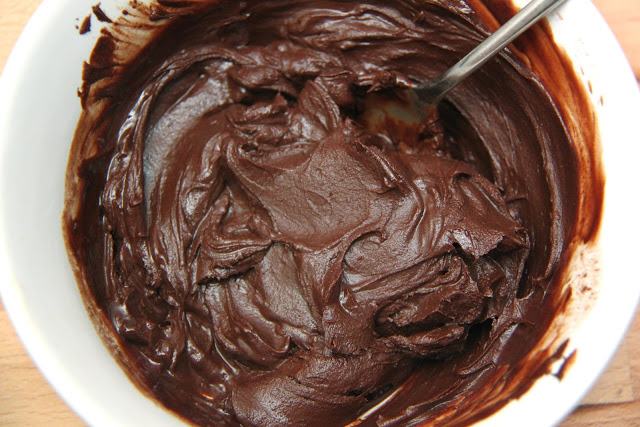 We try our hardest to only make our snack-y dessert-y food these days.  It doesn't always happen but we give it the old college try as often as we can.  And since Clif has dived deep into the world of Paleo eating and I have happily jumped on board we have been enjoying the ride trying to come up with simple yet deee-licious tasting sweets 🙂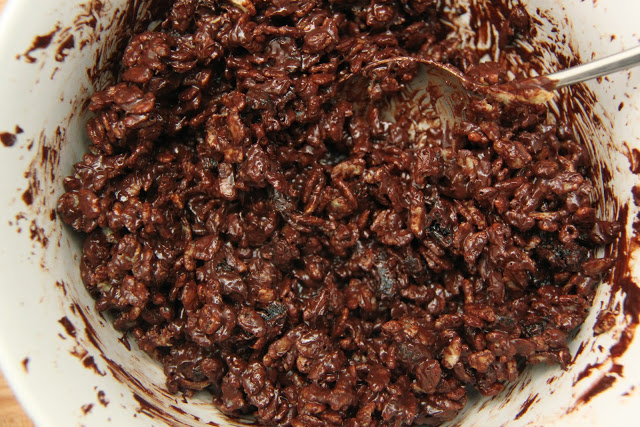 These No Bake Chocolate Cherry Bites are perfect.  Totally Paleo-friendly and Gluten-Free.  You could even make them dairy-free with the use of a non-dairy butter alternative.
Dark chocolate, dried cherries and crispy rice cereal…who can resist that?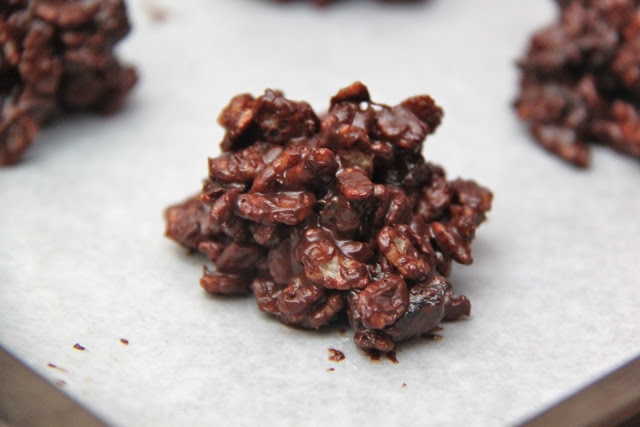 Don't they just look divine?
Now that I've teased you enough, I suppose I should give you the recipe.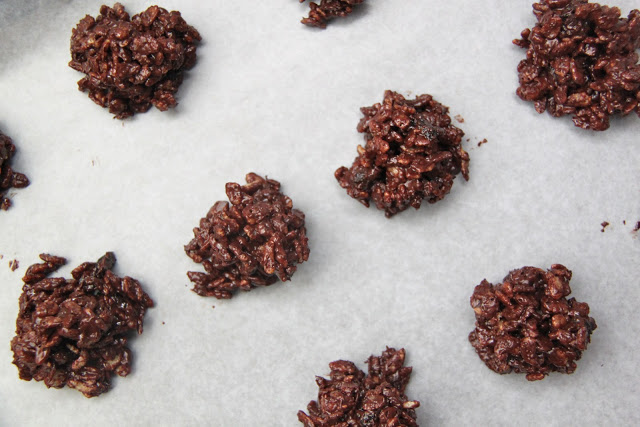 Go forth and make a batch or two, you will not be sorry!

No Bake Chocolate Cherry Bites
90 calories per bite
Ingredients
2 cups Gluten-Free Rice Krispies
1 cup dark chocolate chunks (can use semi-sweet chips or bittersweet chocolate chunks too depending on your preferred level of sweetness!)
½ cup dried cherries, chopped (no sugar added are best!)
2 Tbsp butter
Instructions
Combine the dark chocolate and butter together in a microwave-safe bowl.
Microwave for 1 minute and then stir until the chocolate is melted.
In medium-sized bowl, mix together the Rice Krispies and chopped dried cherries.
Pour the chocolate over the cereal/ cherry mixture and stir until well combined.
Using a small ice cream scoop, place dollops of the mixture onto a waxed paper lined cookie sheet.
Let cool in the refrigerator for 20 minutes.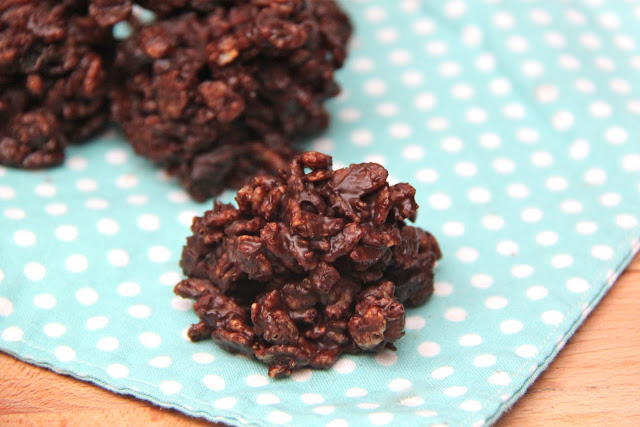 Thanks for stopping by today!
XOXO,