As of this week there is exactly one month of summer left for my kids, you guys, one month! I am making it a point to be outside more with the kids, to be at the pool more, to create more, to craft more…less structure and more fun. We only have a month before bedtimes need to be reinforced and after school activities hit us full force! We aren't letting go of summer without a fight!!! One of the things on our summer bucket list (see more on that here!) was to make ice cream. This is an activity that is always a good time in our family! We all help create the flavors (and they have been getting a little cray cray!), pour the ingredients, and mix it all up. Come tasting time, well, we are all hands on deck for that as well! 🙂 One of our favorite summer flavors this year has been our No Churn Chocolate Puppy Chow Ice Cream. Seriously, so good! I am making it second time this week already, it's that crazy good.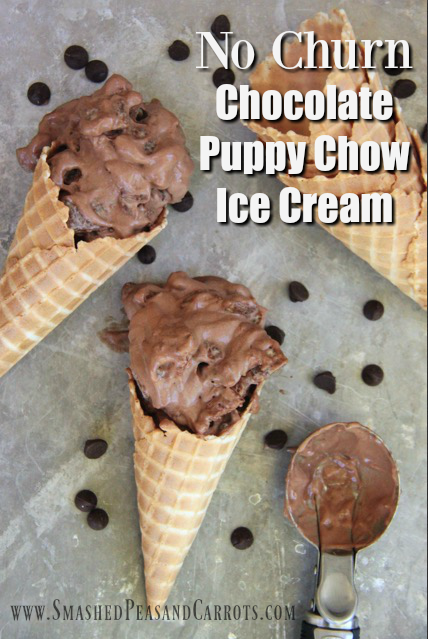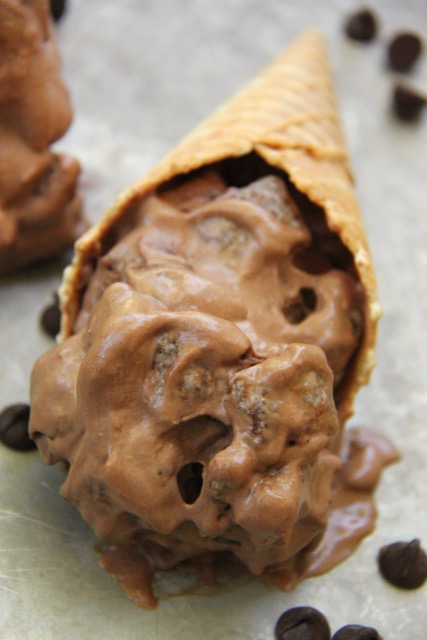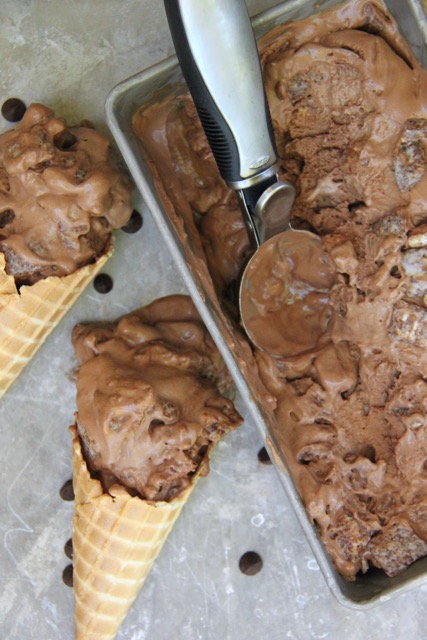 This No Churn Chocolate Puppy Chow Ice Cream has an amazingly creamy and velvety smooth chocolate ice cream as the base and the mix-in is our family's favorite easy movie night snack…Puppy Chow! Or as some people call it…Muddy Buddies! If you aren't familiar, Puppy Chow is made up of Chex Cereal (hooray for gluten free!) slathered in melted peanut butter and chocolate and then doused in powdered sugar. Really, truly fantastic stuff. And one of the best parts (I know, chocolate, puppy chow, and now this…there are a lot of mega awesome best parts of this ice cream!) is that this ice cream is NO CHURN! Meaning you do not need an ice cream machine to make this! Just a mixer of some sort to whip up a bit of heavy cream! Easy peasy, right?
Okay, here is the recipe…I hope you enjoy it as much as we do!!!

No Churn Chocolate Puppy Chow Ice Cream Recipe
Ingredients
For the Puppy Chow
4.5 cups Chex Cereal (Rice or Corn)
¼ cup Butter
¼ cup Peanut Butter
½ cup Chocolate Chips
1 tsp vanilla
1 cup powdered sugar
For the Chocolate Ice Cream
1 tsp instant coffee granules
1 tbsp hot water
4 oz bittersweet chocolate, chopped
½ cup sweetened condensed milk
1 tsp vanilla
⅛ tsp salt
1¼ cup chilled heavy whipping cream
Instructions
For the Puppy Chow
In a small microwavable bowl, place the peanut butter, chocolate chips, and butter and microwave on high for one minute. Stir and microwave for an additional 30 seconds, if needed, until chocolate is melted.
Add in vanilla and mix well.
In a large bowl, place the Chex cereal. Pour the chocolate mixture over top and mix well.
Place the cereal in a zippered plastic bag and add in the powdered sugar and seal. Shake well, making sure all the cereal is coated in powdered sugar.
Place in the refrigerator to cool until needed for the ice cream.
For the Ice Cream
In a small bowl, mix the coffee granules into the hot water until dissolved, set aside.
In a small microwavable bowl, add the sweetened condensed milk and chocolate and microwave on high for one minute. Stir and microwave for an additional 30 seconds, if needed, until chocolate is melted. Add in vanilla and salt, mix well, and set aside.
In the bowl of an electric mixer, whip the cream until soft peaks form (around 2 minutes).
With a whisk, fold into one half of the chocolate mixture and then continue to gently fold in the remaining chocolate until well combined.
Reserve ½ cup of the Puppy Chow and set aside, fold the rest of the Puppy Chow (or as much as desired) into the chocolate ice cream mixture.
Pour the Chocolate Ice Cream mixture into an air tight container or metal bread pan and sprinkle the reserved ½ cup Puppy Chow over top.
Freeze ice cream for 6-8 hours and up to 2 weeks.
Let ice cream thaw about 30 minutes before scooping.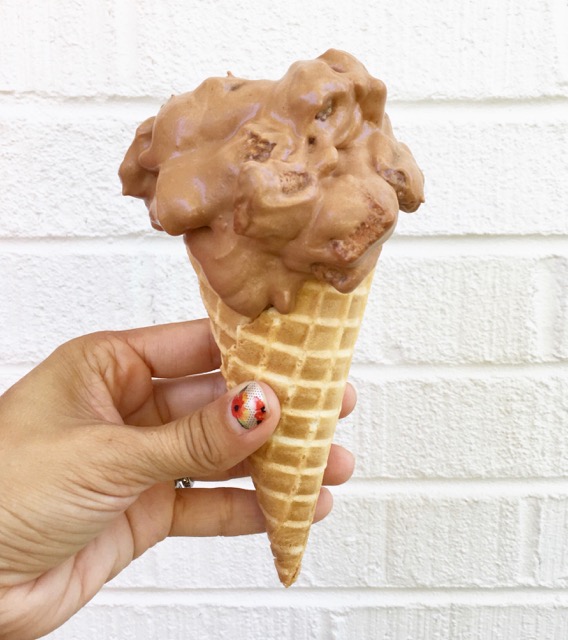 This is seriously the best stuff on earth!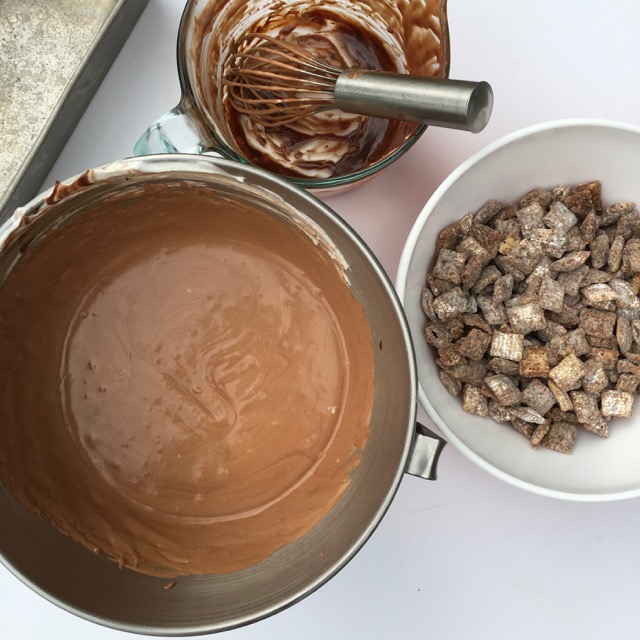 Mmm! A bowl of No Churn Chocolate Ice Cream and a bowl of Puppy Chow…I am winning at life today!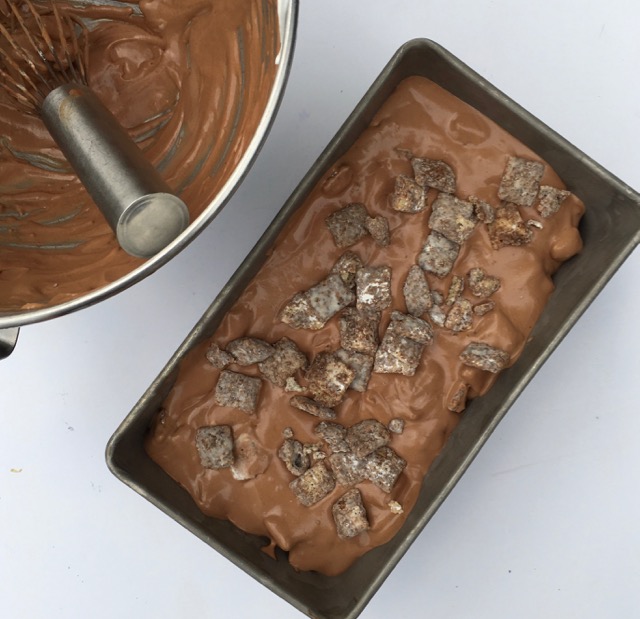 PS. I like to save 1/2 cup of the Puppy Chow and sprinkle it over the top of the ice cream before freezing. Also, we use all of the puppy chow in this recipe because we like our ice cream loaded with goodies! Isn't it the worst when you get a chunky type of ice cream and there is barely any chunks of goodness in it? Not with this one, nope, not on my watch!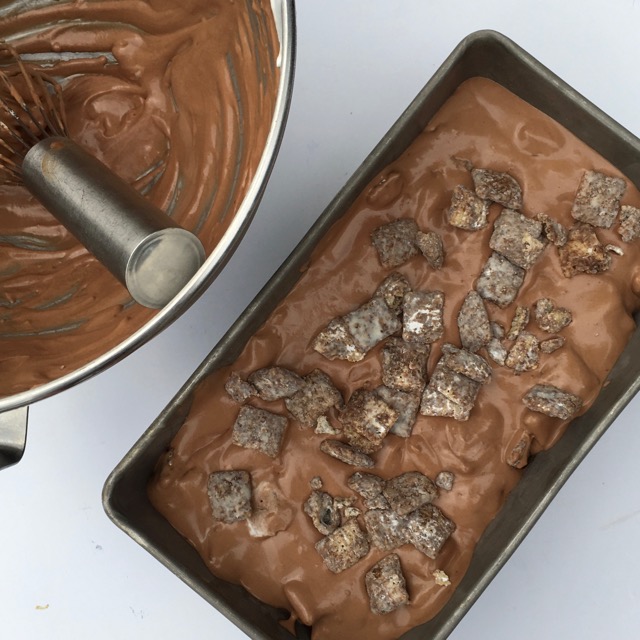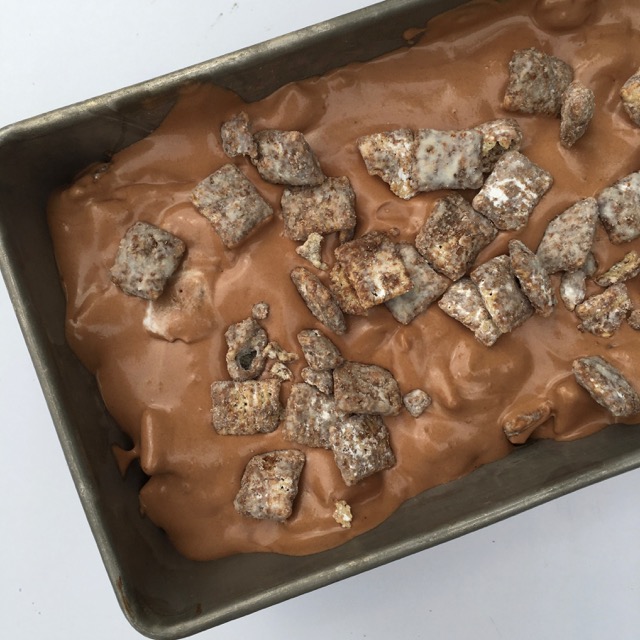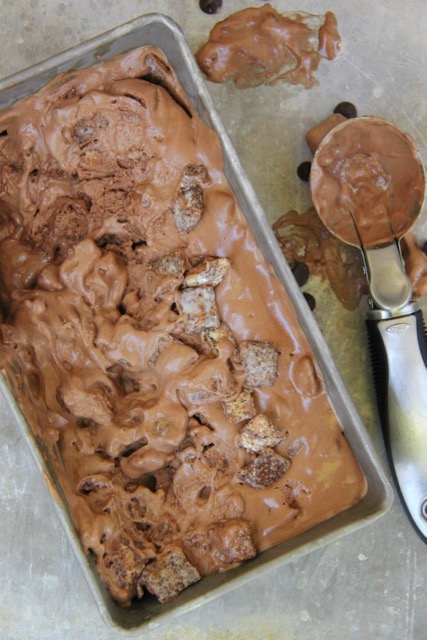 Oh man. You know you want to make this.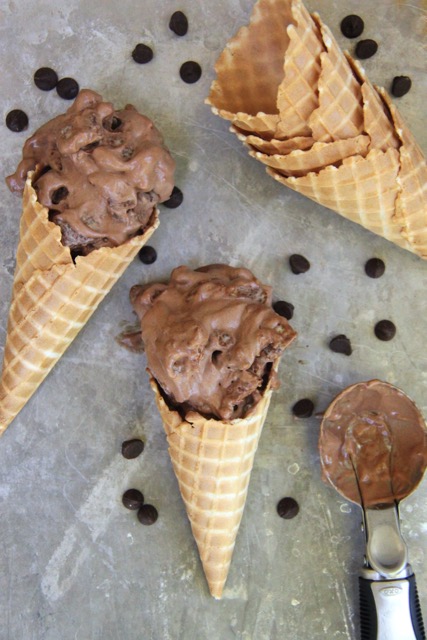 How incredible does this look…..like, sooooo incredible, that's right!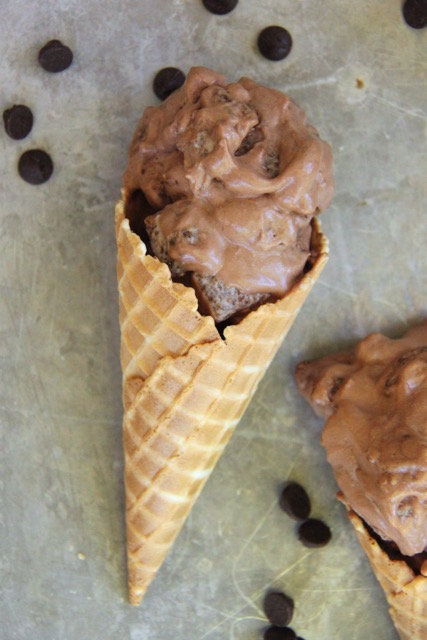 Thanks for stopping by today! We hope you enjoy this No Churn Ice Cream, it is over the top awesome and perfect for summer!!!
Love,
Maggie