*This post is in partnership with Warner Bros. Pictures. All ideas and content are 100% my own, as usual.
These Orange Marmalade Sandwich Cookies, inspired by Paddington 2 in theaters this Friday, are a delightfully sweet version of Paddington Bear's favorite snack. You cannot go wrong with the combination of soft sugar cookies and a sweet and slightly tart orange marmalade filling!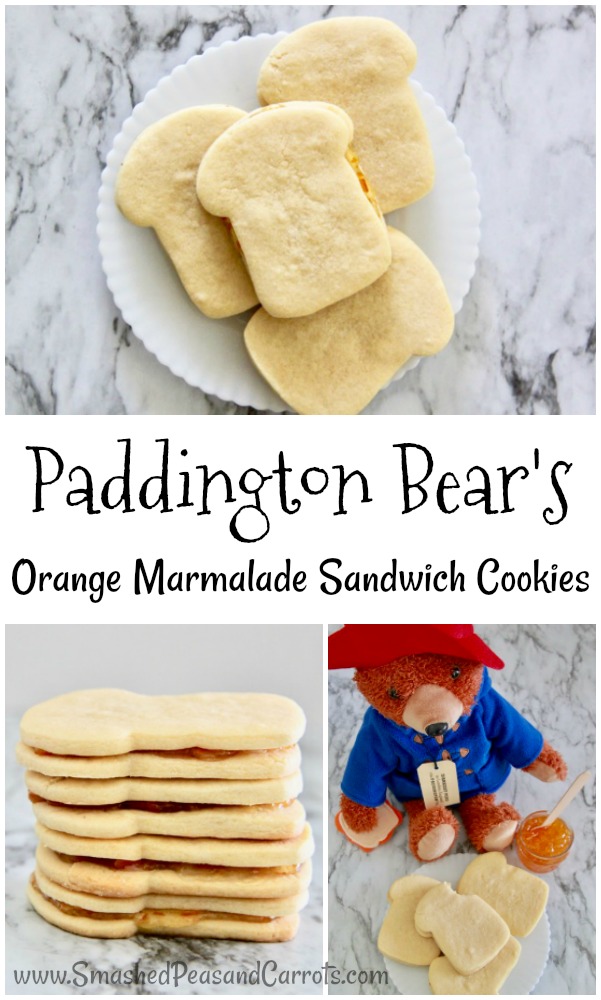 Paddington Bear will always have a special place in my heart, this sweet little orange marmalade loving bear. He is from the 'darkest Peru' after all which, if you know my family at all, you know my dad just happens to be from there too! Since you don't see many children's books talking about Peru, I always enjoyed the fact that Peru gets a shout out in all his books…and now his movies! Hooray Peru!!!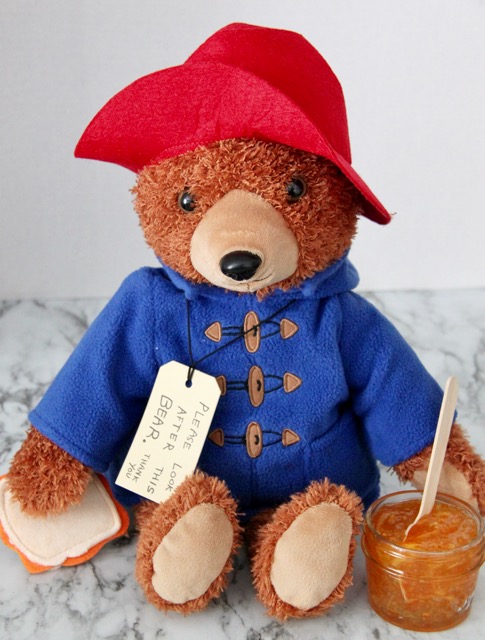 And I'm excited to share that PADDINGTON 2  will officially be in theaters on January 12. We loved the first Paddington Movie so much so that we watched it non-stop on a 12-hour car ride out to visit my parents. It is so cute for kids and adults…and there are British accents!

Following the worldwide hit "Paddington," one of the most successful family films of all time, this much-anticipated sequel finds Paddington (Ben Whishaw) happily settled with the Brown family in London, where he has become a popular member of the local community, spreading joy and marmalade wherever he goes.
While searching for the perfect present for his beloved Aunt Lucy's hundredth birthday, Paddington sees a unique pop-up book in Mr. Gruber's antique shop, and embarks upon a series of odd jobs to buy it.  But when the book is stolen, it's up to Paddington and the Browns to unmask the thief.
From Peru to London, Paddington makes the world a brighter place!
Check out the trailer below!
Tickets for Paddington 2 are now available! Get them for the whole family today: paddington2tickets.com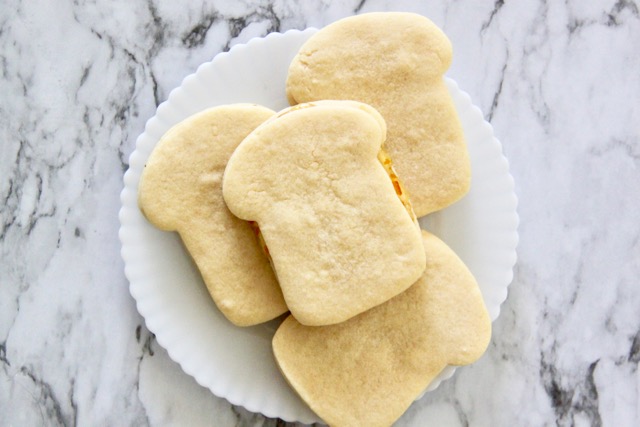 And to celebrate the newest Paddington movie about to hit theaters, I thought I'd take one of his most favorite snacks, Orange marmalade sandwiches, and put a spin on it by turning it into cookies! A treat all kids love!!! I started by making my favorite sugar cookie dough and then cutting little bread shapes out with this cute bread-shaped cookie cutter. Once the cookies cooled I spread a layer of orange marmalade over one cookie and sandwiched it with another!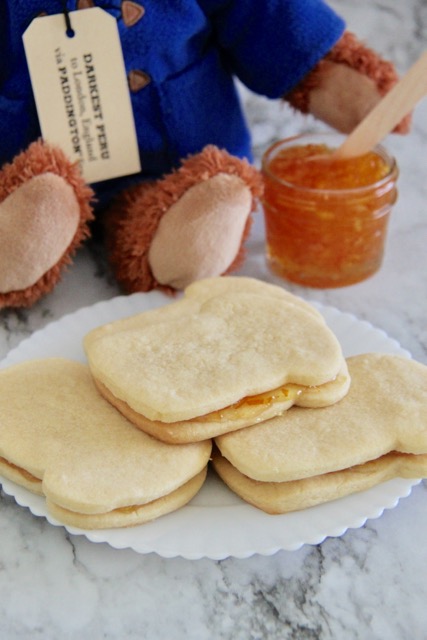 The orange marmalade combined with the sugar cookies is delicious and the whole thing tastes like a orange frosted cookie (minus the frosting of course!) In other words….super yummy!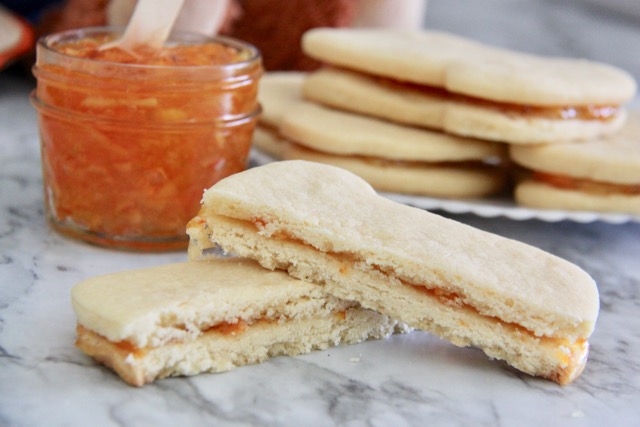 Orange Marmalade Sandwich Cookies
Orange Marmalade Sandwich Cookies
Ingredients
⅔ cup butter
⅔ cup vegetable shortening
1½ cup granulate sugar
2 tsp baking powder
2 eggs
2 tsp vanilla
4 cups all purpose flour
1 cup orange marmalade
Instructions
Beat butter and shortening with an electric mixer for about 30 seconds on high speed.
Add in sugar, baking powder and a dash of salt.
Beat until combined.
Add in egg and vanilla and continue mixing.
Add in the flour ½ cup at a time, you may need to hand stir the remaining ½ cup.
Lightly flour your rolling surface and place half your dough on top.
Flip your dough a few times to get it nicely coated with flour.
Flour your rolling pin and then roll out your dough ⅛ to ¼ inch in thickness and cut your shapes.
Place on a parchment lined cookie sheet and bake at 375 for 7-8 minutes or just until the cookies edge is firm and the bottom of the cookie is a very light golden brown.
Cool on rack.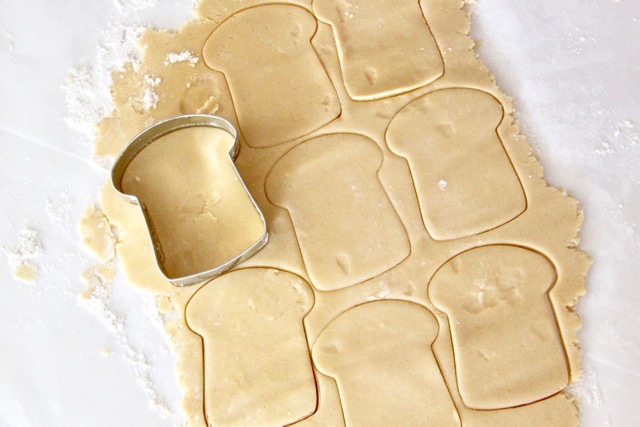 With my sugar cookie recipe and using a 4 inch bread-shaped cookie cutter, I was able to get 26 cookies per batch. Which equals 13 sandwich cookies!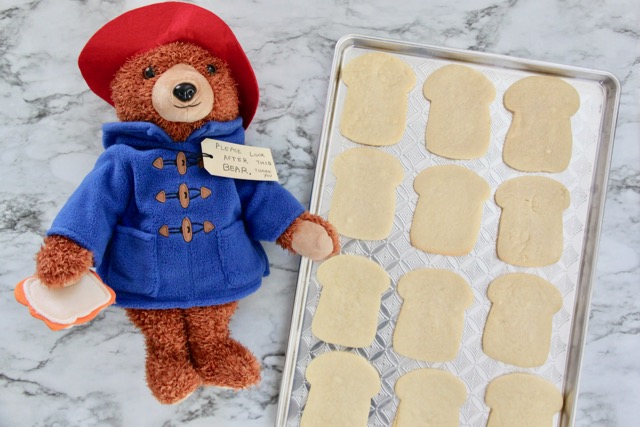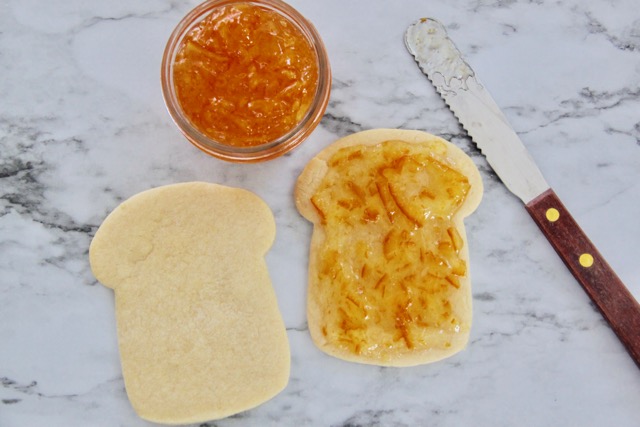 O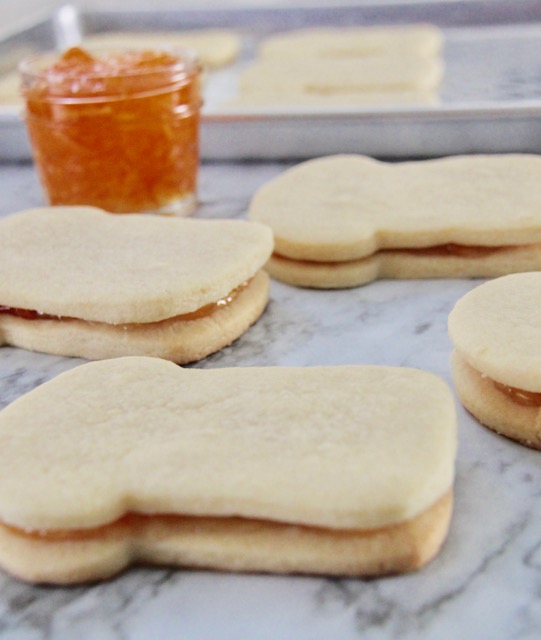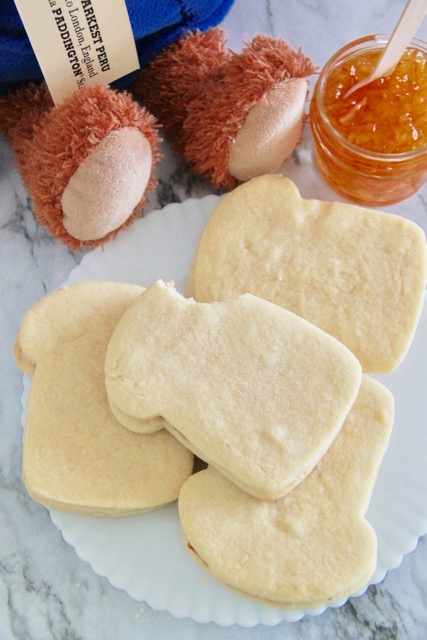 Once the cookies are cooled, I spread a tablespoon or so of Orange Marmalade onto the top of once cookie and then sandwiched it with another.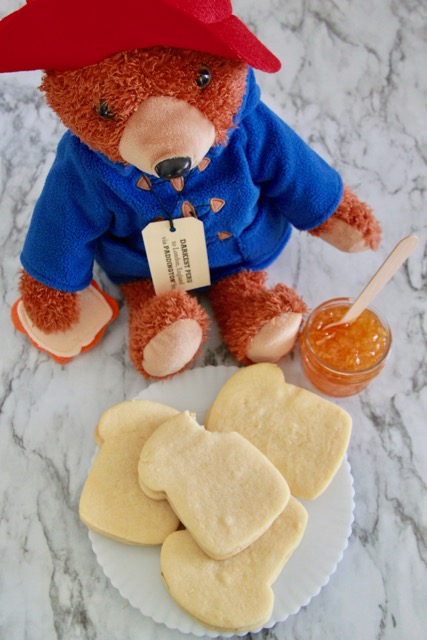 So cute!!! And delicious too!!!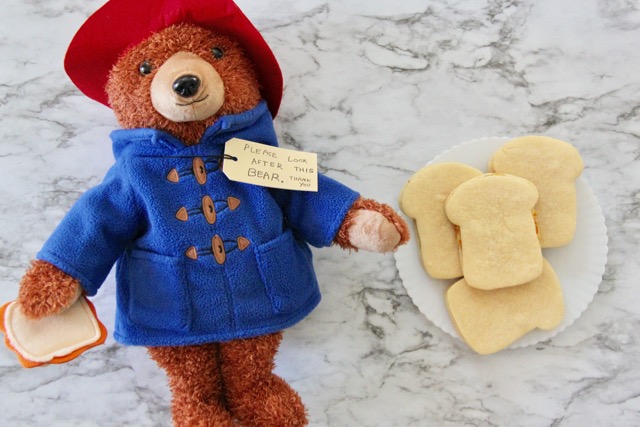 Learn more about Paddington 2 here: Official Website | Facebook | Twitter | Instagram
You can watch more on Youtube here!
For more delicious and easy recipes and craft ideas please LIKE Smashed Peas and Carrots on Facebook or follow me on Instagram or Pinterest for more great ideas! And if you like this, you may enjoy these posts as well!
•Secret Life of Pets Snack Trays
Love,
Maggie
SaveSaveSaveSave
SaveSave