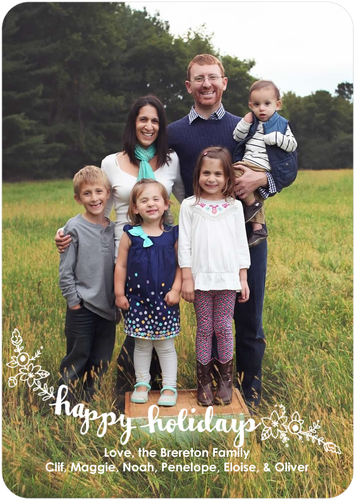 Here is a peek at our family Christmas card from this past Christmas 2013! I have to tell you, I am always so happy that I spent the time and effort to get our Christmas cards finished and printed every year. No matter how crazy that time of year can be, it really is nice to look back through the years and see how much my littles have changed and our family has grown. Of course I had to add some individual pictures of the kids on the back of our card…why not use up all that dead space, right?
Seriously, how much have they each grown? It is so crazy to me that Oliver is already 18 months old!
We had a great photo session with my friend Mandi, of Mandi Backhaus Photography, in the fall and I loved what she did so much I just had to use her pictures on our Christmas card. I just adore her eye for capturing images, she is so good at what she does! You might remember that she also took Oliver's newborn pictures found here!
She took some pictures of Clif and me that I really, really love. We don't have a whole lot of pictures of just the two of us so these are very special to both of us.
I just love this picture of Clif and Oliver! This is soooo how these two play together.
My two little guys. Noah is such a great big brother, a role he was meant to be in, he is so gentle and loving and kind. And Oliver? Well, he looks up to him like any little brother would with such love and utter adoration. It is so sweet to see their relationship grow. It just melts my heart.
And these sisters, oh how I adore them! They spent the entire session giggling and acting silly together. I am so glad that they are so close to each other, this picture really captures how much they love each other and that just melts my heart…again!
I feel truly blessed to have such a wonderful family, 4 healthy and happy kids, and a home with lots of chaos and love. Thank you Mandi, for capturing our family's energy and love for one another, I love every photo so much!
Thanks for stopping by today!!
Love,
Maggie