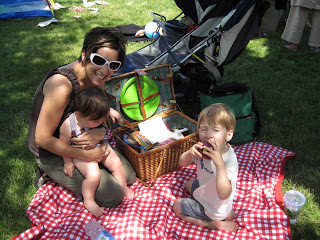 PICNIC!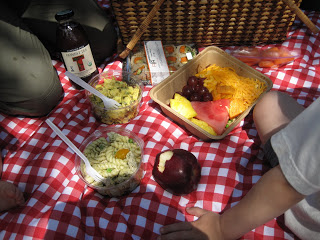 O000h, the food!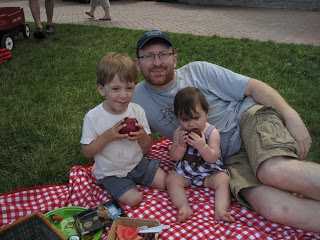 My gang…aren't they cute?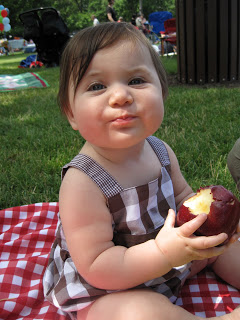 Penny loves her apples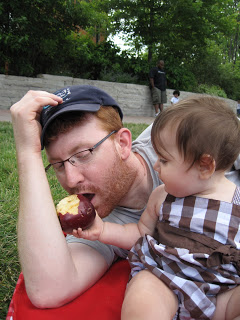 Penny also loves sharing her apples with Daddy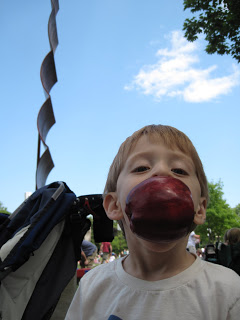 Noah clowning around
So, we FINALLY made it to Ravinia Festival, the outdoor concert park in Highland Park, IL where you can chit-chat with friends, have a picnic, bring your own wine and listen to great concerts as different as the Chicago Symphony Orchestra or the Indigo Girls! Today was a Kraft Kids Concert featuring Justin Roberts, a well-known children's musician who sings quirky kids songs. We had actually never heard of him before but thought that this children's series would be the perfect opportunity to check out Ravinia with the kids in tow. There were lots of families there and so much room to run and play, not to mention that the music was suprisingly good–we danced quite a bit–that we really enjoyed ourselves! We stopped at Whole Foods along the way there to fill up our picnic basket and laid out a blanket to enjoy our spread. It was the perfect weather for Noah and Penny to take in the music, dance, and giggle to their hearts content…this is what memories are made of!