You guys! Did I ever tell you how crazy excited I was when Pitch Perfect 2 came out in the theaters? I love, love, loved the first one, it was aca-awesome! And when they said they were making a second one I was aca-over the moon! I love acapella singing groups and well, singing in general (hello Glee!!), so a movie all about singing acapella was meant for me to watch and enjoy! Last week, Pitch Perfect 2 came out on DVD and I snatched it up for a fun 'Girls Night In Gathering'. It was time for my friends and I to cozy up to a fun movie and chill out with some good food!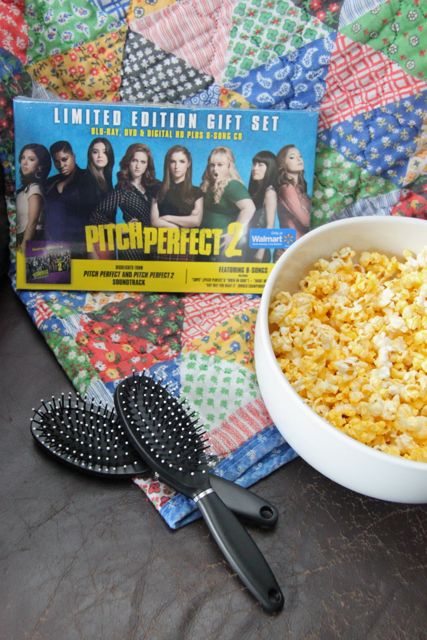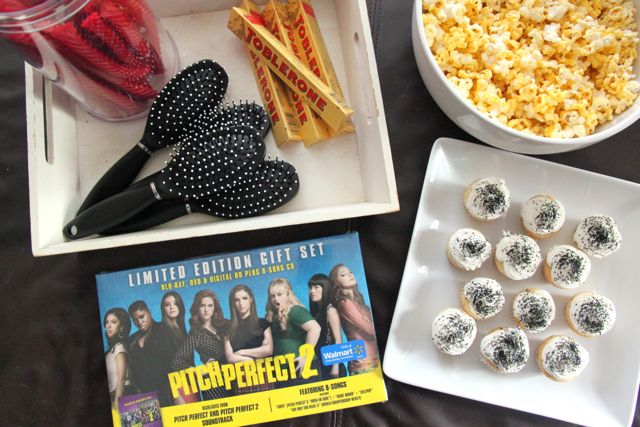 I ran to Walmart after my big kids hopped on the bus and my little guy was dropped off a preschool and picked up this awesome Limited Edition Gift Set that includes a Blu-Ray, DVD, and 8-song CD. Wahoo!!! I scored the mother load!! (and you are welcome I stopped adding the "aca" affix to all my words!! I'm sorry but it's just so catchy. If you haven't seen either Pitch Perfect of Pitch Perfect 2, adding "aca" to the beginning of your words is a running joke throughout both movies and is done so seamlessly it makes you laugh every time you hear it!)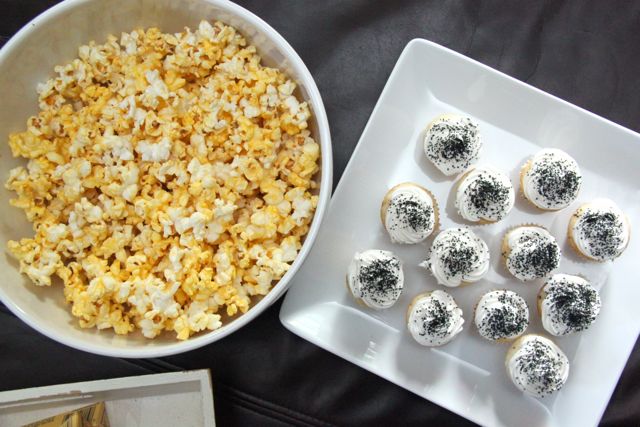 While I was picking up my limited edition Pitch Perfect 2 gift set, I also picked up some party goodies…popcorn was a for sure as well as the ingredients to make mini Bella-themed cupcakes in honor of their black and white competition vest look! 😉
And of course I also needed to get a supply of chocolate and red vines! And what would a showing of Pitch Perfect 2 be without a supply of hairbrushes to use as microphones? Hehe, I know, I think of everything!
We had a blast watching this movie, it was the perfect light-hearted comedy with lots of great singing and choreographed dance to make our girls night in a major hit! We definitely need to do these movie nights more often! And may I highly suggest a movie night for your next girls night! It was the perfect de-stressing after a long week!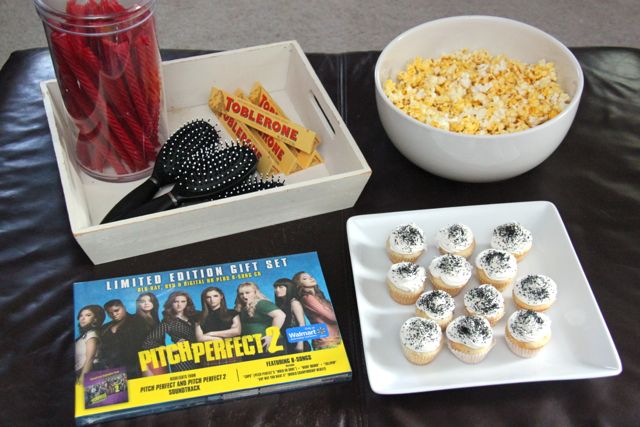 Head to Walmart to grab the exclusive Pitch Perfect 2 Blu-Ray/Soundtrack combo pack. Soundtrack includes some of your favorite songs from Pitch Perfect and Pitch Perfect 2 (while supplies last).
Thanks for stopping by today!
Love,
Maggie
This post is part of a social shopper marketing insight campaign with Pollinate Media Group® and Universal Pictures Home Entertainment, but all my opinions are my own. #pmedia #ThePitchesatWMT http://my-disclosur.es/OBsst