Ok
, so here is
Part II of the Girl's Shirt Repurpose
, turning that shirt into a Toddler Girl's Dress!!! This is a super easy way to make a dress for a little girl and because you're using an older girl's shirt there isn't lots of fabric to deal with like there would be with a men's or ladies shirt,
hip hip hooray!
Also
, make sure you check out

yesterday's post here

for a how-to on taking the sleeves and turning them into legwarmers! These two tutorials will show you how to use the complete shirt to make a whole new outfit for your little girl! I just

love

this repurpose because you use every piece of this shirt to make the cutest little outfit…a dress and legwarmers combo. No excess amounts of fabric leftover, what could be better than that!!
My little lady…I think she looks so 'ski bunny' in this outfit!
Ok, so let's get on with the tutorial, shall we?
Girl's Shirt to Toddler's Dress
1 Girl's shirt (ages 6-14 from the pre-tee-teen sections…mine was a thermal shirt!)
thread and sewing machine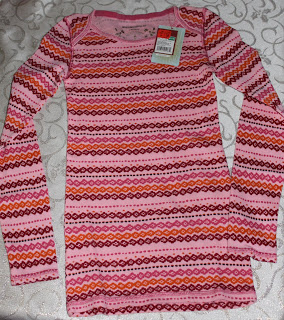 Again, here is the Target clearance shirt I bought for $2.48!!!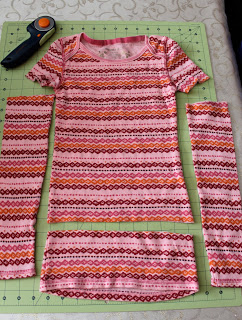 Ok
, so get out your scissors or rotary cutter and cut off the sleeves and some of the bottom hem. I wanted short sleeves for the dress so I cut my sleeves off accordingly. Then, I just took a dress for Penny's closest and used that length to figure how much of the bottom hem I should cut off.
*I contemplated making Penny's dress without sleeves so she could have sort of a tank top dress for the summer and then she could just wear a long sleeve shirt under in chillier weather. I think I am going to do that with the other shirt I bought cause I have a feeling it's going to look cute!
*I washed this dress after cutting it up and guess what I learned? Thermal doesn't fray all
crazy ugly!!!
I really liked the look so I didn't do any hemming. But, of course, if you want a more finished look, just turn the edges under 1/4 inch and then 1/2 inch and straight stitch your hem into place! Easy peasy no matter what you decide!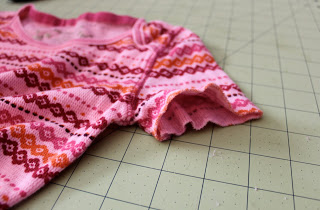 Another view of the thermal fabric after cutting and washing. Me likey 🙂
Now
, at this point you may want to put the shirt/dress on your little girl to see if you like the sleeve and dress length as well as to mark or pin where you need to take the neckline in.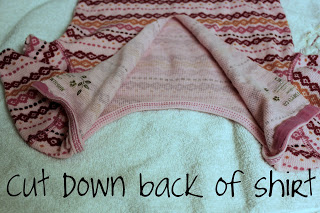 Cut
down the middle of the back of shirt
ONLY
to the point where the shirt flares out to go over your girly's bum, or just to the top of the skirt portion of the dress. This will help give the top a more fitted look and still give a flare to to bottom half of the dress. You probably don't have to cut it down the middle but doing so helped me figure out how much I wanted to taper the dress and gave me a visual of where to end my pinning.
*This is the difference between nighttime and daytime pictures, yikes…sorry about that!!!