Since you all know that I am
totally
into Fall and all Fall Holidays, last night I just had to make some more yummy Halloween treats for my littles. I just can't get enough, if you will…see exhibit A: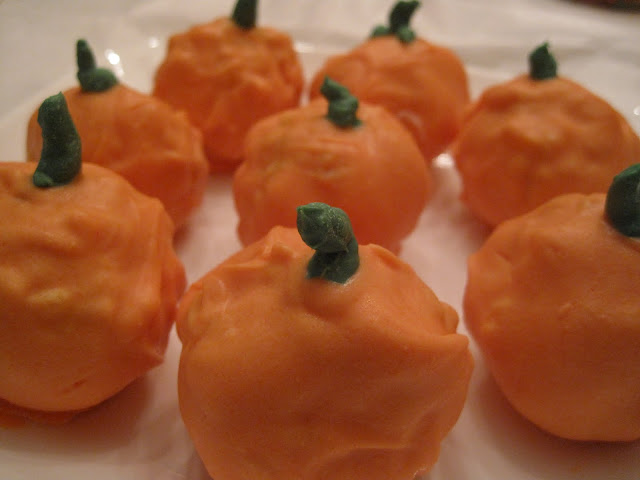 Aren't they
adorable!?
And yummy in the tummy too! I am trying to come up with some cute kidlet-friendly treats for a Halloween party we are having at the end of the month…these just might do it…
yup,
they are just small enough for little hands and perfect for Halloween! Want to learn how to make them for your very own Halloween party? Come on, I'll show you how…
Rice Krispie Treat Pumpkins
One batch of rice krispie treats (
make 'em however you and your family like them!
)
…
DO NOT press into a pan!!
Vanilla Candiquik
Orange food coloring
Wilton green candy melts
Ziploc bag, Scissors, Waxed Paper
These are the accessories needed for your treat-making fun:
After
you have made your rice krispie treats and they are all mixed up in a bowl, let them cool a bit…tick tock, tick tock, tick tock…
OK!
Now, go ahead and scoop up a small mound and roll it in your hands into a nice and compact ball. Whatever size you want…big or small…the decision is yours! Mine were about the size of a golf ball. See the picture above!
Oh, and you may want to lightly wet your hands before scooping them up since that really seems to help with them sticking to your hands…genius trick, I know!
Lay all your cute little rice krispie balls onto a sheet of waxed paper while you go on to the next step below.
OK,
now melt your Candiquik in the microwave using the package directions. Add your orange (or in my case red and yellow) food coloring to the melted goo and mix together.
Since I used water based food coloring my candiquik seized up a bit but all I had to do was add a tablespoon of shortening to liquify it again. You may want to use the gel based food coloring so you do not have to add the shortening…just an FYI!
Roll your little balls into the mixture and place on the waxed paper to dry.
Once dry
go ahead and melt your green candy melts, add to a ziploc bag, cut off the corner and squeeze out a little stem (and leaves if you'd like).
That's it…
simple, easy
and
super cute
…the way a kiddie Halloween treat should be!