The other day I found some clearanced heather grey t-shirts in the sleepwear section of Target. Not a huge fan of heather grey (it reminds me of jogging pants with elastic at the ankles…sooo not flattering on anyone!) but knowing that I can't pass up a bargain, I snatched them up…two for around $5 a piece…Sweet Deal! I brought them home and had been debating what to do with them ever since. Well, since every time I look at the J.Crew website I start drooling over all the cute ruffles they have on all their stuff right now but just cringe at the insanely high price tag, I decided at least one of these shirts was destined for the Ruffle look! So, I started scrounging around my stash and found one of the fabrics I bought on clearance at Ikea (see post on that shopping trip here)…it was perfect. It's actually a thicker fabric for drapery but the small flowers have a grey tone so they work well with the shirt. The jersey knit of the t-shirt and the drapery fabric are a great contrast in fabric feel which I think makes them work nicely together. Never disregard any types or styles of fabrics when you are creating…who knows what will inspire you! Here's what I came up with: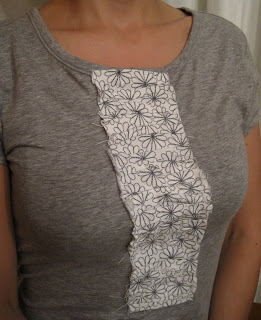 A cute spin on an otherwise bland t-shirt
Want to learn how to make it?
Ok then,
here's what you'll need:
1
T-shirt that is your size
1 3 inch wide by 25 inch long piece of fabric
coordinating thread, sewing machine, etc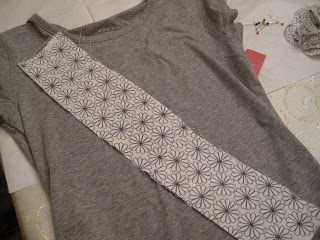 Take
your fabric and fold one short end under to the wrong side. Place this end at the neckline, pin in place.
Start
sewing about 1/4 inch from the edge of the fabric from the neckline down. Gather the fabric into ruffles as you stitch going all the way down to the other unpinned end using a straight stitch and making sure to backstitch your beginnings and ends! Right before you get to the unpinned short end make sure to fold that end under before you stitch it in place! I did about 6 rows of stitches and tried to evenly space them out through the fabric. I also left both long edges alone and did not fold them under with a hem. I like the frayed look the fabric gives the t-shirt and I think it adds a bit of edginess to it too!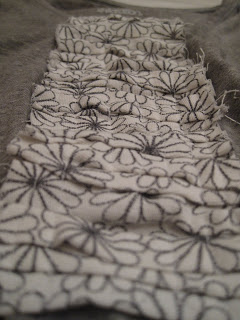 View of all the ruffles sewn into place!
That's it!!
After you have finished your rows cut all loose ends of your sewing thread and wear that beauty out on the town…or in my case, to my littles music class!!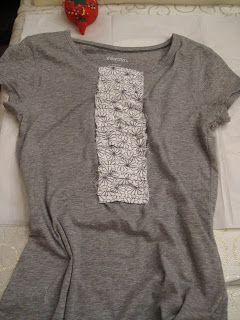 The end product!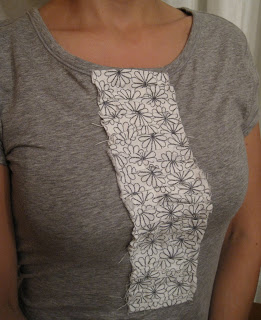 A nice ruffly option for a plain grey t-shirt!