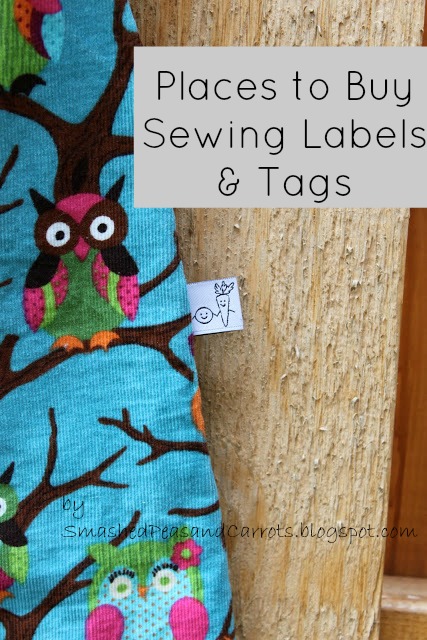 This weekend I went on a sewing binge.  I made myself a simple elastic waist band skirt not unlike the skirt portion of
this dress
.  Unfortunately, the dress does not make nursing my babe the easiest of tasks so a skirt is more up my alley these days.   I also decided to sew Penelope a few peasant style dresses as I absolutely dig the cute little sleeves and the fact that it literally takes less than an hour to whip up more than a few.
Here's a look at some of Penelope's new fall wardrobe: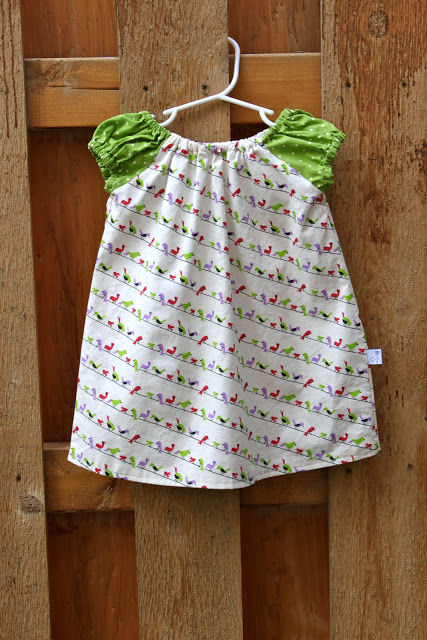 Okay, so this one is not super 'Fall' looking but I just loved those little birds on a wire so much that I had to make this fabric into a dress.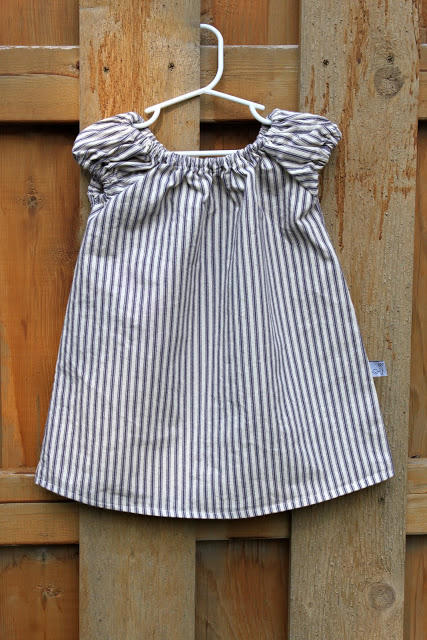 This little number was made with blue ticking fabric.  I may add some denim pockets if I get a chance.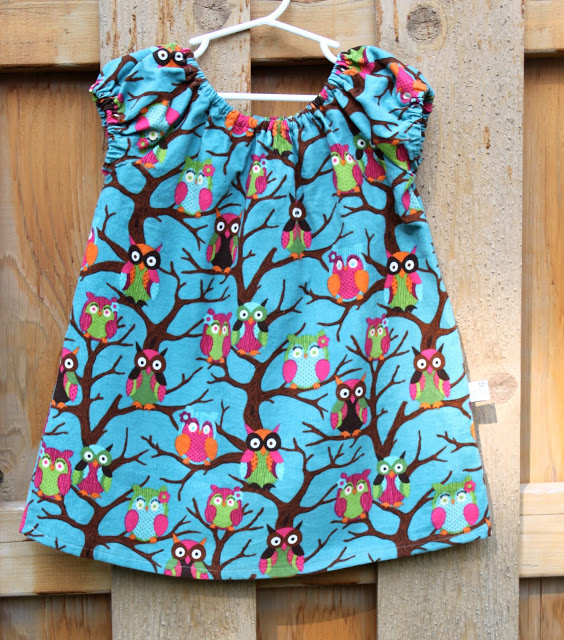 And, I love this little owl corduroy dress for the cooler weather.  With some tights and little brown boots, I can see it becoming a fast favorite.
And, many of you have been asking about the labels/tags that I use on my clothing as seen in this post
here
and
here
.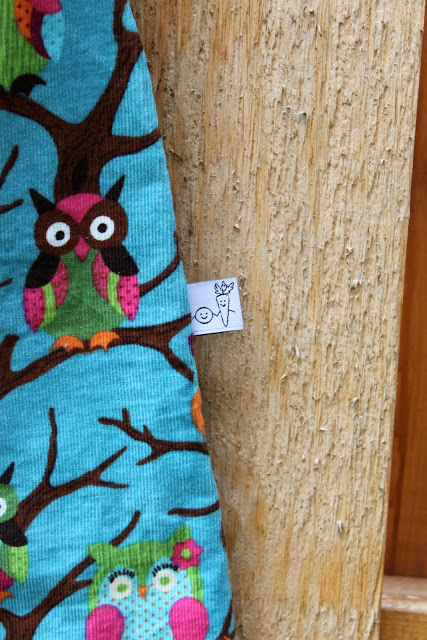 My little 'Pea and Carrot" side seam tags 🙂
I bought my side seam fold over tags from
ClothingLabels4U.com
.  I worked with Lisa on getting the dimensions and the look that I wanted just right.  She was a breeze to work with and we had many actual phone conversations too which I loved because there were so many things I just didn't know how to explain in an email.
Another great resource for labels is Etsy.  
Fancy Weaver
is an Etsy shop that has great woven labels too that are much less expensive but take a while to get to you since they come from overseas.  I purchased my flat labels from them and I really like the quality too!
My cute little sizing tags!
I also bought a slew of different size tags from
Big Apple Fabrics
on Etsy.  You know 3 mos, 18 mos, 2T, 3T, etc.  They come in super handy for designating the front and back of a piece of clothing that can go either way…like a pair of pants!!  Plus, they are great for reminding me what size a dress is so I can put it away accordingly and find it easily for when Eloise will be big enough to wear it!
I really do love my clothing labels and I add them to everything I make.  I think they give any handmade good that perfect extra touch of professionalism.
Okay, so I hope that I helped you some.  Please let me know if you have any other questions, I'm always happy to help!!
XOXO,
Maggie