So if you have been following me over on Facebook (here) or Instagram (here) you know that I was gifted the most amazing gift from my husband recently. A Vitamix blender!!! I had been wanting one for YEARS!!! But kept talking myself out of one saying that I already had other appliances that basically did the same thing (food processor, regular blender, magic bullet, immersion blender, and a juicer…gah that sounds crazy when you write it all out!) but my husband decided it was time to go against my wishes and buy me one, lol! And holy wow, I am so glad he did. I use it at least twice a day if not three times. It blends like a dream. And makes this Spicy Green Smoothie Recipe even better with no lumps or bumps! It's one of my new favorite Smoothie Recipes now!!! (affiliate links present)
I think half the reason I would talk about wanting a Vitamix (but not needing one) over that last 7 months was that when Clif and I went away for our anniversary last year we would visit this juice bar every morning and order the same amazing drink. It had ginger and oranges and apples and cucumbers…it was spicy and slightly sweet and holy cats it was good. We seriously could not get enough. Even when we left to head back home we bought two fresh cups for the road. We were in love with this juiced drink and I wanted so badly to make it at home but it just would never be the same without blending all the ingredients in a Vitamix. So one day, a couple weeks back, he finally decided it was time! LOL!!! So dramatic, right!? He bought me this Vitamix here. I love his sooooo much!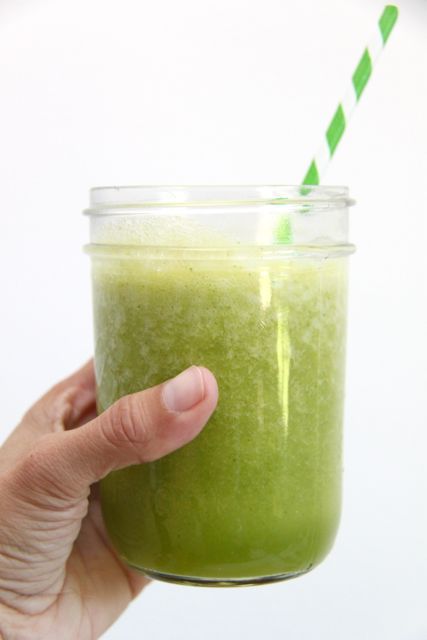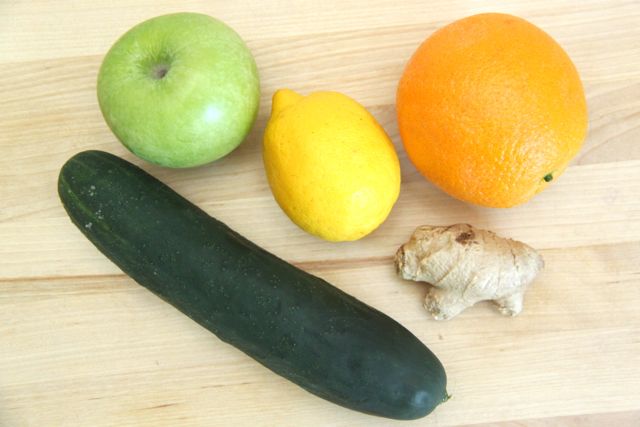 The first drink I tried making in my new blending machine was this drink, which I'll call a Spicy Green Smoothie. It is soooo good. Like, I have made one every day since. YUM!!! Here is my version of the recipe, I hope you try it and love it too! And if you like this recipe you may also enjoy my Energizing Green Smoothie Recipe too!
Spicy Green Smoothie Recipe
Spicy Green Smoothie Recipe
Ingredients
1 granny smith apple, cored and quartered
1 navel orange, peeled and chunked
½ cucumber
1 small lemon, peeled and deseeded
1 small chunk of ginger, peeled (about 1-2 inches depending on how spicy you like it)
1½ cup water
Instructions
Pour the water into the container of the blender first and then add the rest of the ingredients.
Blend on the smoothie button or according to your vitamix directions for making smoothies.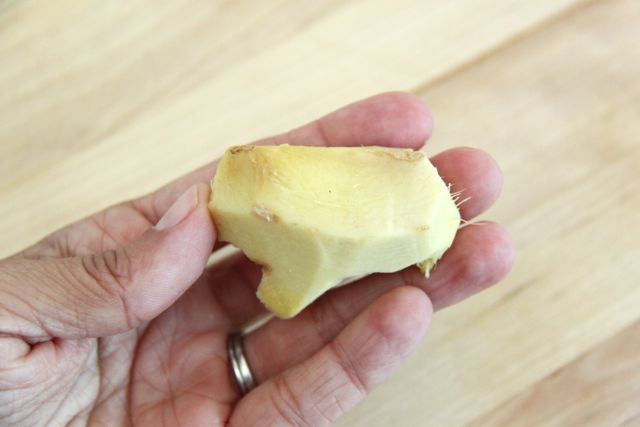 The ginger totally makes this juice/smoothie soooo good! I like it spicy so I usually peel big chunk of it and throw it in the blender container…perfection!!!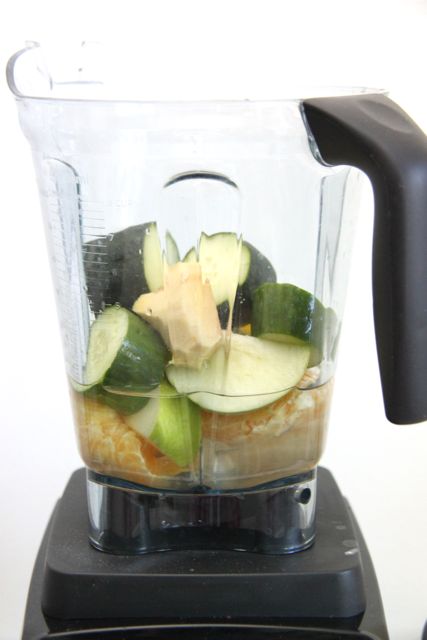 Always add your water or liquid first, then add in the rest of your ingredients.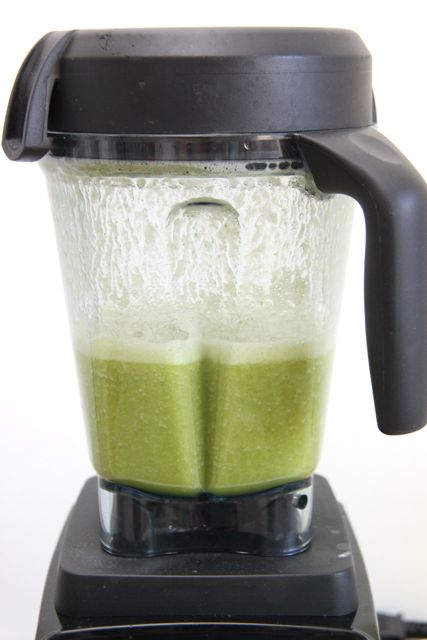 Place the lid on nice and tight and blend away!
Then pour into a big glass and enjoy! Soooo good…and good for you!
For more easy recipes, crafts, tips and tricks please LIKE Smashed Peas and Carrots on Facebook or follow me on Instagram or Pinterest for more great ideas!
Thanks for stopping by today!
Love,
Maggie
Smoothie Recipe Resources